Paypal strongly encouraged, Cash also welcome with Local Pick-ups. My zipcode is 91765.
I ship using USPS Priority mail at $4.75 or more (Depending on value of Item\s and weight)
Please state your location before dealing. Will not ship out of US.
Accepting trades on most items.
Here's a List of Items that can be traded for;
My
"Wants List"
- AK AIMS (perfer Dboy or other low end brand)
- OKC3S Bayonet with scabbard
- PASGT helmet (Large) real or good replica (woodland cover also needed)
- BDU's: ACU, RAID DCU, MARPAT (Top M/R, Bottom M/R)
- Motorola Talkabout
- Rubber knife (not plastic)
________________________________________________
This is my CA M249 that originally started out as a MKII. Bought this when the second Gen was released after they ironed out most of the kinks. Since then this SAW has been upgraded back and forth from different external style and internal upgrades (and posted forsale a few times). The gun comes with a MAG boxmag re-wired for auto winding, an extra A&K sound activated boxmag. This gun performs flawlessly on 8.4v batteries ONLY. Gun currently chronos 345 FPS but can easily swap out to a harder spring and upgrade the battery source to a 9.6 accordingly.
Asking Proce is $600 with ELCAN scope/$550 without scope (Or Best Offer)
Local transactions perfered. Shipping can be an option, but expect to pay extra
Upgrade list:
External:
MAG 2500 Round Box Mag (with inert rounds)
G&P Railed Feed Cover
Action Gripod Replica (new screw replaced)
Classic Army Upper RAS unit
G&P Lower RIS
Classic Army Para Stock

Internal:
Madbull tightbore 6.03 364mm Inner Barrel
Systema Hopup Bucking
Systema M4 Type Air Nozzle
TGS POM Piston Head with Ball Bearing
G&P Piston (white)
TM EG1000 (rebuilt almost a year ago)
Systema Cylinder M4
Guarder Ball-bearing Spring Guide
Deans Connectors (can replace plug back to Large or Small Tamyia clip)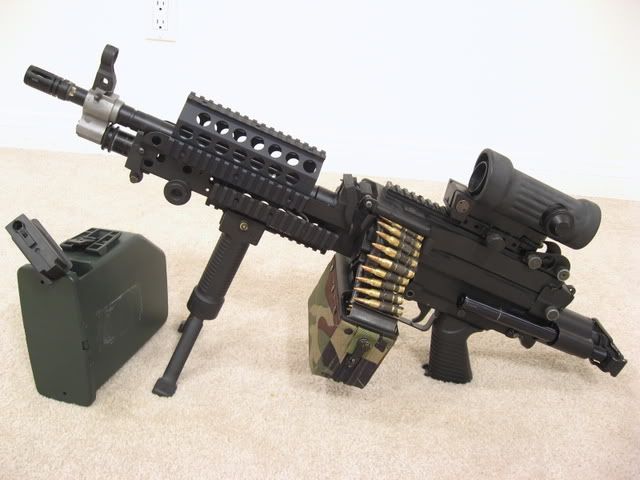 http://img.photobucket.com/albums/v706/Who...49/d8a5849b.jpg
http://img.photobucket.com/albums/v706/Who...49/4c11b8ae.jpg
http://img.photobucket.com/albums/v706/Who...49/357bb1cb.jpg
http://img.photobucket.com/albums/v706/Who...49/b1e4f3b2.jpg
________________________________________________
I just recently built this gun around one of my favorite MThaynes gearbox, CNC'ed out of aluminium and never have a single issue. This was a custom built gun from the ground up. All externals are G&P and everything inside is fully upgraded. Last chronoed 396FPS
Asking $750 or $850 with M203 Grenade Launcher
Upgrade list:
Internals:
MTHaynes 7mm gearbox w/ ball bearing bushings
Guarder SP110 Spring
Systema Flat Torque Up Gear Set
PHX Sector Clip/Cam
JBU Aluminium Piston
Guarder Aluminium Piston head
Guarder Cylinder Type-0
Systema Low resistant switch assembly
Guarder Ball Bearing Spring Guide
Tokyo Marui EG1000
Systema Air Nozzle
Systema Hopup Unit w/ systema bucking
Prometheus 6.03 tightbore EG Barrel 509mm
Deans Connectors

Externals:
G&P M16A2 (burst) receiver with flat top receiver
KNS Anti-rotation pin set (used for middle gearbox pin)
G&P M5 RIS Front set
G&P A2 Pistol grip with slotted heatsink
G&P solid A2 stock w/ sling harness attachment
King Arms Metal Rear Sling Adaptor
King Arms Acog Red Dot Sight w/ Trijicon TA57 killflash

Optional:
G&P M203 grenade launcher
King Arms 180round 40mm shell
CAW 30round 40mm shell (issues)
2x Nerf vortex rocket (one of them brought back from the dead)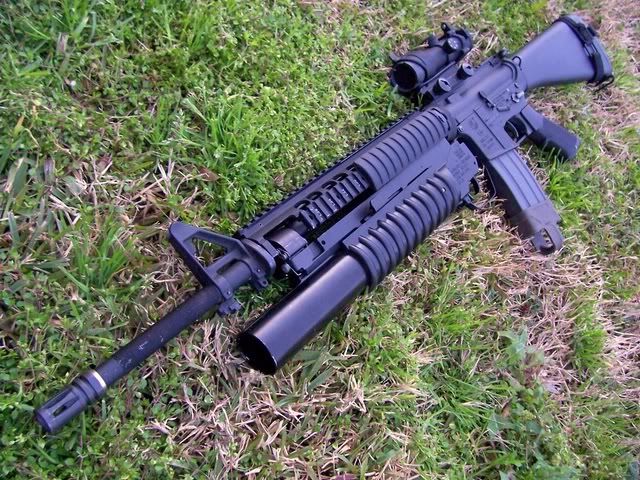 Right side with M203
Left side with M203
Right side without M203
Left side without M203
M16/M203 PIC1
M16/M203 PIC2
Left side Trademarks
Right side Trademarks
Right side ACOG
Left side ACOG
Rear ACOG
M203 package PIC1
M203 package PIC2
________________________________________________
This is my CA36c, I've had this gun for about 4 years and never had any issues. Gun was upgraded 2 years ago and rarely seen any action since then. Package comes with 5 TM standard Mags, 2 MAG midcaps and 2 G&P midcaps. Last choroned 360FPS
Asking $300 for everything
Upgrade list:
Internals:
PDI 150% Spring
Guarder Aluminum Piston head
Guarder M4 Cylinder
Connectors changed to deans clips

Externals:
First Factory G36c Large Handguard
King Arms vert grip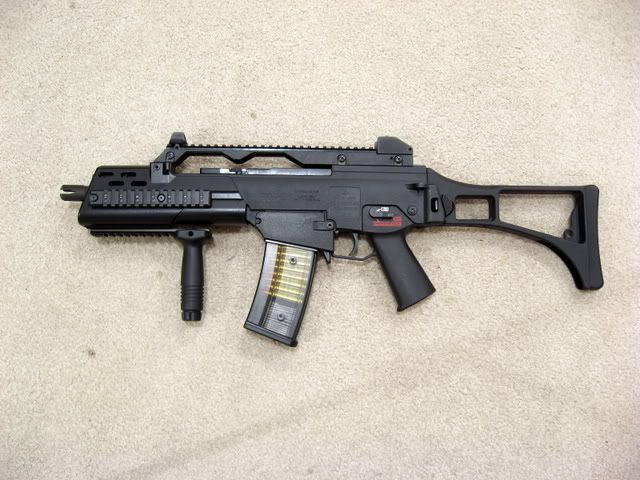 http://img.photobucket.com/albums/v706/Who...es/a33bd1cb.jpg
http://img.photobucket.com/albums/v706/Who...es/8887e0cc.jpg
http://img.photobucket.com/albums/v706/Who...es/d3941253.jpg
________________________________________________
PASGT Vest with Alice gear - Asking $55
Package includes all real gear;
PASGT woodland vest
OD LC-2 Y-Suspenders
OD LC-2 Alice Duty belt
OD LC-2 Canteen pouch (with 1 Qt canteen and Cup)
Proud OD Dump pouch (replica)
HSS Desert Shield Plate Carrier in Coyote Tan - Asking $120
Package includes all real gear;
HSS Coyote Tan Desert Shield Plate Carrier
2X Condor Coyote Tan Double M4/AK Magazine Pouch
Pantac Coyote Tan Smoke Grenade pouch (red rag pouch)
Replica TAG Coyote Tan Dump pouch (attached by MOLLE D-Rings)
Ssnake Custom Coyote Brown Hydration Pouch
Camelbak 100oz bladder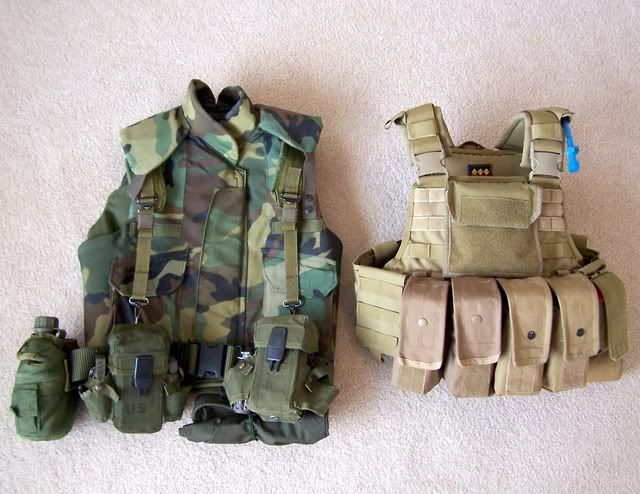 ________________________________________________
King Arms reddot scope & L-mount Pic 1, Pic 2, Pic 3, Pic 4 - Asking $25
AR15 4x22 Carrying Handle scope Pic 1, Pic 2, Pic 3 - Asking $20
Classic Army Elcan 3X M145 scope Pic 1, Pic 2, Pic 3, Pic 4 - Asking $100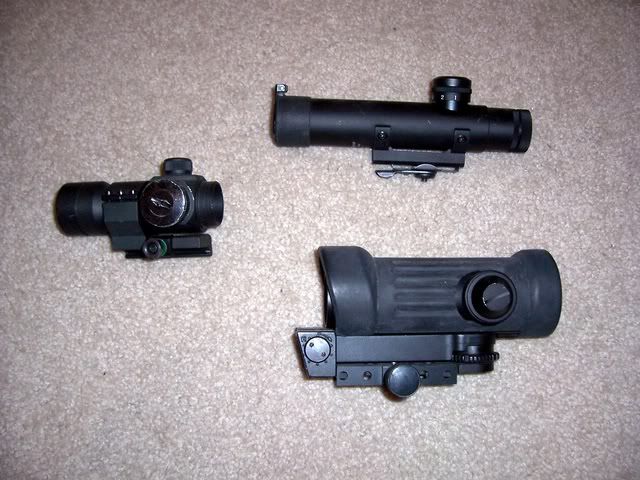 ________________________________________________
G&P M16A2 Upper receiver (with dust cover, iron sight & forward assist) - Asking $40
Echo1 Flattop receiver w/ Hopup (Top rail epoxied onto upper, very solid) - $10
Echo1 V2 6mm Gearbox (comes with everything except wiring & cut-off lever) - $30
CA Pistol grip with heatsink - Asking $20
CA V2 7mm Gearbox (screw included) Pic 1, Pic 2 - $25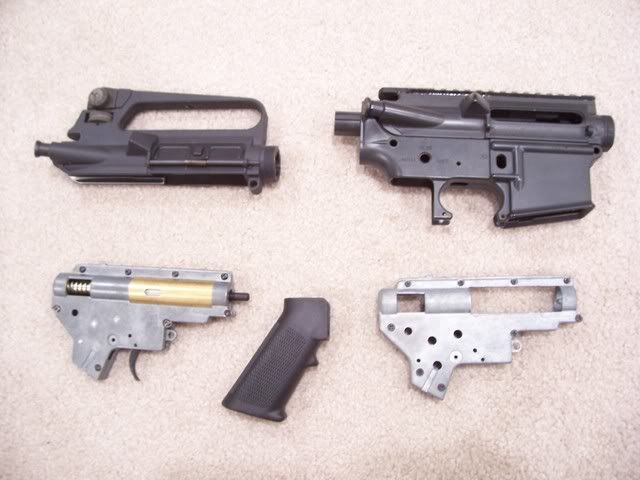 ________________________________________________
OD M249 Sling - Asking $15
Small soft pistol case Pic 1, Pic 2 - $7
Black ALICE Pistol belt - Asking $10
Alta DCU/Tri color Elbow pads - Asking $10
Dual 40mm Tan Molle Pouch (one button is broken) Can fit large and small grenades PIC, Broken button PIC - Asking $10
2x MICH helmet covers DCU/Woodland (good condition/1 real & 1 rpelica) Pic 1, Pic 2, Pic 3 - $10 each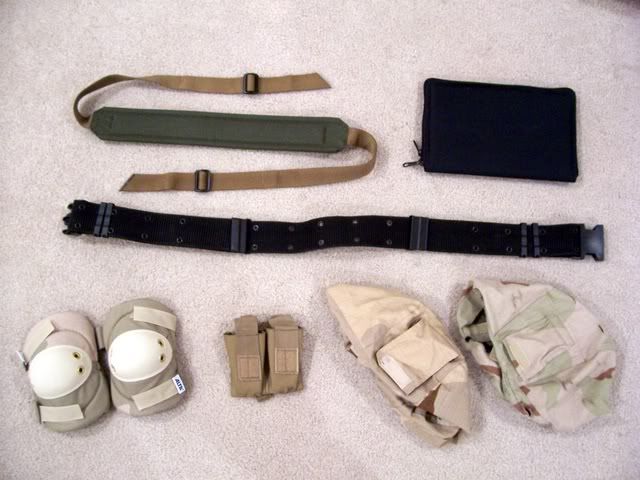 ________________________________________________
Matrix 11.1Volt 1500mah Lipo Battery with Charger - Asking $50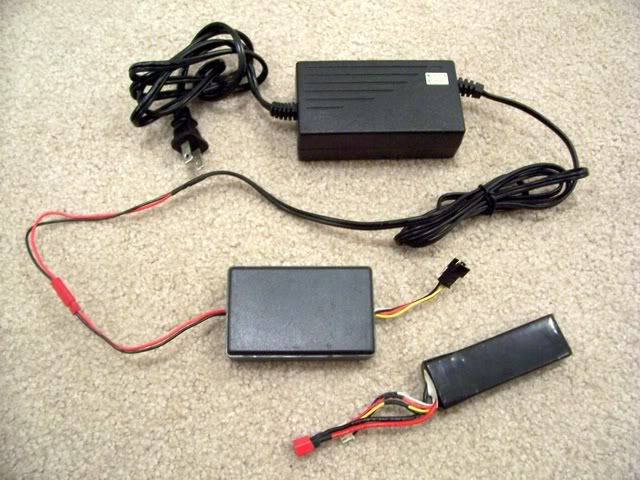 ________________________________________________