I get alot of questions about Mosfets rewiring etc etc. So I decided to put together a guide to help clear up some common issues people might have and to show how to make your own mosfets capacitor banks etc etc.
WIRE SELECTION!
There are many different wire types, all of which have advantages and disadvantages. Here are the main types you should consider using in your AEG.
Solid Wire
Pros - Very thin
- Low resistance
- handles more amperage than comparable gauge stranded wire
- very stiff, easy to route through gearbox and such
Cons
- breaks easily
- very stiff, can be bad in some cases
Hook-up Wire
Pros - pretty flexible
- thinner than silicone wire
- easy and cheap to come by
- tough insulation
Cons
- 16ga wire sometimes too thick for Ver 2 gearbox
- not the top performer in low resistance and amperage rating dept
Teflon coated mil-spec wire
Pros - Standard OEM wire in Systema, Prometheus, and Tokyo Marui
- Very Strong insulation
- Super thin, 16awg teflon wire is thinner than any othe 16awg wire
- typically has silver coated copper conductor
- low resistance
- pretty stiff, routes easily through gearboxes and aeg bodies
Cons
- pretty stiff not as forgiving if you measure out the lengths wrong
- expensive
Silicone wire(deans wet noodle)
Pros - very low resistance
- very flexible
Cons
- very expensive
- silicone insulation tears very easily
- hard to solder
- extremely thick
Speaker wire
don't use it unless you have to.
Wire size
Wire size is typically measured in the American Wire Guage system. In this system the smaller the #, the larger the wire. The Guage is determined by the size of the CONDUCTOR only and not the overall size if the wire.
Most AEG's come with 18 or 16 AWG wire. 16awg wire is best for most AEGs since it handles 75 Amps. If you have room you may try 14awg but the benefit will be minimal.
Connectors
Tamiya(large and small)
These connectors suck
. they are worn out after about 50 cycles of being put together and pulled apart.
They are also a huge source of resistance and allow a mere 15amps or so to pass through them
Deans Ultra plugs(T-connectors)
Last a long time and can handle alot of power as they are very low resistance.
Switch to these connectors right away!
typically 10 pairs can be had on ebay for $4!
To add deans plugs is simple.
*Cut off worthless Tamiya Plug (if this is the battery , be sure to only cut one lead at a time to avoid short circuit.)
You can also clamp the deans plug in a vice or clip to hold it while soldering at this time
Typically the battery uses the female end and the male end goes to the AEG harness
* Now pretin each of the deans plug terminals. Do this by adding a bubble of solder to each of the terminal tabs.
*Next put a piece of heatshrink on each wire to be soldered. Then attach the + wire to the vertical tab, and the - wire to the horizontal tab.
Should look like this.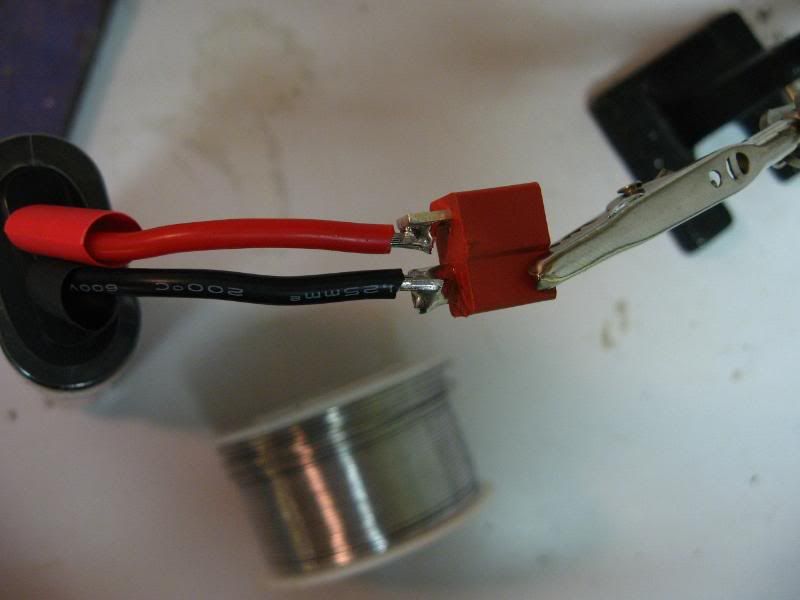 Then heat the shrink tubing to cover the exposed terminals!!
The video shows how to do this as well.
Tools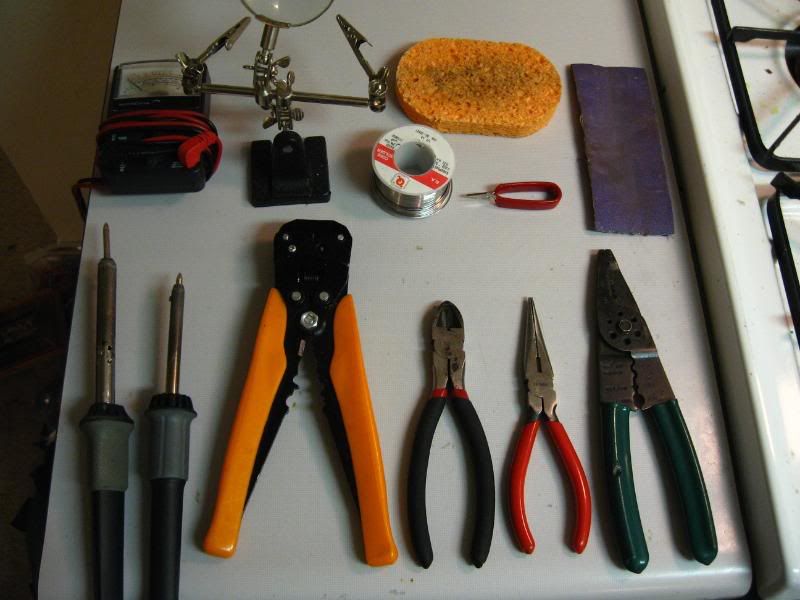 -soldering iron/irons
-wirestrippers
-heatsink
-voltmeter
-wet cellulose sponge
-sandpaper
-flux
-helping hand tool
-heat gun
-glue gun
-pliers
Edited by GoLgo 13, 20 March 2008 - 06:04 PM.