CYMA AK-105 Review
Table of Contents
-Introduction
-History: Real Steel and CYMA's own
-Choosing
-Ordering
-Receiving
-First Impressions
-Appearance, Quality, & Build
-Performance, Internals & Function
-Pros & Cons
-Recommendations/Upgradability
-Overall rating
-Sources
-Extra Pics
Introduction
Hello, I'm Kamikaz3, and this is my second airsoft gun review of the CYMA AK-105 (cm.031d). Well, enough chitchat, lets get down to business.
History: Real Steel and CYMA's own
The AK-105 is a member of the family of AK-102/4/5 compact weapons designed primarily for export outside of Russia. It combines features from the older AKS-74U carbine and the newer versions of the AK-74 rifles, giving a more accurate carbine. The AK-102, 104, and 105's are chambered for 5.56x45, 7.62x39, and 5.45x39 mm ammunition, respectively, and features a folding stock.
CYMA began its history as a manufacturer of cheap spring pistols and rifles. In 2005, they cloned Tokyo Marui's MP5 and later their AK47 to create a cheap, skirmishable airsoft weapon. They continued copying and cloning various designs and today have several different gun models available, from M-14's to Thompson SMG's. They have many members of the Kalashnikov Family, since about half their different weapon designs are of Kalashnikovs.
Choosing
While I was for the majority impressed with CYMA's AKM, it did have a couple of flaws. First off was the plastiwood, which was just... disgusting (CYMA has released a real wood version which looks sexy as hell). Second was the incredible 470 FPS that was virtually guaranteed to crack my gearbox within a month of heavy use. I ended up trying to sell it and it sits in my closet waiting for a buyer.
Enter the AK-105. I have always been intrigued by this gun ever since glimpsing it in an ICS catalog a couple of years ago. When CYMA released their version, and me already being impressed by the AKM, I knew I had to pick it up. I heard good things about their AKS-74U and decided that since it could hold up to a 12 volt stick battery, it was the one for me
Ordering
I ordered it from RSOV.com along with a PBS-1 Suppressor, CYMA AK Scope Mount, Red/Green dot sight with selectable reticle, and Firefox 9.6 volt 1500 mAh Battery for around $300 on May 1st, 2008. Ordering was interesting, as instead of paying directly on the sites page I was transferred to a PayPal Page, which was intriguing but not frightening. I asked that since it was shipping to the USA, that they would remove the foam from the suppressor and clearly label the package as "toy". I selected UPS Express for my shipping carrier, and since it was shipping from Hong Kong I set up to wait out the next couple of weeks.
Receiving
One week later, on May 8th, I returned home from an incredible baseball game (we beat a team we hadn't beaten in 5 years, thanks for caring) and noticed a brown package inside my garage, with a couple of stickers on it and a piece of paper taped to it on which was typed out "toy" in large letters. I was surprised at how quickly it had shipped, it only took exactly a week to arrive. I grabbed it and rushed the package inside.
First Impressions
After tearing it open, I was greeted with my extra items that I had ordered, and removed them and gazed upon the sleek, black piece of deadly weaponry that was to be my primary for the next year or so. I lifted out the gun, feeling its solid heft, hearing the clank of the rear sling mount, unfolding the triangular skeleton stock and resting it on my shoulder, aiming down the sights. It's definitely very solid, similar to my AKM in many aspects. The stock has slight play in it, a millimeter or so to each side. Foregrip and handgrip are made of a black plastic, which is fairly thick and I don't think will be much of a problem. Unlike on my AKM, there is no Quality Control sticker inside the magwell. The 9.6 volt battery fits easily inside the upper receiver, sliding into a space below the upper half of the foregrip.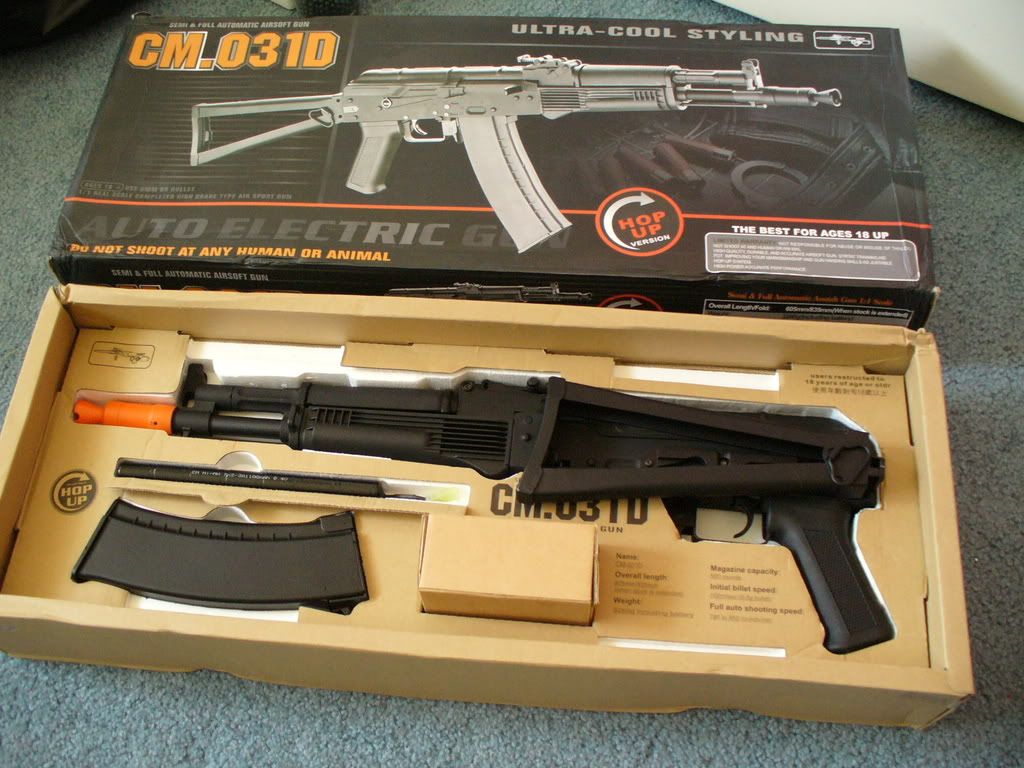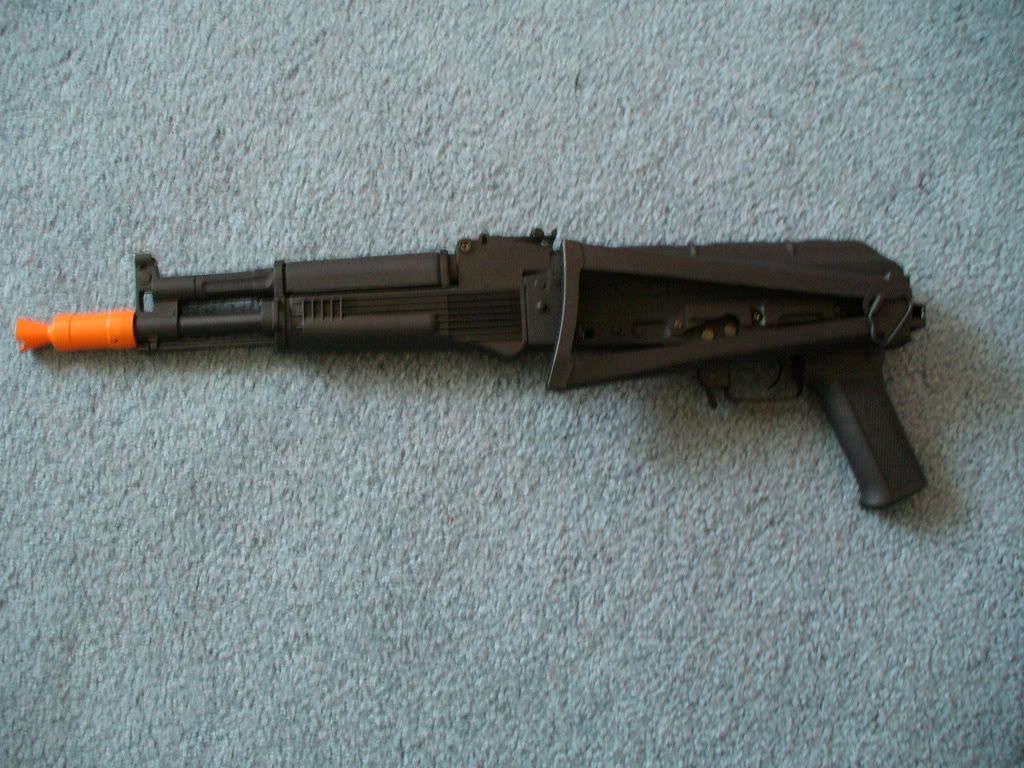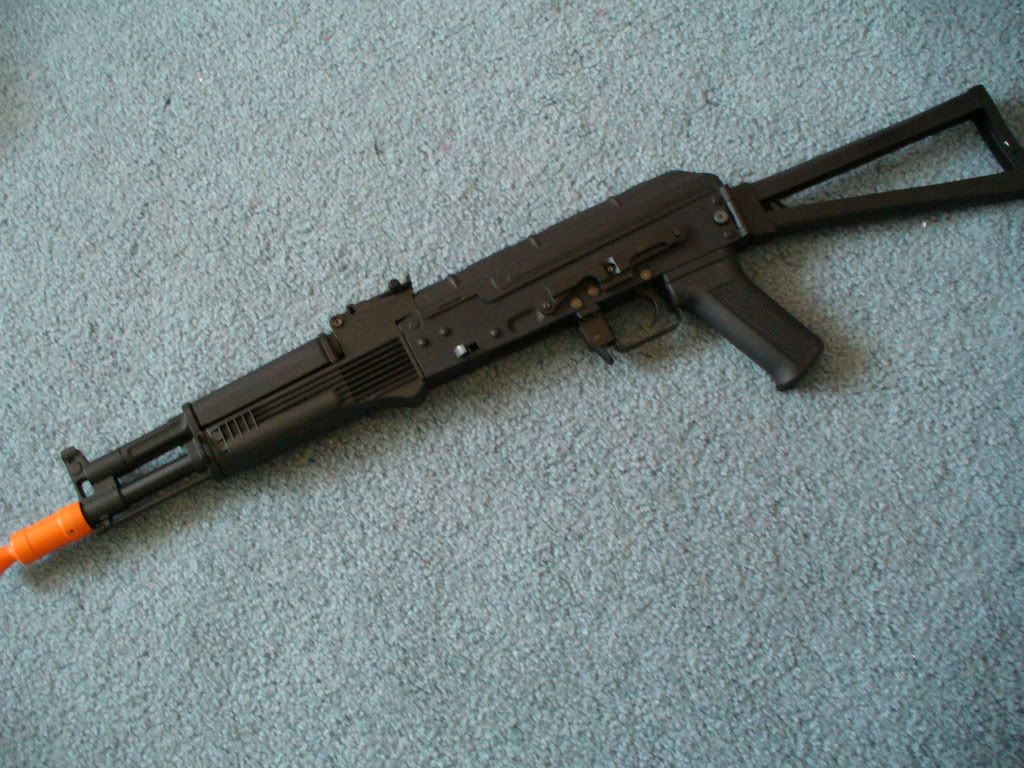 Included with the gun is a cheapo-china plug charger, cheapo-china 8.4 volt 1100 mAh battery, cleaning rod, and manual, as well as a black plastic AK74 hicap magazine.
Appearance, Quality, & Build
Starting at the rear of the gun, left side and moving forward, you can see the folding stock as well as stock release button. The button is not like the button on my cm.028-s, you can feel when the stock is able to be folded. The stock itself has slightplay in it, about a millimeter in each direction. The shoulder rest has small ridges in it, to prevent the stock from sliding down your shoulder. When folded in, you can see the top of the black painted gearbox, and not much else.
(Sorry it's blurry)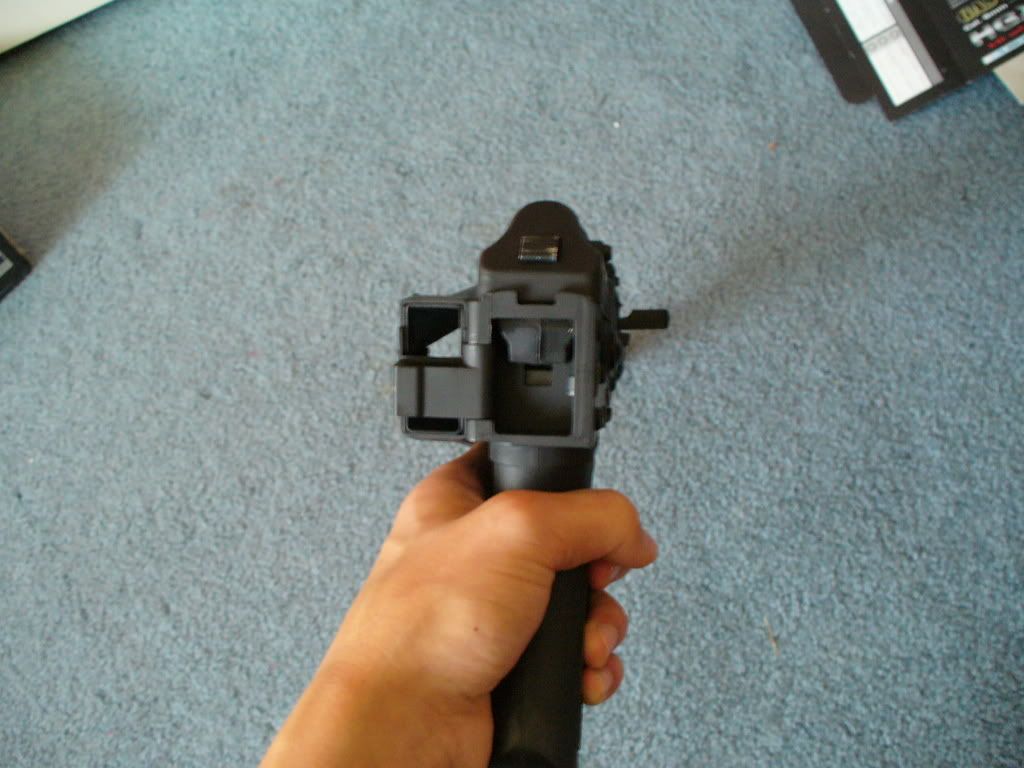 Moving forward, you can see the scope mount, handgrip, trigger, trigger guard, mag release, and indent above the magwell, as well as the upper and lower receivers. The handgrip is made of a black plastic, and is pretty smooth except where the raised texture is. There is no play or wobble in it. Trigger, trigger guard, and mag release are all metal, and have no play in them. The upper receiver is ribbed, and both the upper and lower receivers have no wobble whatsoever. The metal feels solid and is painted a flat black. I could quote my previous AKM review and nothing would change...
QUOTE
The quality of the metal is fair. It's pot metal, but it definitely has that nice cold feel to it. It's not flimsy either, it's got some force behind it. The scope mount is made of the same material. In fact, scouring over the gun, I could only find 1 plastic part besides the foregrip, handgrip, and stock. The selector switch has a knob covering a screw. That's the ONLY single plastic part I could find. CYMA definitely didn't skimp out on the metal here. The metal also isn't very reflective at all, it seems to absorb the light rather than reflect it. I am pretty sure it's painted metal, but it's still fairly nice. I like the look of the metal.
The scope mount allows for the attachment of any sort of Soviet optics, such as Cobra red dots or Dragunov scopes.A seperate mounting piece with a 20 mm weaver/picatinny rail allows one to put on any sort of western optics that their heart desires. I personally have a red dot mounted on it.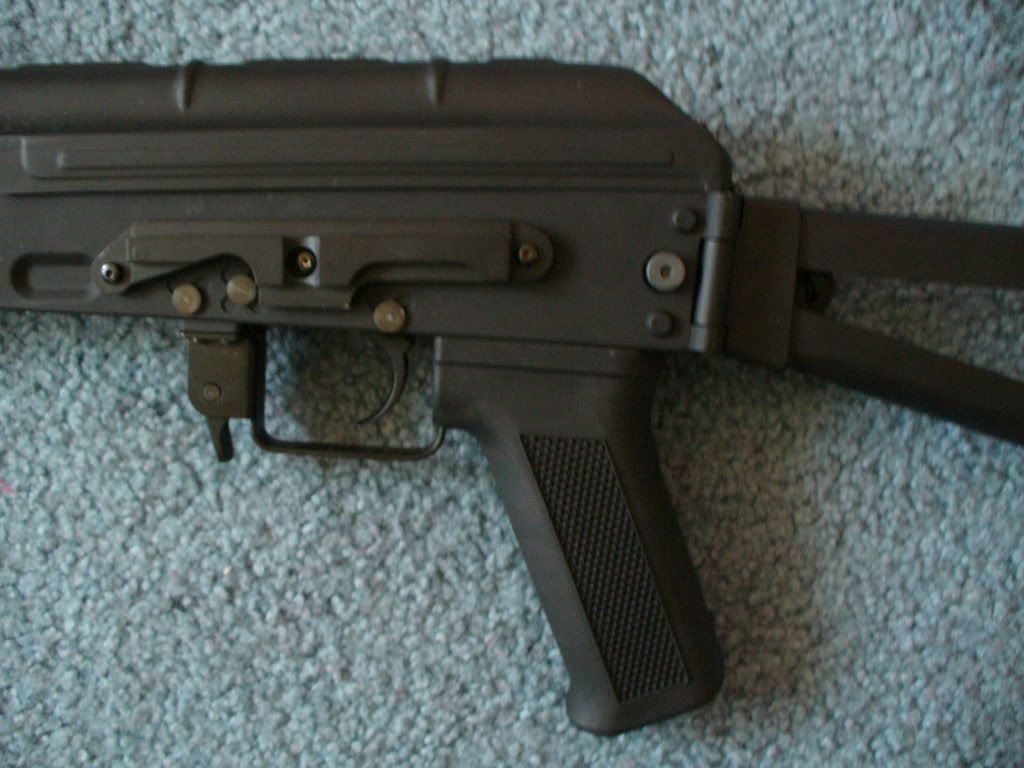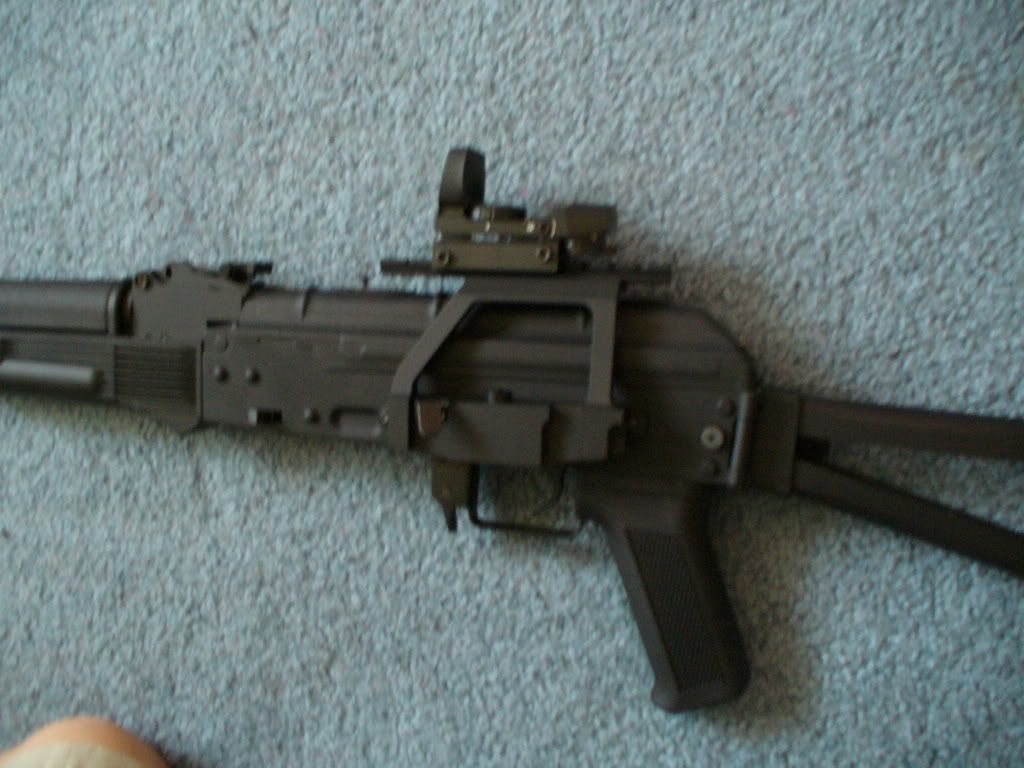 Here you see the stock folding attach/release lever, foregrip, gas block,, fake rivers, and rear sight. The gas block is different in texture from the rest of the gun's metal, but is still metal. The rear sight doesn't concern me as much as on my AKM's, which is made of a very different material metal and seems liable to break off upon adjusting. The foregrips are made of a thick, black plastic, same material as used on the AK74 Magazine and handgrip near the trigger. The stock release button is metal, and when the stock is folded there is no wobble in it minus the rattling sound of the sling mount. Even when I hold the gun by the stock when it's folded and shake, nothing moves. Very solid.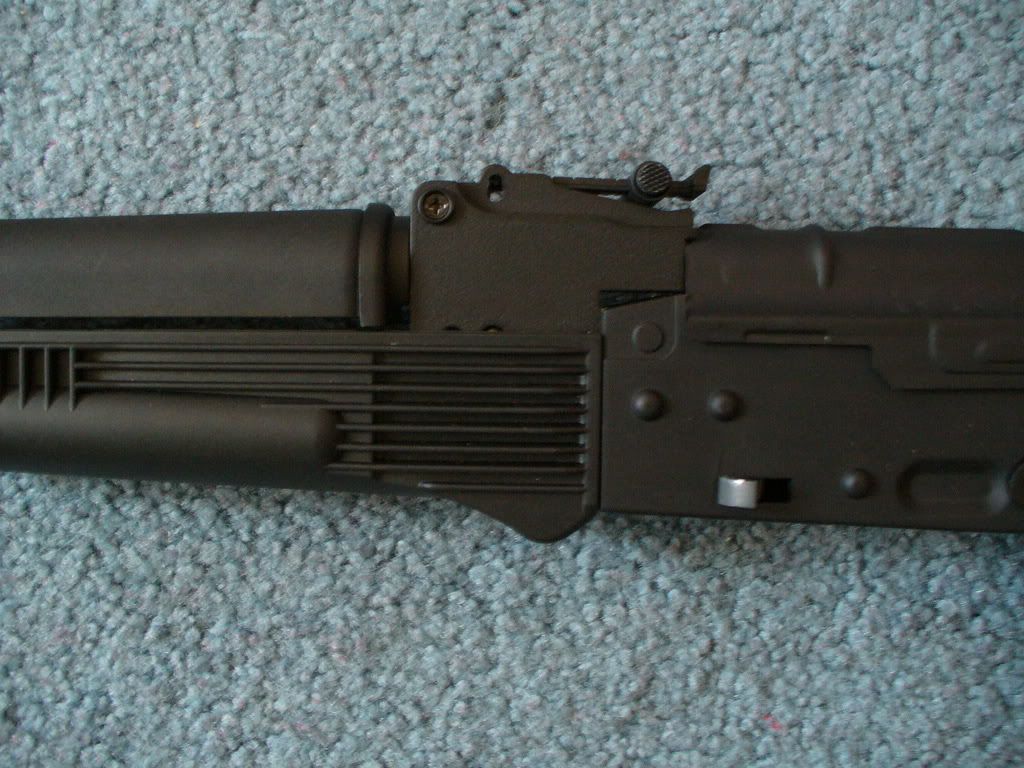 Moving forward again, you can see the AKS-74U styled flashhider as well as front barrel assembly, faux cleaning rod, front sight, and front sling mount. The sling mount is attached to a piece of metal that holds the lower half of the foregrip in place. After removing the small allen-wrench screw in the small hole in the bottom of the flashhider, you can remove it by pressing a small pin on the right of the gun and twisting to the right, revealing a brass tightbore barrel extending slightly beyond the 14 mm CC threads. I am able to attach my PBS-1 suppressor easily.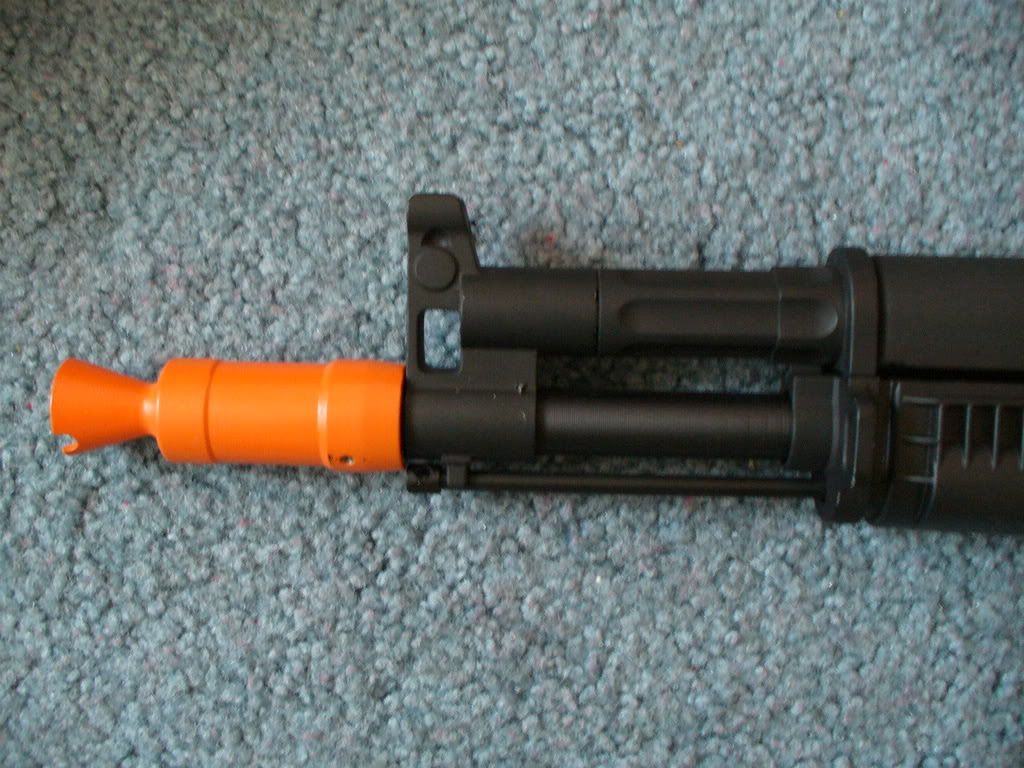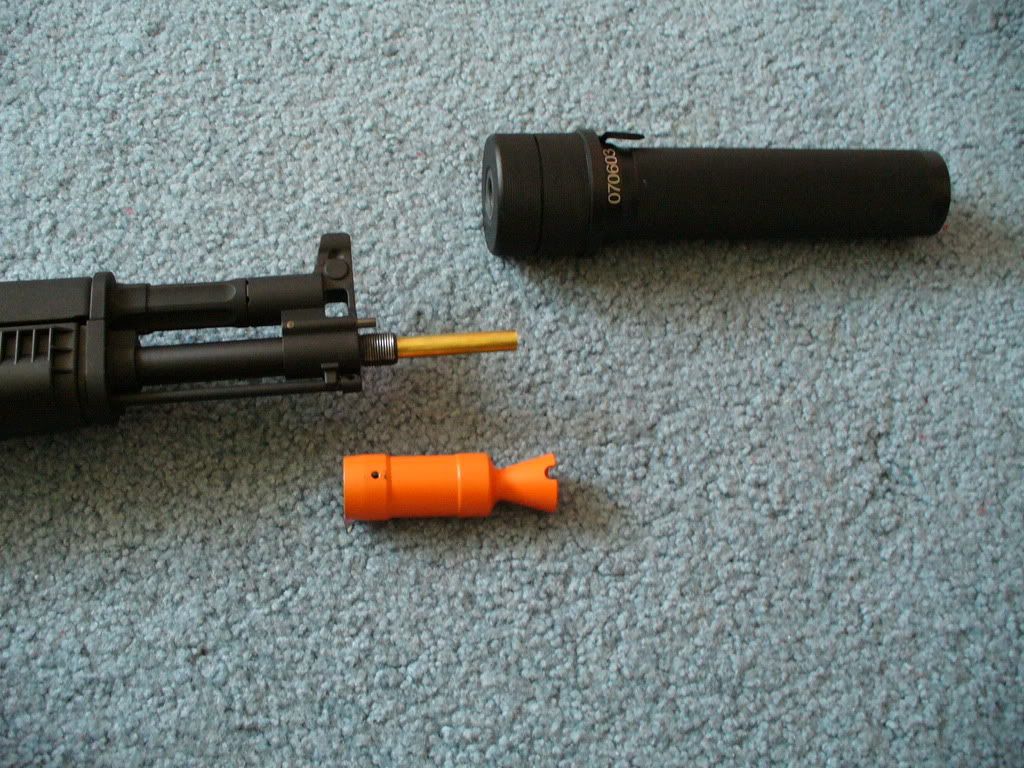 Moving to the front rightside of the gun, you see the front sight and small pin to hold the flashhider. Don't lose that pin, it falls out easily as I accidently discovered when attaching the suppressor.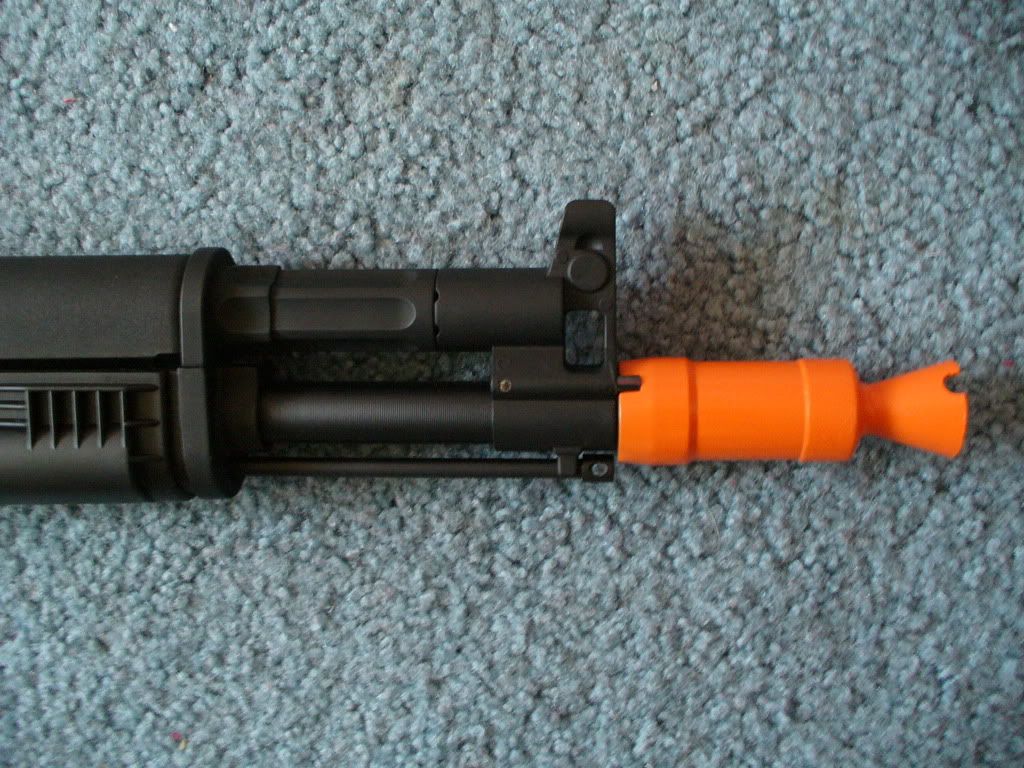 Moving rearward, you see the foregrip, disassembly lever, gas block, and charging handle. Pulling back the charging handle reveals the hopup lever, which is a slider type. The one thing I love about airsoft AK's is this type of hopup, I never have had to readjust it during a match.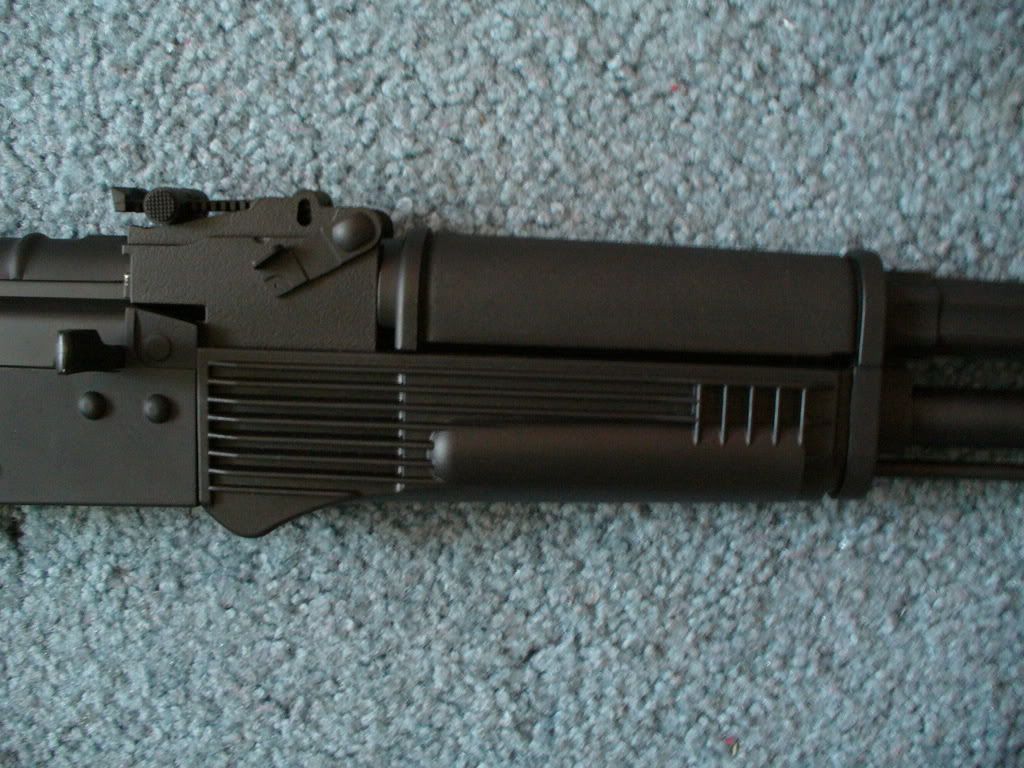 Moving rearward again, you see the selector switch and rear sling mount. Same as on my AKM, it stays in place and makes a solid *click* when pushed into a position, except when pushing it into safe. The lettering that marks full and semi is different from that of my AKM, as well as the small indent above the mag well. The lettering has been corrected as well as the indent too. The rear sling mount rattles a lot, and makes a loud clang when it bangs against the stock. I recommend electrical tape to keep it in place if you are trying to be stealthy.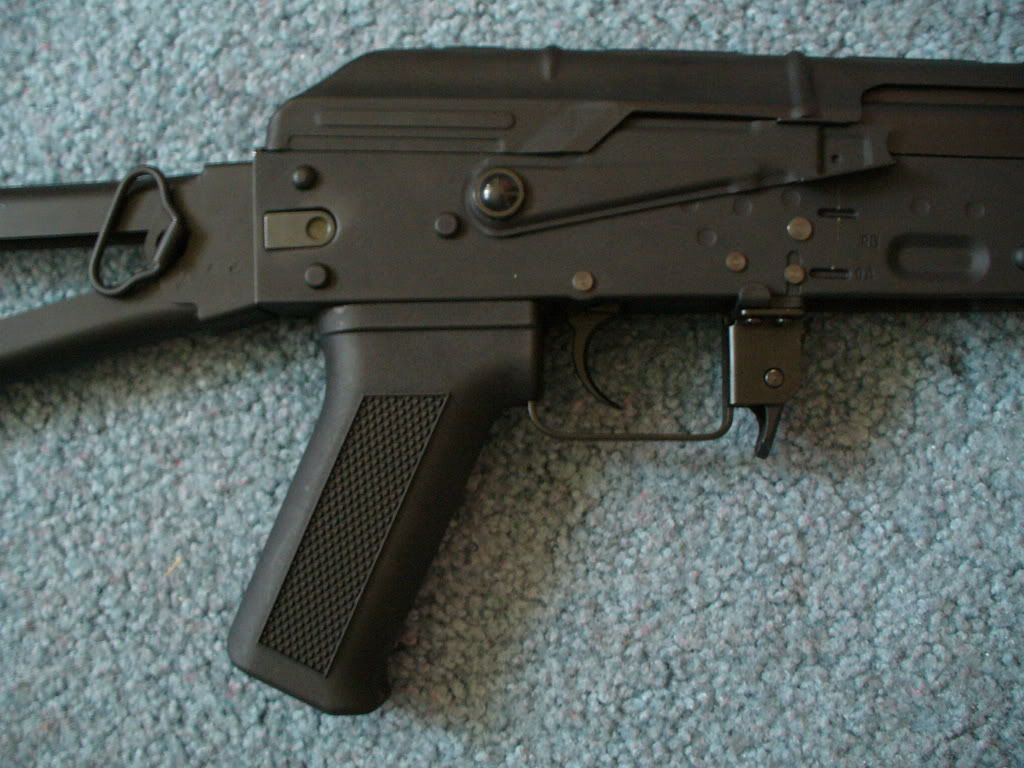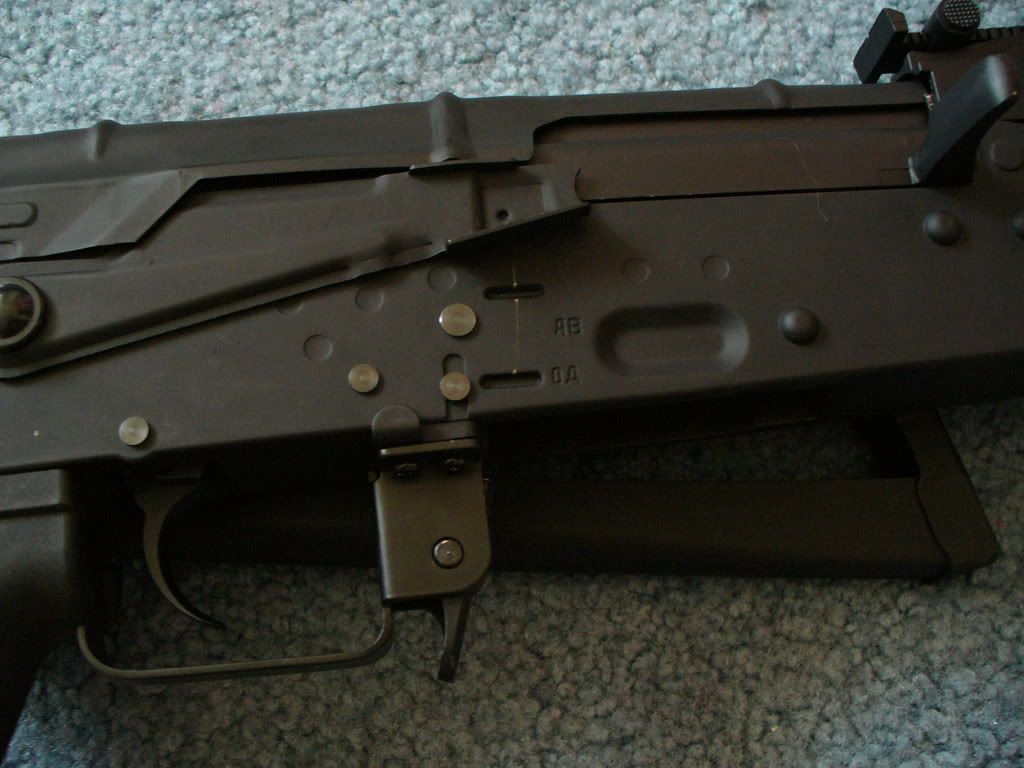 Pushing the button on the rear of the upper receiver and lifting it off reveals the battery compartment. The fuse and wires can be lifted out to view easily and you can easily fit a 9.6 volt battery in there. I measured and there should be room for up to a 12 volt battery, but I personally think that's overkill.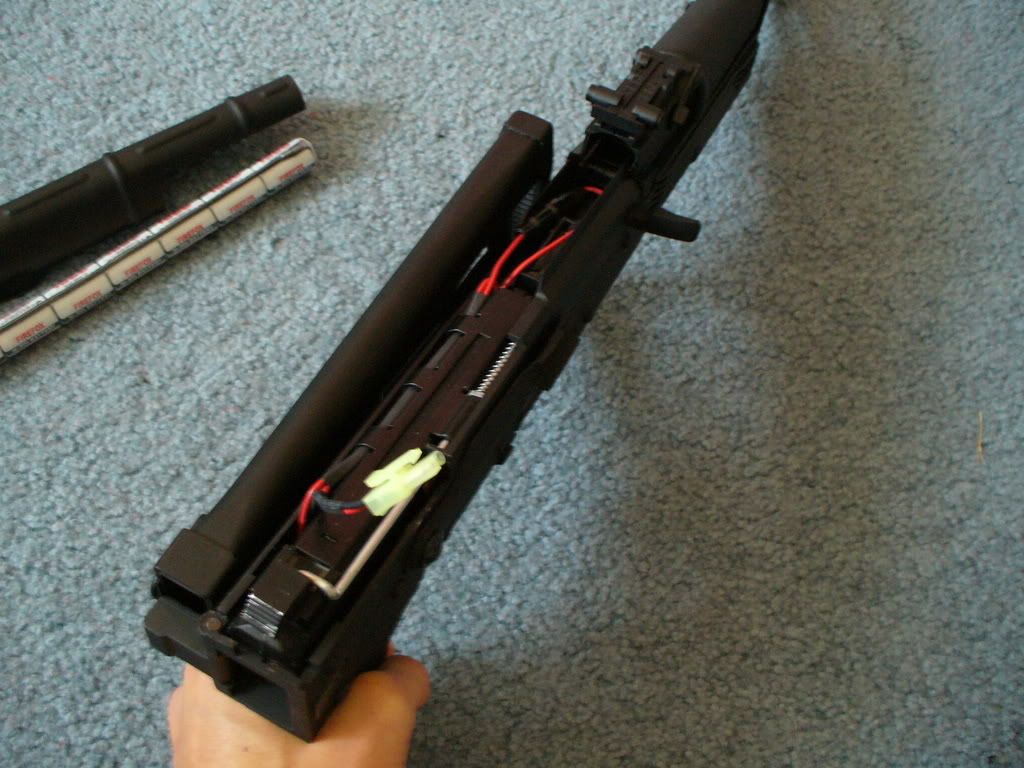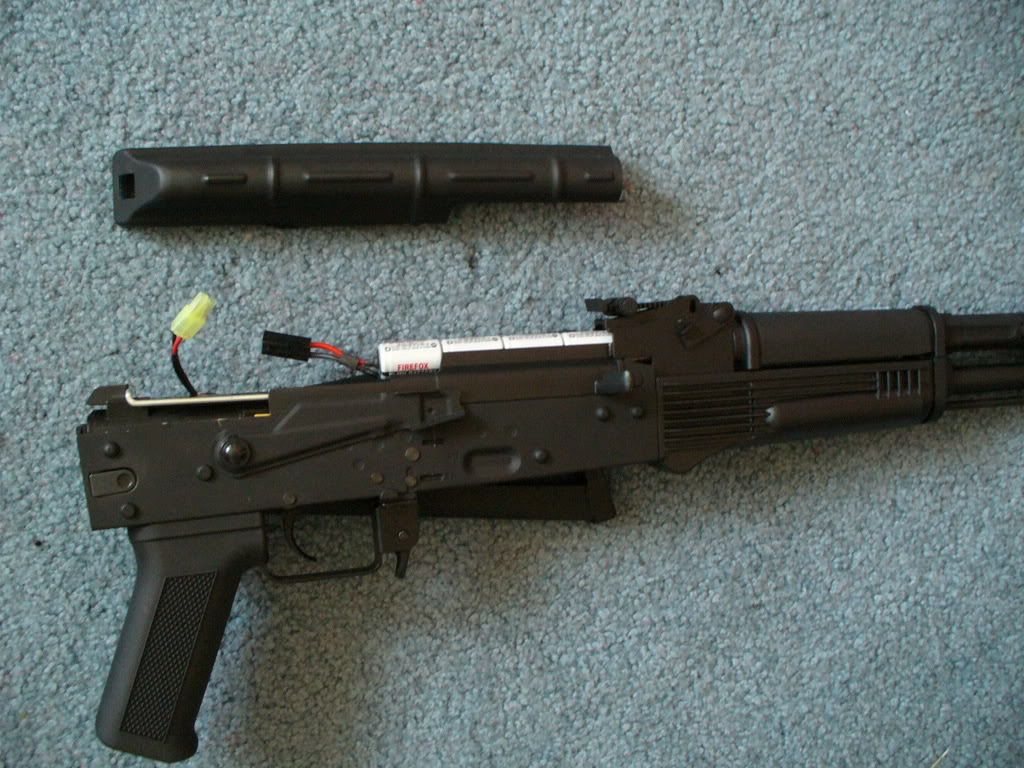 The front sights are fixed, while the rear sights can be adjusted depending on how far away your target is. I leave it on the point blank setting.