A&K SR-25 Review
Written by delta 11 and Ion (but mostly Ion, lol)
Ordering
My friend here Ion convinced me to buy a new gun when he bought his new gun, the SL8. I looked around a bit and heard about the new releases from A&K. I saw the SR-25 and loved it at first sight. Being a new release all sites were soon out of stock. So I ordered it of of AirsoftGI and was put on a pre order. The gun was supposed to be delivered in about a mounth but soon it was back in stock and came in about 2 weeks after ordering.
First Impressions
The box has a picture of a desert with a SR-25 floating in the middle of it. The box has information and specs of the gun. I'm suprised that they got away with calling it a SR-25, and not changing the letters like most chinese companies do.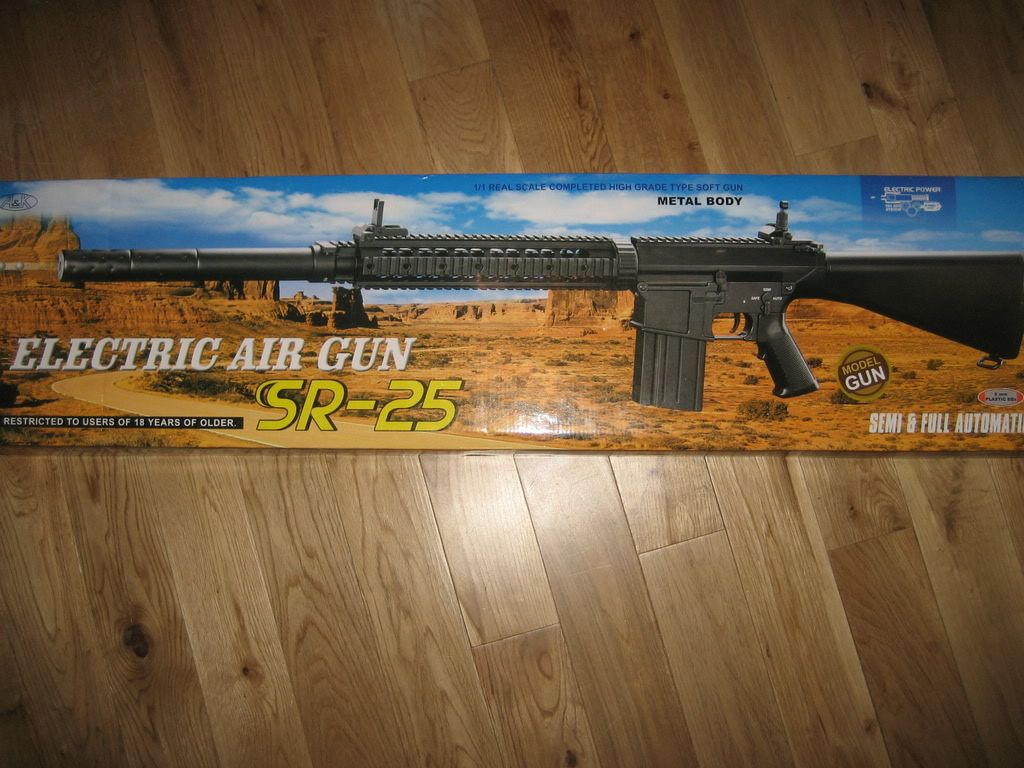 Opened up the box and "WOW, nice gun." is all that came to mind. Your typical stuff was in it. The gun, hi-cap mag, silencer, charger, 9.6v mini battery, unjamming rod, a screwdriver (haven't figured out what its for yet), a foregrip, and a little bag of bbs. No manual was included.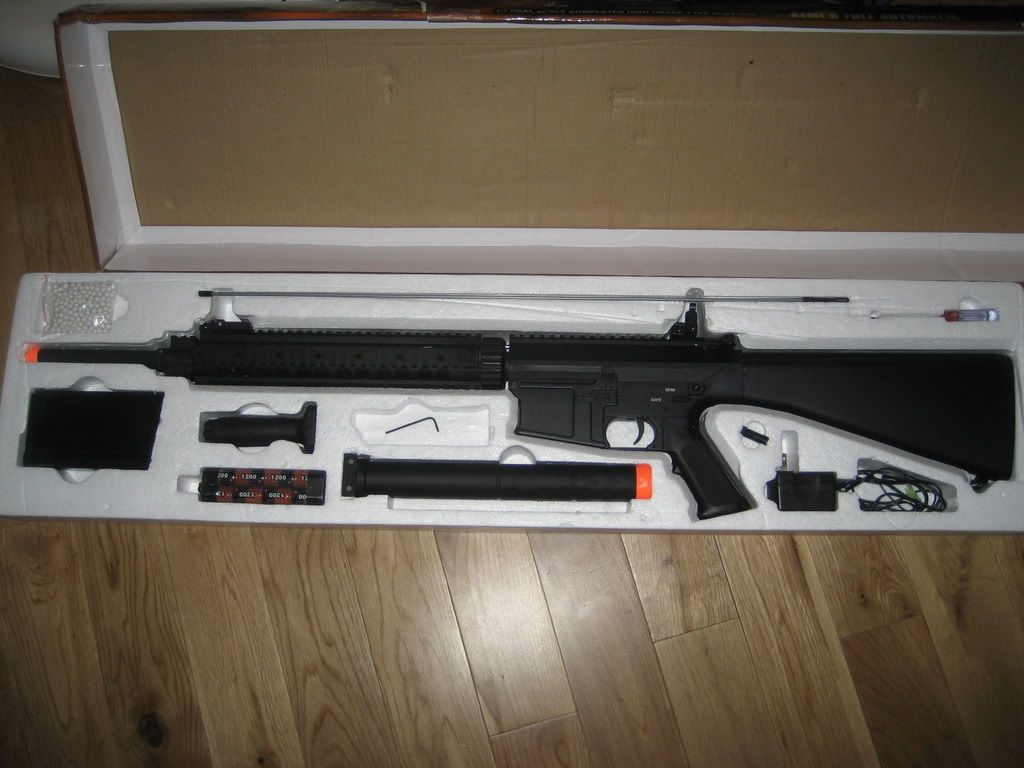 Aisoftgi chronoed it for me, it came shooting at 435, a little lower than advertised but just fine for me. I have better plans for her.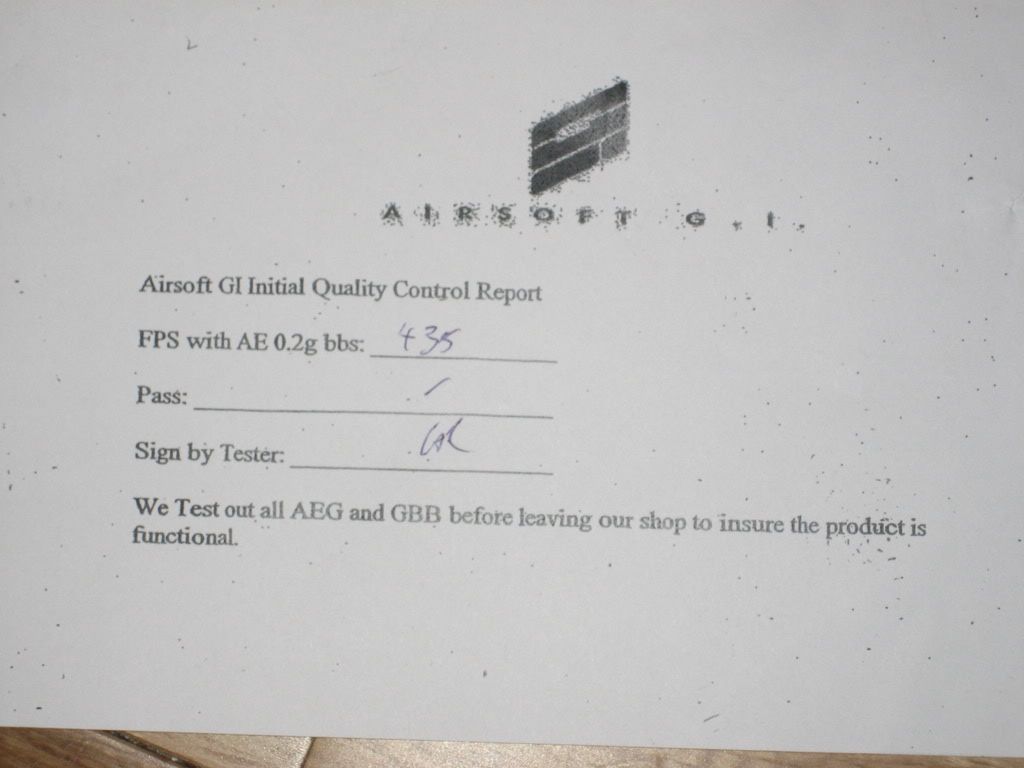 Externals
A great looking reciever. One of the best feeling recievers I have held. Not as good as G&P but definitly comparable to CA and Dboys new AKs. I am positive that the reciever is steel. Not only because magnets stick to it but, we have a metal detector that tells Iron/Steel from nickel and gold etc. So I'm sure its steel. The reason I don't think its pot metal is that it doesn't feel the same as my little brother's CYMA AK. The RIS is also of very high quality. No creaks or wobble anywhere on the gun. And pulling the charging handle opens the dust cover.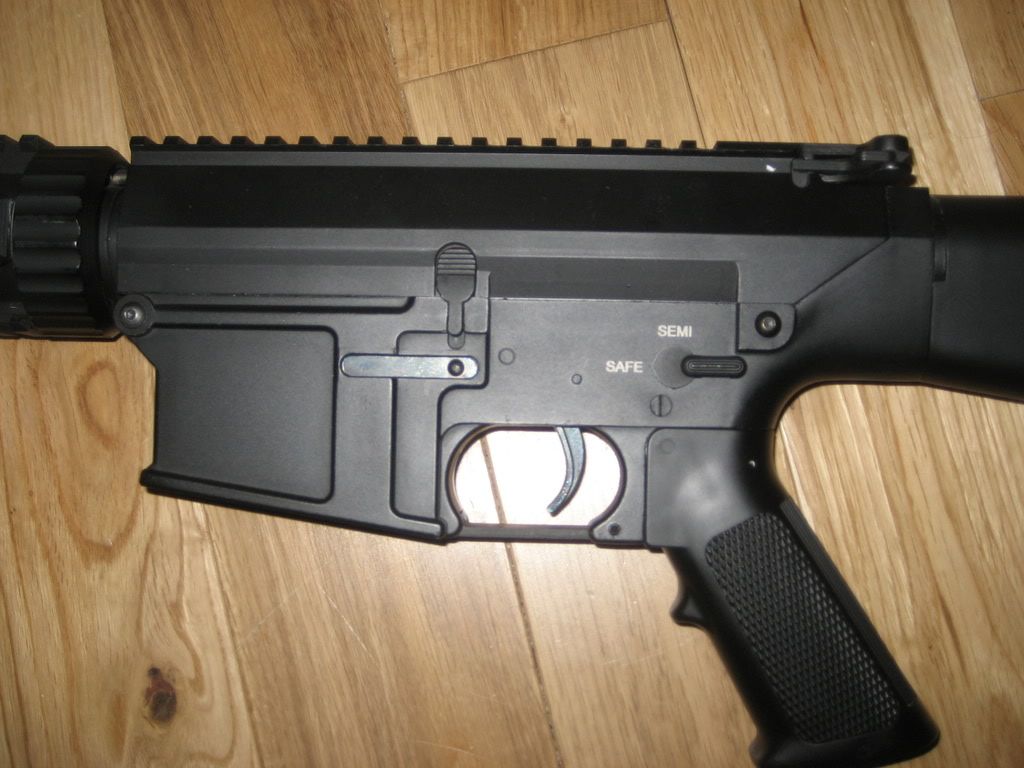 The finish is also very nice. Looks very realistic and great to hold. The finish on the stock is comparable to the material used on CA G36s. The detail is also very nice. There is a gas block with the tubing going to the reciver.
Stock
RIS/ Gas tubing. I couldn't get a good pic of the tubing. So Where you see silver in the RIS is the tubing.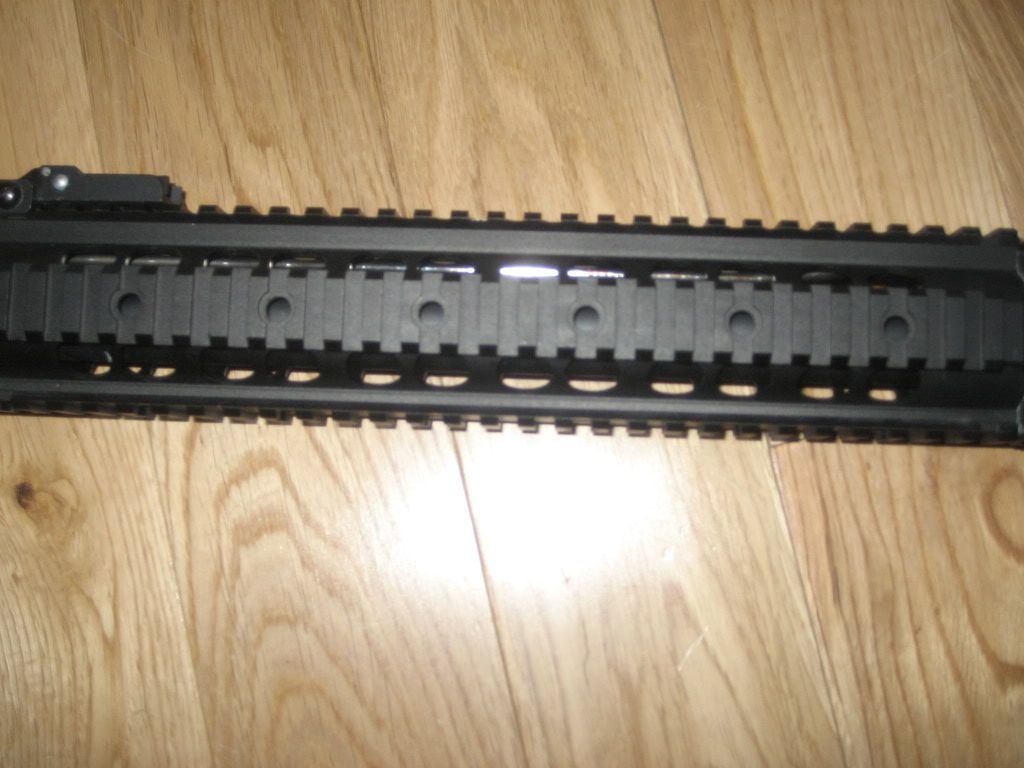 The selector switch block is also a nice addition. There is a part cut out of the selector switch so it can move over the selector switch block. You can't see the cut out part unless you look at it closely.
SAFE
SEMI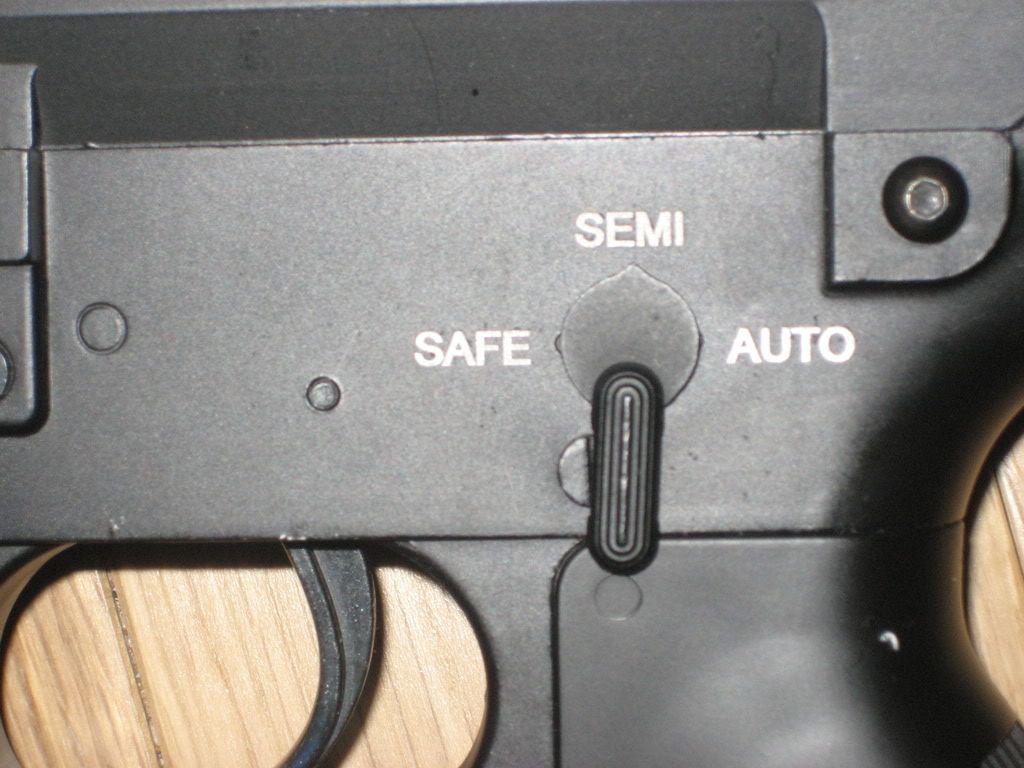 AUTO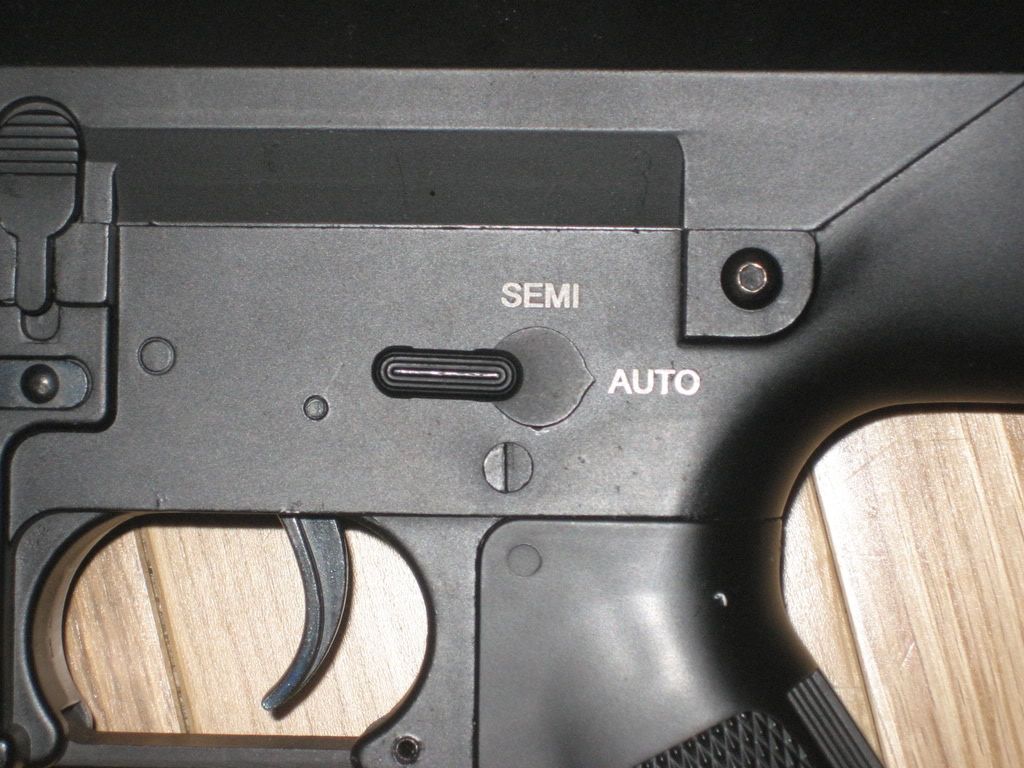 Internals
The gearbox is an extended Version 2. So it has the extended piston. So Classic Army torque-up gears is the only option for new ones. We haven't looked in the inside of the gun. The motor pulls the spring very smoothly, gives the gun a great trigger response and a good rof on auto. The gearbox runs smoothly. It is a little loud though. It sounds like it needs a good greasing. I wouldn't recommend using auto very often at high fps. We will have more info on the internals when we open the gun up. The hop-up is a one piece metal hop-up and performs great. The gun has great stock range and accuracy. The wiring looks good because it is thick and strong. One of the dissapointments of the gun is that it is wired for a mini battery. There is no reinforcement in the stock (it doesn't need it) so you can easily fit a 9.6v large battery.
Inside of stock
Hop-up
Magwell view of the Gearbox
Upper reciever off. Just a side note the upper reciver is eaasy to get to. Take out two screws and pull the reciver forwards.
Battery is a 9.6v 1200mah that is very nice for a battery coming with a gun.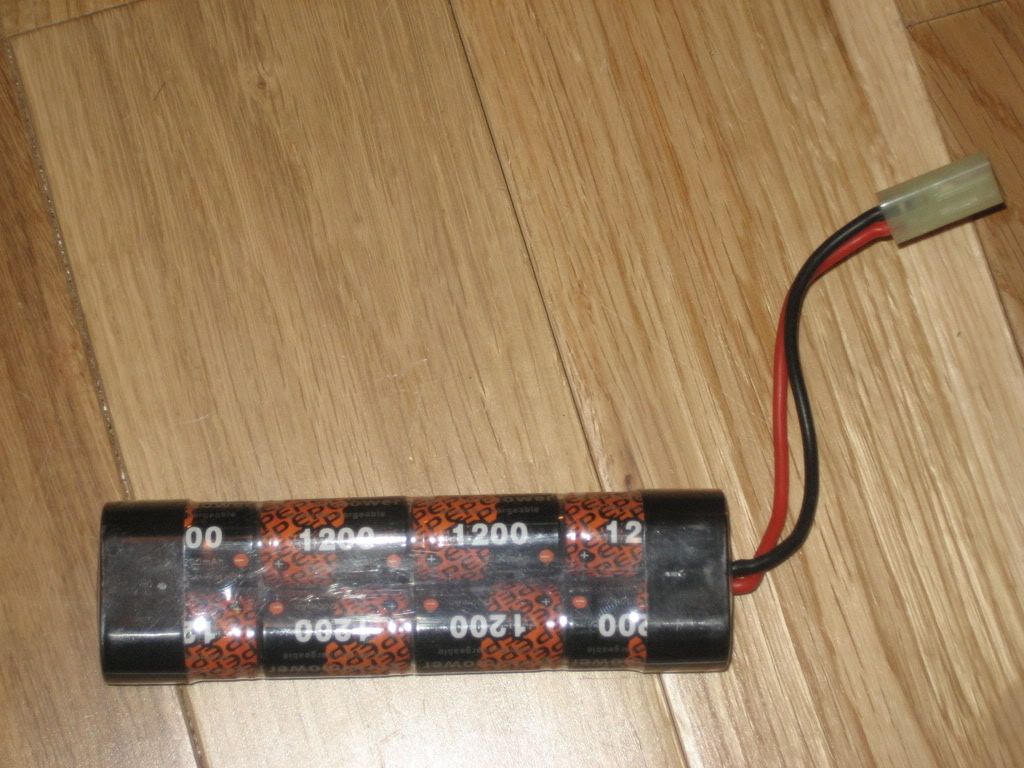 Mag
The mag is a standard high cap. It holds 400rds. It feeds perfect, no blanks. The finish on the mag could be better. They used a semi-mettalic paint on it. The mag is metal though. The mag is a PITA to get in and out, but it will fit easier after use.
Comparison between the SR-25 mag and M16. For those that didn't know, the SR-25 is basically a M16 without auto chambered for a 7.62mm round.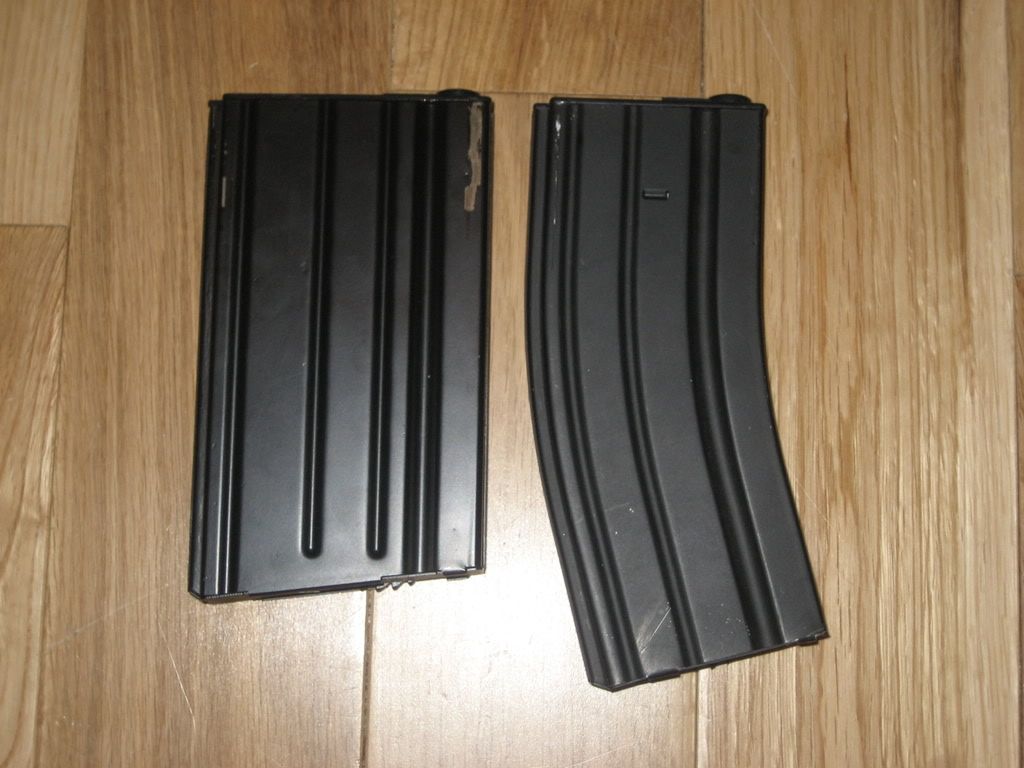 Performance
Great accuracy and range on the gun. Using a Tasco 3-9x40mm scope and TSD .25s at 100+ft we got the following results.
SEMI we shot 30rds and 22-25 hits.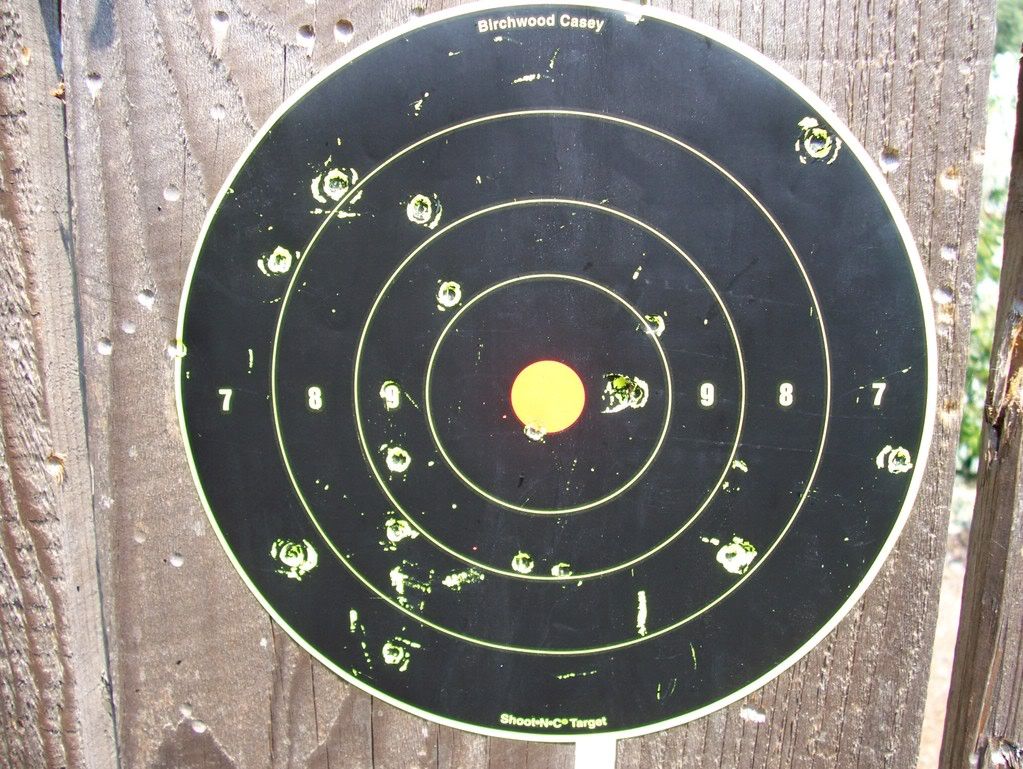 And on AUTO we used the same target but covered up all the previous shots and fired a burst of auto. All but one flier hit the target in this corner.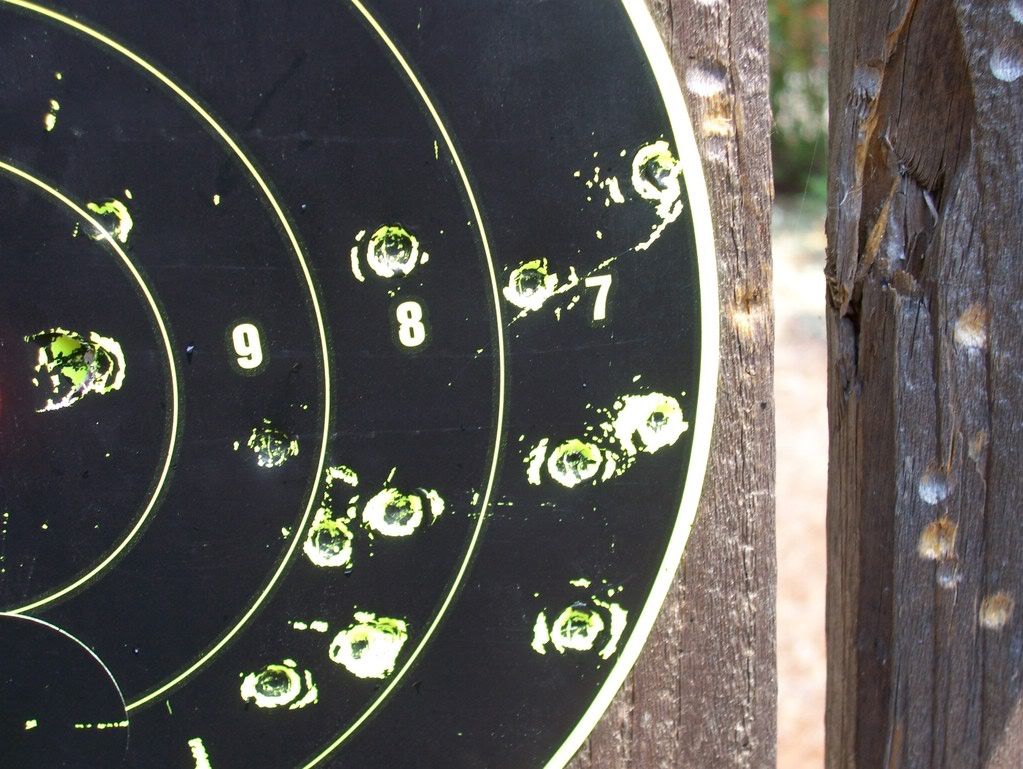 Compatibilty
This is a clone of the Classic Army. (we're not positive on that) The only gears that will work, since it uses an extended V.2 gearbox is gears designed for SR-25s only. Like CA torque-ups and you also can only use pistons that were designed for the extended V.2. All SR-25 mags should work with it. We havn't gotten any new mags for it but we will have some soon and we'll say if they work or not.
Roles
CQB- NO, to long.
DMR- Yes, the SR-25 is designed to be a sniper rifle in real life so making it a DMR is what it should be used for. Remember DMRs are some of the most expensive prodjects.
Assualt- I guess since it has full auto it can be used for that. But really save the assault role for the M16.
Support- again I guess since it has a long barrel and auto it can be used for that. Again that role is for the SAW and othe support weapons.
Scout/Recon- Since the gun is not exactly light I would not recommend this.
Recommended Upgrades
Tightbore barrel. The SR-25 has the same barrel length as the M16 so its a 509mm. I would suggest a Prometheus or DBC tighbore.
New spring if you want. Don't go too high up because we are unsure of how reinforced the gearbox is.
New bucking. This is cheap costing around $10-$20 Firefly and Prometheus are most used.
If you are planning on a bigger spring than get some torque up gears made by CA, make sure they are for the SR-25.
Maybe a new piston if desired, again make sure it is for the SR-25.
A new piston head, you should be able to use any piston head.
A scope is a must. Ion and I prefer Tasco 3-9x40mm scopes. You can get them from Walmart for $30, and they are very high quality.
Get a large type connector and a good 9.6v large battery.
Cover up the Auto with black tape or paint. It will look more authentic.
-Ugradeability. We will get to this later when we star upgrading the gun more.
Specs
Length from fron to back - 46in
Weight 8.6lbs
RIS length - 12in
Height - 7 1/2in
Mag height - 5 1/2in
Mag width - just a tad over 3in
Opinion
This is a overall a great gun for new and veteran players. Easy dissasembly makes it good for new players. It is accurate out of the box and the charger and battery is actually descent. Good rof with the mini battery.
Pros
-Easy dissasembly
-Good rof
-Detailed
-Included items are of good quality
-Steel reciever
-Stock has alot of room for battery
-Stock's texture and build material are awesome
-High fps (can be a con or pro however you look at it)
-Easy to mount optics
-RIS
-Heat sink
-Full auto (pro or con however you look at it)
-Motor is strong
-Comes with a quick Detach silencer
Cons
-Loud
-Needs to be greased
-High fps (can be a con or pro however you look at it)
-Full auto (pro or con however you look at it)
-Silencer not foam filled (just gives it a little different sound)
-Mags aren't readily availible
-Bolt release doesn't work
-No front sling mount (you can use one of the sights as it)
-No trades
-AUTO is written on the gun
-Mag is difficult to get in and out at first
Overall
Accuracy- 8 with .25 great .2 not great
Mag- 8
Strength in GB- ?
Internals- 8
Reliability-? haven't had for very long.
Upgrade potential- 10 you can make this into a great DMR
FPS- 10 depending on how you look at it.
Hop-up- 9 It outranges the JG M16 by ALOT. Range isn't good as Ion's SL8/SL9. But the range is still great for a stock gun.
External strength- 10
Externals- 8
Finish on gun- 9 one imperfection and that was a smudge on the reciver. (manufacturer defect)
OVERALL- 8.88 out of 10
MISC. PICTURES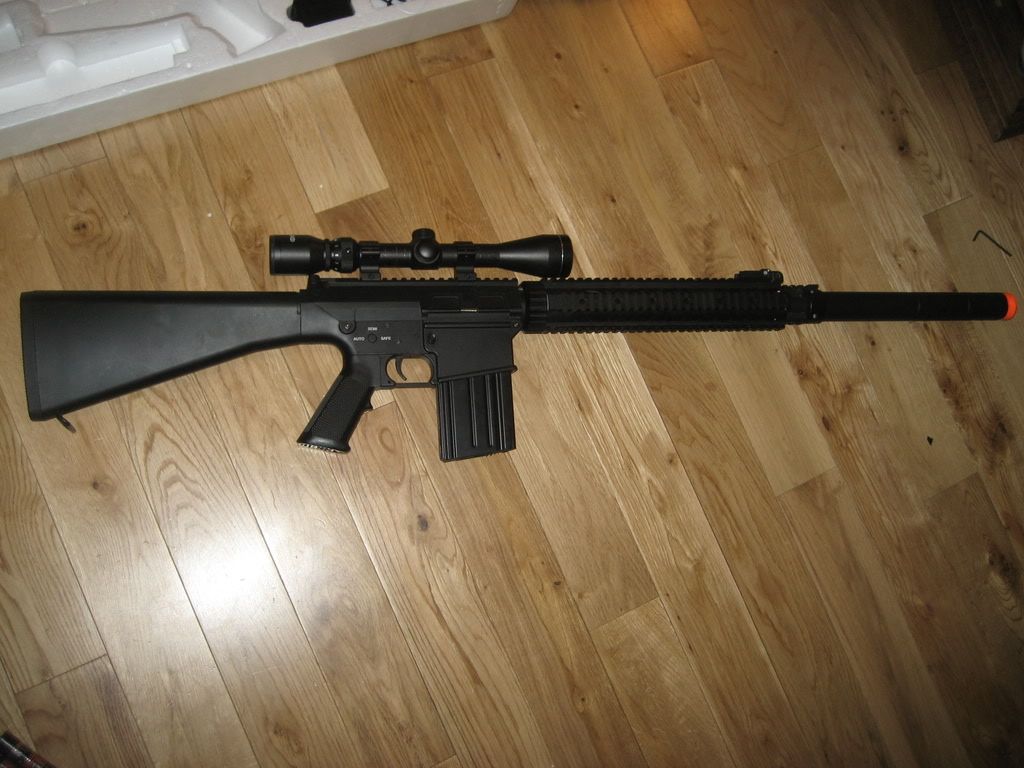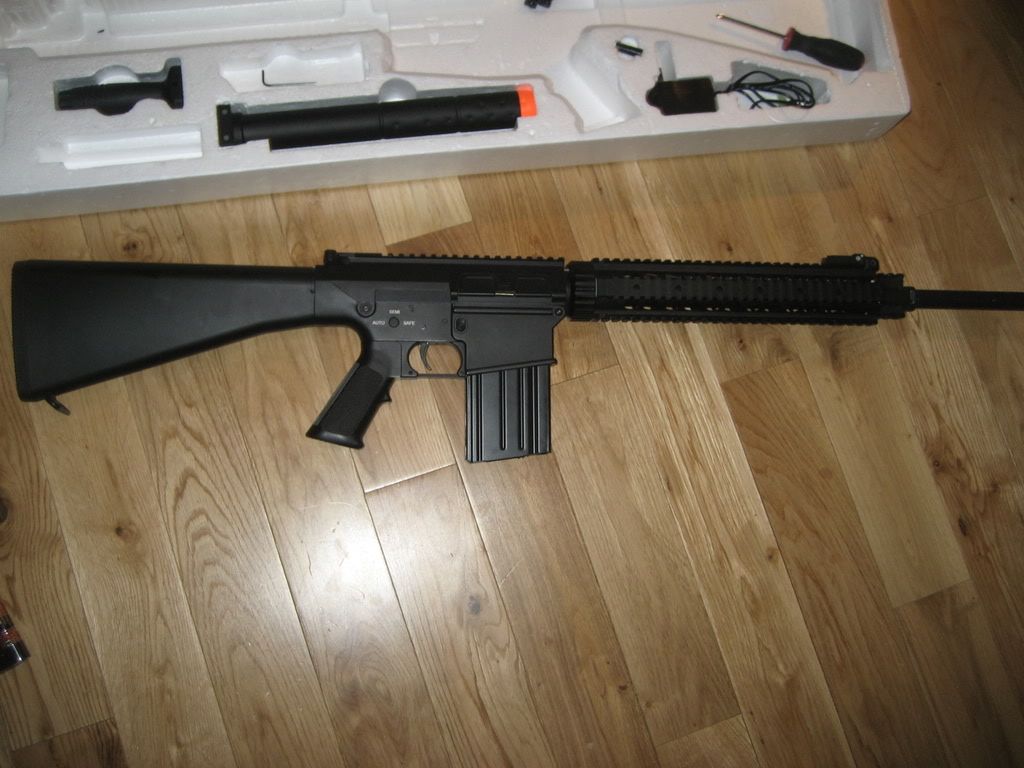 More pictures coming.
Edited by delta 11, 10 July 2008 - 05:18 PM.