Deep in the hills of the Great Smoky Mountains about a century and a half from Knoxville, a powerful clan of moonshiners, the Thickets, ply their illicit trade in relative solitude far from the prying eyes of the notorious, Sheriff Corn. With years of freedom from his greedy shakedowns, and with the help of the Teamsters, the moonshiners developed an elaborate distribution system making them more money than they could count…literally.
Deputy Dagnabbit stumbled upon their operation quite by accident hunting for coons. He breathlessly reported this account to Sheriff Corn who rewarded him with a cruise to Calcutta. Sheriff Corn set out to get his share of the family's pie.
Their duplicitous trade partner, Gucci Cucci Coo has a vested interest in maintaining the status quo as supplying his thirsty speakeasies in the north is no small feat. He has enjoyed a respite from justice too as local judges tend to throw out police charges before they are even read.
The IRS's top agent, Virgil P. Fosdick, smelled lost revenues all the way from Washington DC. From the top G-men in the US, Fosdick compiled a cracker jack squad known as the Touch-Me-Nots whose mission was to interrupt the speakeasy's patrons, interdict whiskey arrivals, and apprehend Gucci Cucci Coo.
What happened when their worlds collided went down into local lore as...
Corn's Squeezins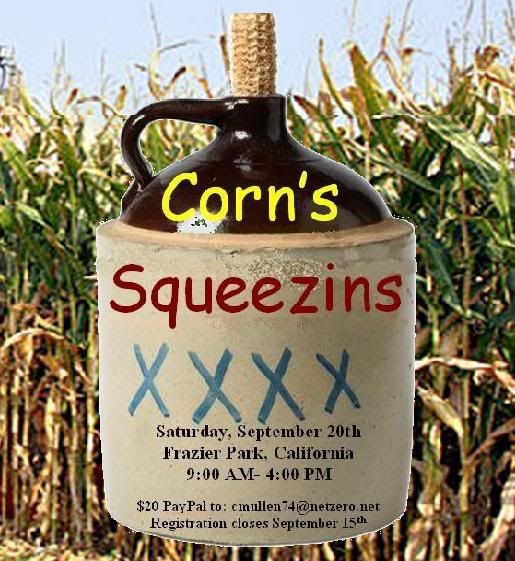 Alcohol coalition produces, transports, and sells moonshine. Prohibitionists try to stop it. Specific times and objectives will depend on enrollment.
Strict uniform requirements.
Lunch: Possum dogs, fried taters in a bag, and sody pop.
Lowcaps or midcaps (Exception: One and only one highcap by itself)
Full seal goggles.
Will be at Mt. Top Paintball; 7025 Cuddy Valley Rd, Frazier Park, CA 93225 (Don't worry, no paint and they only paintball there rarely in a small area of the 80 acres)
Red hanky required
IRS Touch-Me-Nots


Green BDUs (Woodland, ACU, etc.)
1 Virgil P. Fosdick-
2 Metroid
3 Muffinator
4 Nordic Penguin
5 Cox
6 Long Sniper
7 Aruman
8 Longshanks
9 Alphawolf
10 Black Pig
11
12
13
15
16
17
18
19
20
Sheriff


Tan BDU (Desert, Multicam, etc.)
1 Sheriff Corn-Daddy-O
2 Highlander 2
3 Highlander 3
4 Highlander 4
5 Wamba
6 JYD
7 Gianni
8
9
10
11
12
13
15
16
17
18
19
20
Thickets


Blue jeans, straw hats (males) or pigtails (females), and suspenders
1 Pa Thicket-Brave Sir Robin
2 L. Godiva
3 T.and.T.
4 Fusion
5 Tiger Lady
6 The Judge
7 Dale
8 Lynn
9 Angel O'Death
10 Flintstone
11 Stewart
12 Jaye Byrd
13 Buckwild
14 Uncle Salty
15 RadialBuzz
CLOSED
Mobsters


Black fedora (I have 12 of these for anyone), white/light shirt, red/black tie (no cammos).
1 Gucci Cucci Coo- Scourge 118
2 Bob-o
3 Bishop
4 SnowOptix
5 Bear
6 Pepsi
7 Gopher
8 Punk Newbie
9 Soviet Kazmire
10 Fugtive
11 Frontline
12 Travis
13 Jenkem
14 Jo3y
15 Preacher
16
CLOSED
Teamsters


Black shirt, tan pants, skimmer hat (I have this for everyone) w/slicked back hair (no cammos).
1 Patty O'Fernicher-Sheep Dog
2 Ashley Cake
3 Hebrew Hammer
4 Twizlr
5
6
7
8
9
10
Edited by Blackpig, 14 September 2008 - 06:49 PM.