TM MP7A1 Review
By Pierce G. (Aqua Donkey)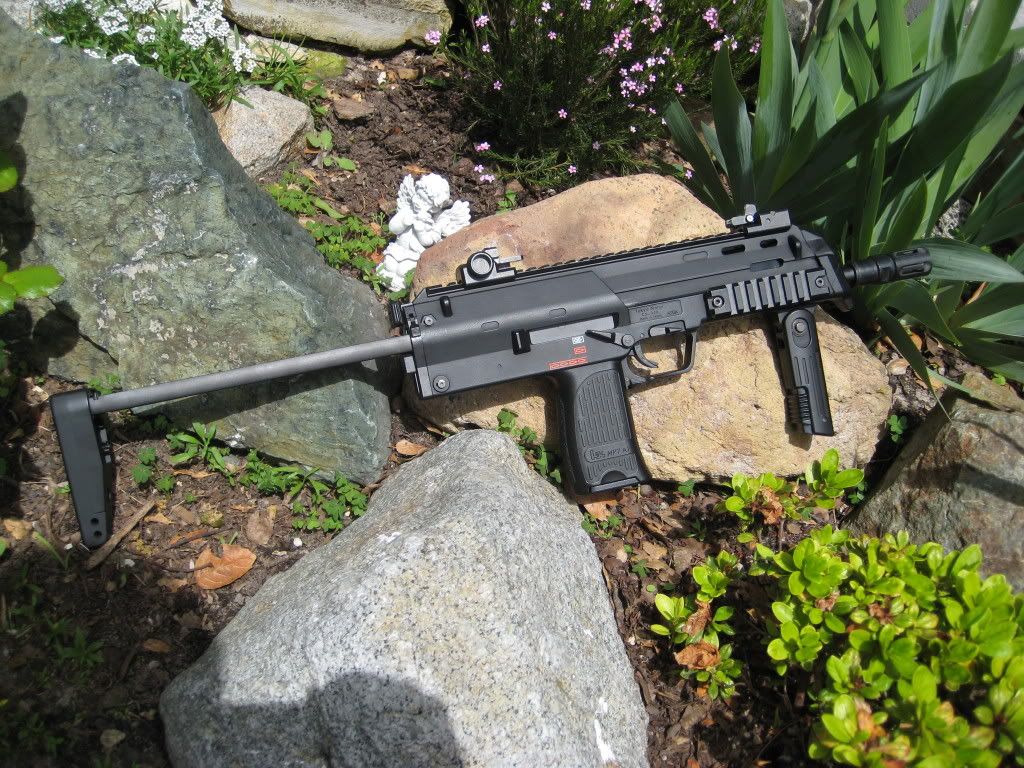 Table of Contents
Introduction
Real Steel History
First Impressions
Externals/Feel
Internals
Function
Performance
Firing Test
Accessories and Modifications
Pros & Cons
The Final Word
Eye Candy

==============================================
Introduction
First of all, I would like to say that I am a second-user of this gun, but the first owner took exceptionally good care and this gun is in pristine condition. With that taken into account, I believe I will still be able to write an unbiased and satisfactory review. The review is of the Tokyo Marui MP7A1. This model uses the TM AEP gearbox and has other unique features that will be covered. Hopefully by the end of the review, I will have convinced you to buy this fine little piece of airsoft equipment.
===============================================================

Real Steel History
Taken from Wikipedia.org: The MP7 is a German submachine gun manufactured by Heckler & Koch (H&K) and chambered for the 4.6x30mm cartridge. It was designed in conjunction with the new cartridge to meet NATO requirements published in 1989 calling for a personal defense weapon (PDW) class firearm with a greater ability to defeat body armor than current weapons, which are limited due to the use of conventional pistol cartridges. The MP7 went into production in 2001. It is a direct rival to the FN P90, also developed in response to NATO's requirement. The weapon has been revised since its introduction and the current production version is the MP7A1 (see Variants).
The proliferation of high-quality body armor has begun to make guns that fire pistol ammunition (such as HK's earlier MP5 or USP) ineffective. In response to this trend, HK designed the MP7 (along with the brand new UCP, which uses the same ammunition) to penetrate body armor, but small enough to be used in place of either a pistol or a submachine gun.
===============================================================
First Impressions
"YEEEESSSSS!!!!" A large sized package arrives on my doorstep that I have been waiting for! Too bad I am going to skip the search for scissors and rampant screams of satisfaction and get to the important part of the first impressions. The gun came in its originally box with the following items: The MP7, two 50 round short magazines, the special charger, and special 7.2v battery; enough to operate the gun. On a side note, I also received the Pantac MP7 holster in OD, but I will go into that later. Anyways, after about three seconds, I realized how beautiful and sleek the gun looks. I remove it and immediately notice it's sturdy, well constructed plastic frame. All the functions and controls move and slide flawlessly and I already could tell this would be an amazing weapon.
Here is the original packaging, on the inside, the gun and accessories are nicely secured in hard foam.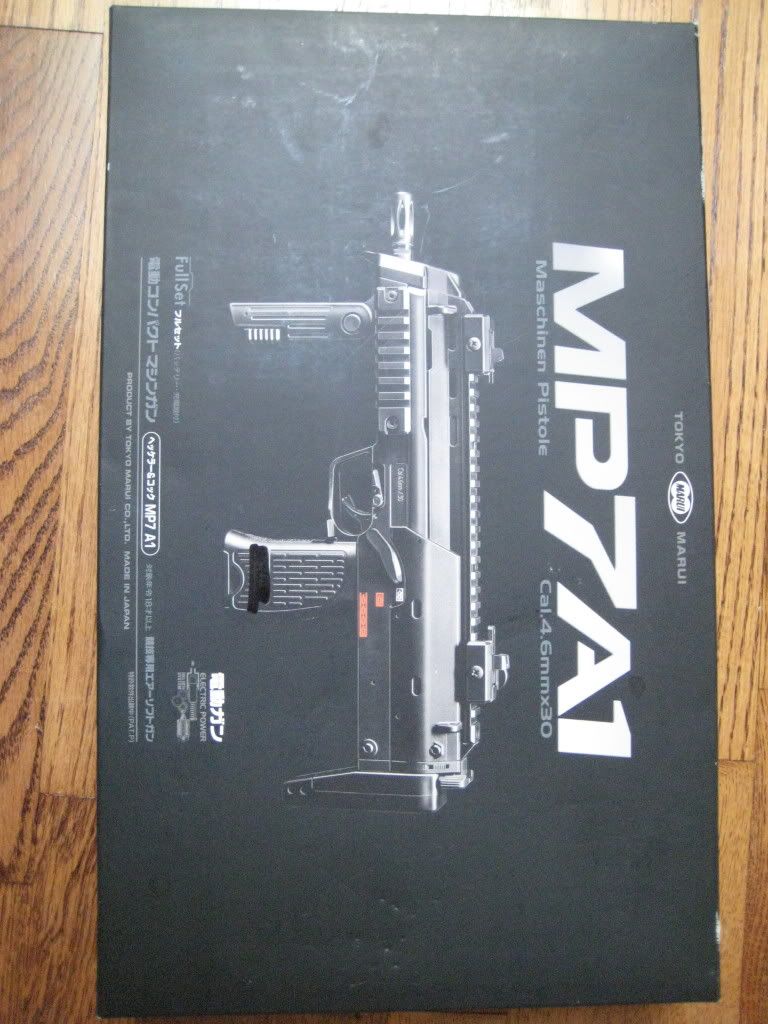 ===============================================================
Externals/Feel
The gun is made out of a very sturdy matte black plastic. It has some metal parts such as the rails, outer barrel, sights, and some controls but the gun is mostly plastic. There are no creaks whatsoever. This is my first Tokyo Marui gun so I was very skeptical. I had been accustomed to solid metal or composite guns such as M4's and specifically, the CA G36. Well, let's just say Tokyo Marui had already racked up some points on my board because everything about this gun externally is what I would have expected or better. The gun is very light, easily one-hand-able if your arms are at least normal in strength. The, shall I say, "additions" such as the built in folding foregrip, removable iron sights, and sliding stock, are all very nice too. The stock feels very nice against the shoulder and the grip is very ergonomic. The iron sights are removable and can be placed on any standard RIS rail. They are dual sights; flipped down they are sights like on a pistol or SMG would have, but flipped up, they are rifle sights that are very easy to look down. Another great thing about this gun is the trademarks and similar markings. My MP7's trades are completely intact and unaltered. They are very neatly placed in and add to the authenticity of the gun. Like most normal SMGs and rifles, the gun has safe, semi, and full auto functions which all work like you would expect. I should also quickly mention that the threads are 14mm positive which is not very common. All in all, I was most surprised by the externals on this gun.
The trades: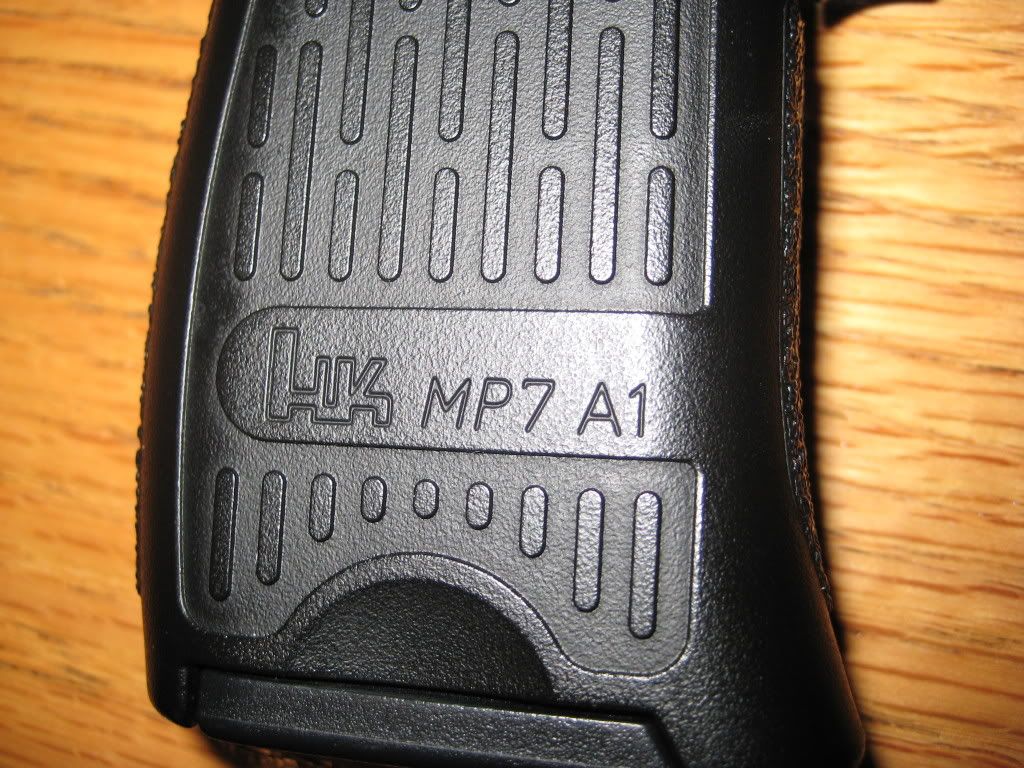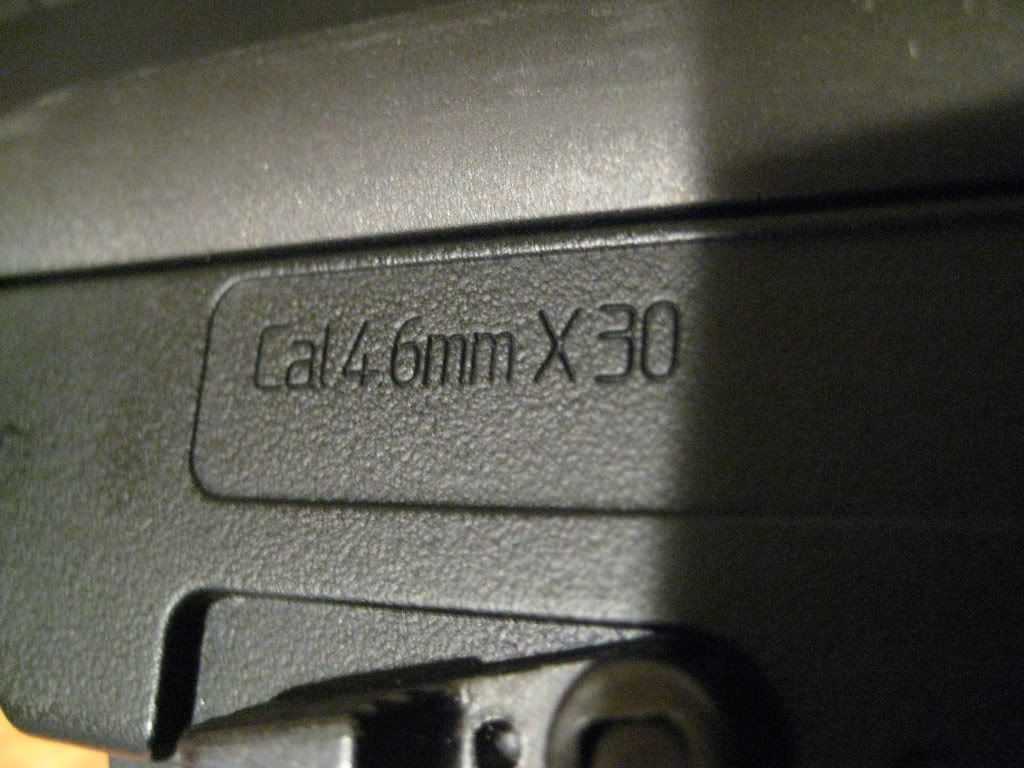 Here are the sights flipped down: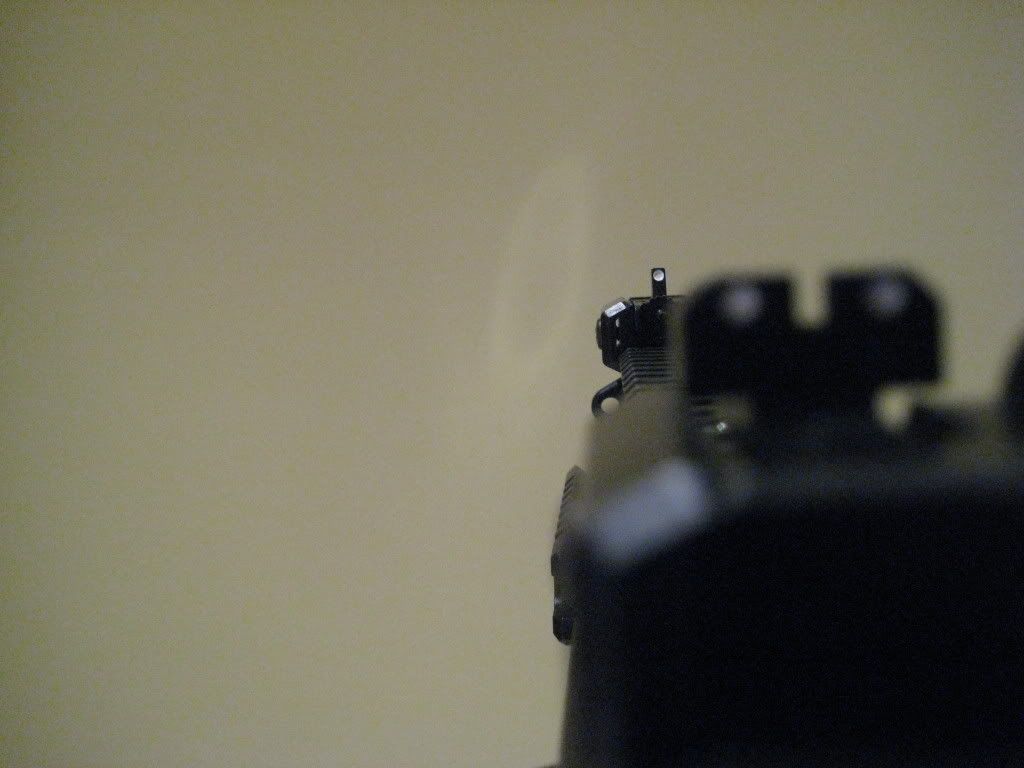 Here are the sights flipped up: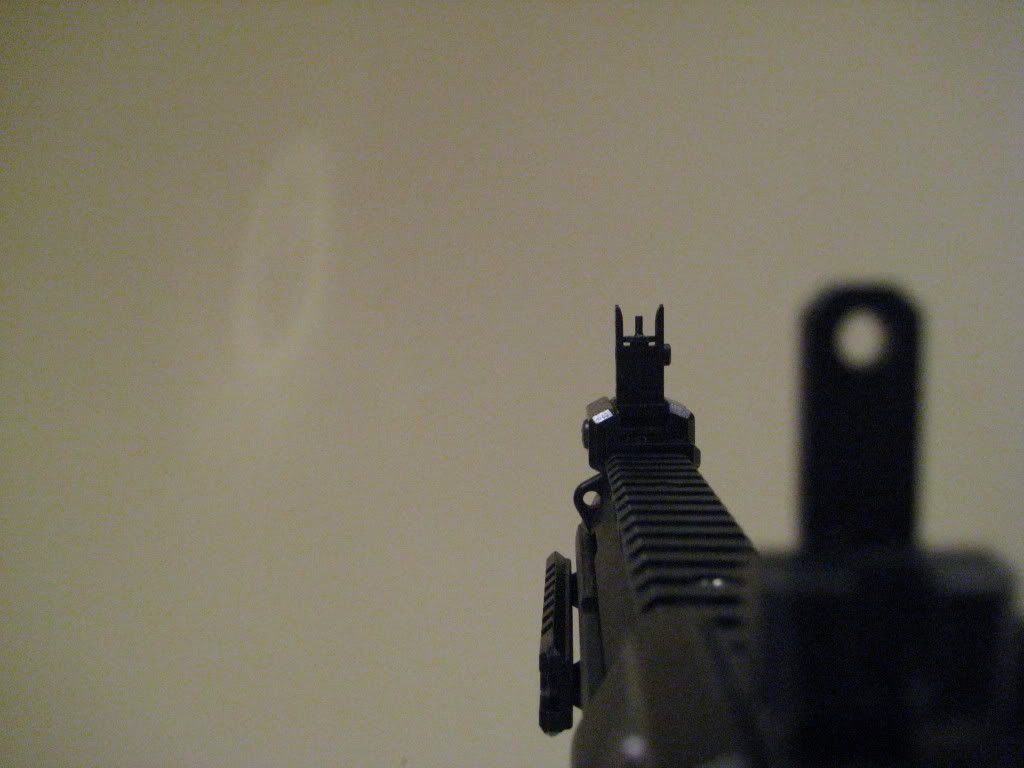 ===============================================================
Internals
First off, you should all realize that this gun uses an AEP gearbox which does limit performance and aftermarket support. I have not taken the gearbox down and do not plan to just to avoid problems. Although I cannot say I will leave the hop-up and barrel stock. To access the hop-up on this gun, you can pull back on the bolt which exposes a familiar wheel labeled "up" with an arrow pointing to turn up to increase hop. One of the only things I do not like about this gun is the difficulty in adjusting the hop-up. It is not a big deal, but you just need good fingers to reach into the small opening to turn the wheel. The battery supplied with the gun is a 7.2 500mah NiCad made specifically for the gun. It does not have connectors and neither does the gun. This allows for space saving and a cool feature in that the gun does not consume any battery power at all when on safe. Basically, the gun sounds fine, and I can safely say that this gun would run a good long time stock.
This is a picture of the battery:
===============================================================
Function

The function of the gun is extraordinary. Everything that is supposed to move, moves nice and what should not move, does not. The function of the selector switch, sliding stock, bolt catch, magazine release, flip-up sights, and folding grip are all so smooth it is just fun to sit down and play with them. To fire the gun, you must first remove the front end by pressing a button and pulling out. This allows you to install the battery onto a rack which leads it to the contacts. You may then insert a magazine and begin shooting. When you are done, remove the front end again and pull the tab that is attached to the rack. This will bring out the battery for a hassle free battery removal and fast battery changes. To take the gun out of its compact mode (folded grip and collapsed stock) you can simply pull down on the grip. Once locked, this thing is sturdy! I just did a sturdiness test in where I tried shaking it around with one hand on the folding grip and it did not move at all! To fold it up, you will need to pull down on the button and then fold it back into place along the underside of the gun. To expand the stock, simply push up on the lever and the stock will pop out ready for sliding. The function of this gun is flawless too, Another aspect that just makes me fall more madly in love with this little beast.
Just an example of the flawless functions; The mag release is smooth, but it also ejects the magazine half way:
Here is the button to push when removing the front end for battery installation:
This is what the front looks like when the front end is removed. You can also see the battery rack thing: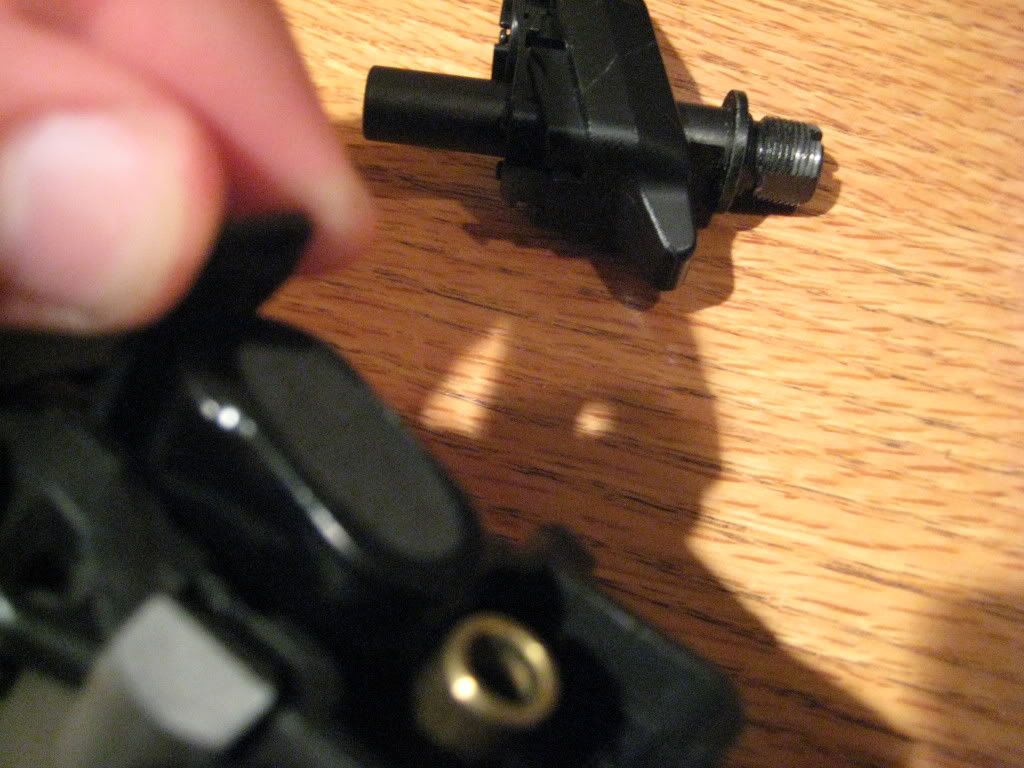 The gun compacted: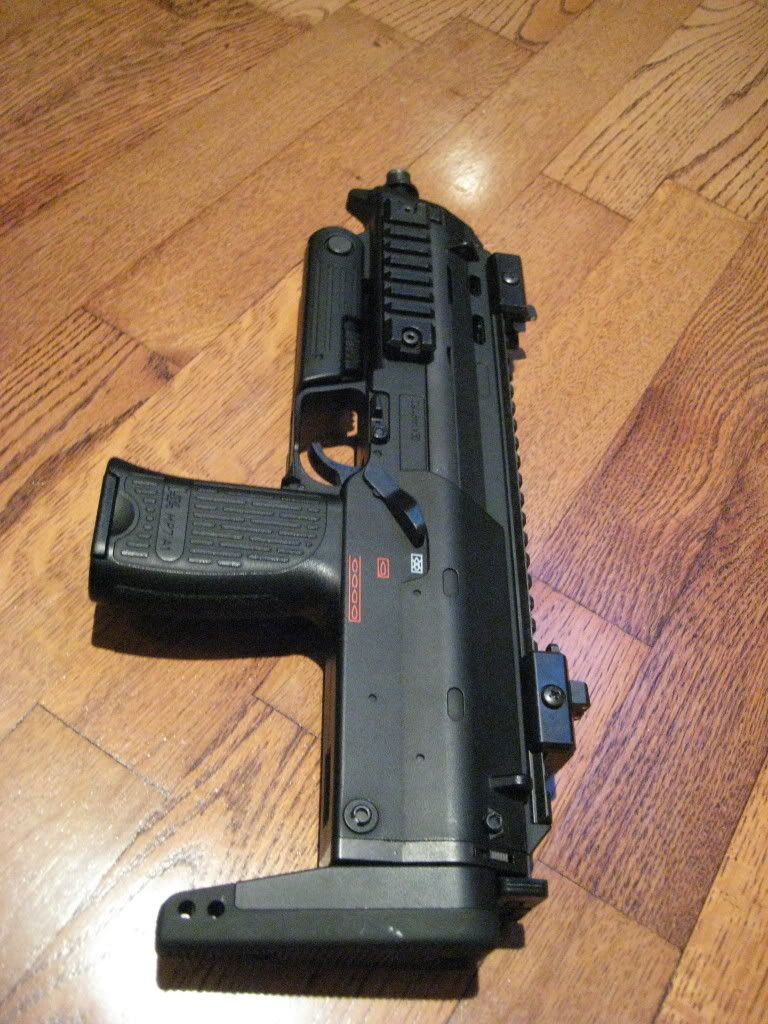 The gun expanded: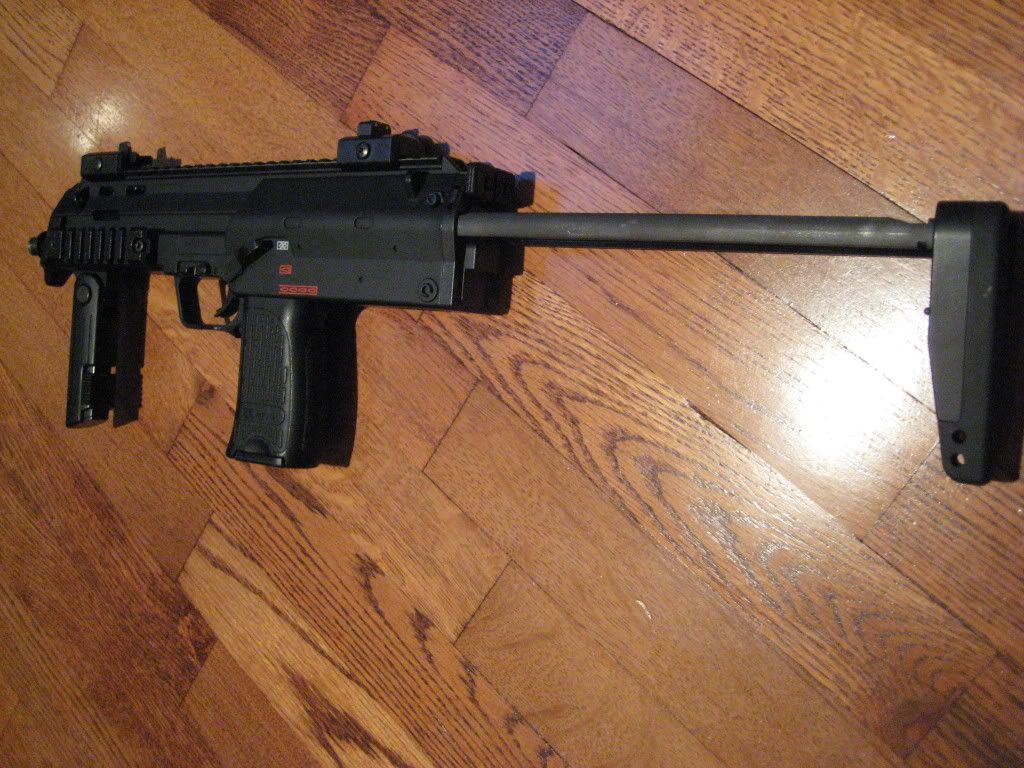 ===============================================================
Performance
Okay people….remember, this thing is an AEP and I think TM designated it as a sidearm, so don't be disappointed at the 240 fps with .2's. When I started taking my first test shots, I was actually impressed. This gun outranges all my GBBs and gets as much range as my WA SVI 6", and keep in mind they are all shooting 100 fps harder than this thing! The hop-up also works very well and is the key factor to this gun's range. Accuracy is also much better than most GBBs and once the hop is dialed in, you can expect some great groupings around 100ft. The sound from this gun is very zippy and poppy. Basically, it sounds like an AEG on helium. The ROF on this gun with its 7.2v battery is also quite astounding; probably around 17-18 rps fully charged. Tokyo Marui says it is 850 rpm so you can do the math yourself if you want. Basically, as a secondary this gun is a beast, I would be confident against an AEG as this thing would definitely hold its own. As a primary, I probably would say no, unless it is upgraded.
===============================================================
Firing Test
I went outside to do a firing test. It was moderately windy. I was using TSD .25 bbs. The target was from 45 to 50 ft away on a tiny downhill slope. I was not supported by anything. This was just aiming with the stock extended and grip down. Because of this, I weeded out the shots used to target in the middle. These shots used to trace are circled in pink, do not take these into account when viewing the test results. The main area circled in green are what you should base your thoughts of. I zeroed in on semi-auto, and switched to full auto and shot about 25 shots on that setting. Overall, I was satisfied by the outcome, mostly because I am going to replace the barrel anyways, but I thought the accuracy was pretty good.
target square is 6.5 inches on all sides.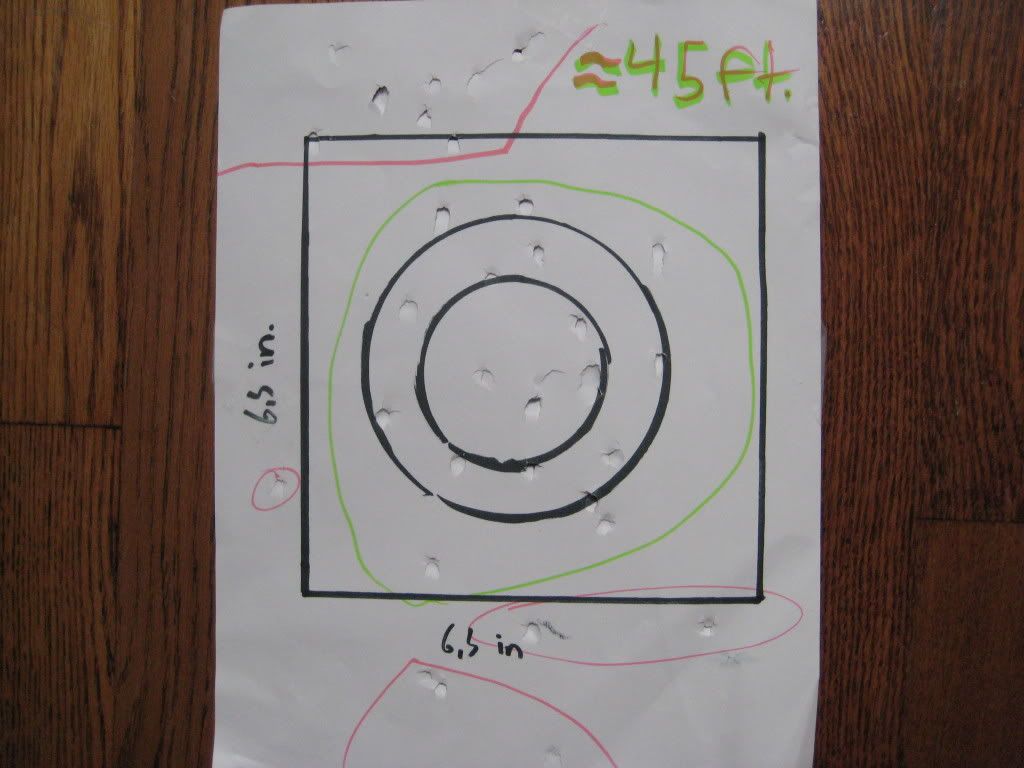 ===============================================================
Accessories & Modifications
As far as accessories go on this gun, you have a fair amount of options. The three RIS rails (left, right, top) obviously allow for a good amount of accessories and there is also a light adapter that can be found at AirsoftAtlanta.com if I am correct. As far as direct gun modifications, there is not much except for silencer adapters, the light adapter, and spare magazines. On the other hand, there is a good amount of internal parts from Nineball and PDI such as AEP gearbox parts and Tightbore barrels. Nineball also makes a cool battery conversion kit to wire this gun for regular batteries. Just imagine; this gun gets a good 17 rps on a 7.2v, think of it on a LiPo! Personally, I only see myself upgrading the barrel to a PDI 6.05 to extend the range a bit, maybe a 6.01 for more fps, everything else on the insides is good enough for me. Besides that, I can only see myself buying some more magazines (a couple MAG short 50 rounders and maybe a WELL hicap) because the holster I have is perfect. I might as well just mention that the Pantac MP7 holster is amazing; well made and it allows for lightening fast draws and keeps the weapon safe.
The MP7 inside the Pantac holster: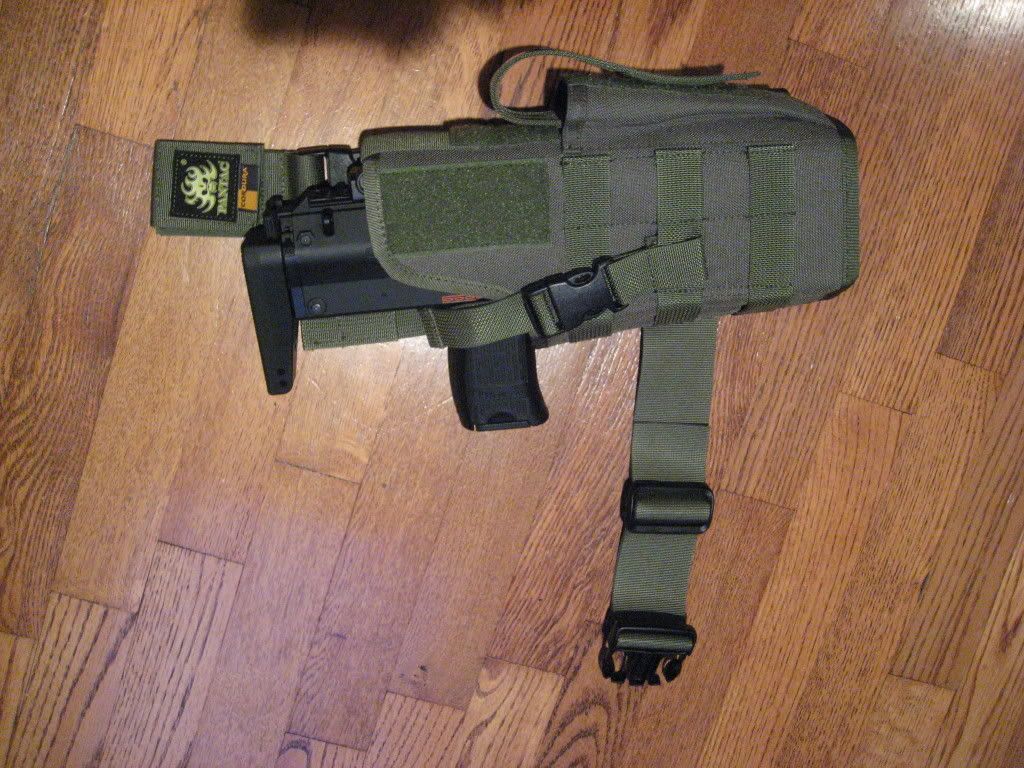 ===============================================================
Pros & Cons


Pros:
Light
Small
Better performing than other sidearms
Upgradeable
Totally sweet to look at!
Well functioning
Pretty much everything else!

Cons:

Low fps
Can't be compared to an AEG
A little pricey (above $215 for an AEP is a little high in my opinion)
….and that darn hop-up adjustment

===============================================================
The Final Word
All in all, this gun is just plain sick! Externals and internals are solid. Everything functions smoothly and can be relied upon. I think this is the perfect sidearm and best alternative to a gas gun.
Here are my ratings:
Externals: 9.5/10
Internals: 9.5/10
Performance: 9/10: compared to other secondaries, 5/10 compared to an AEG
Buck for Buck: 6/10: pretty expensive, but I would still say it is worth it
Overall: 9/10: It's an awesome gun, fun to shoot, and a good sidearm
That's all folks! I hope you buy it!
---AquaDonkey
Here's some Eye Candy for ya' (The flash hider shown is an Element Vltor Style Flash Hider)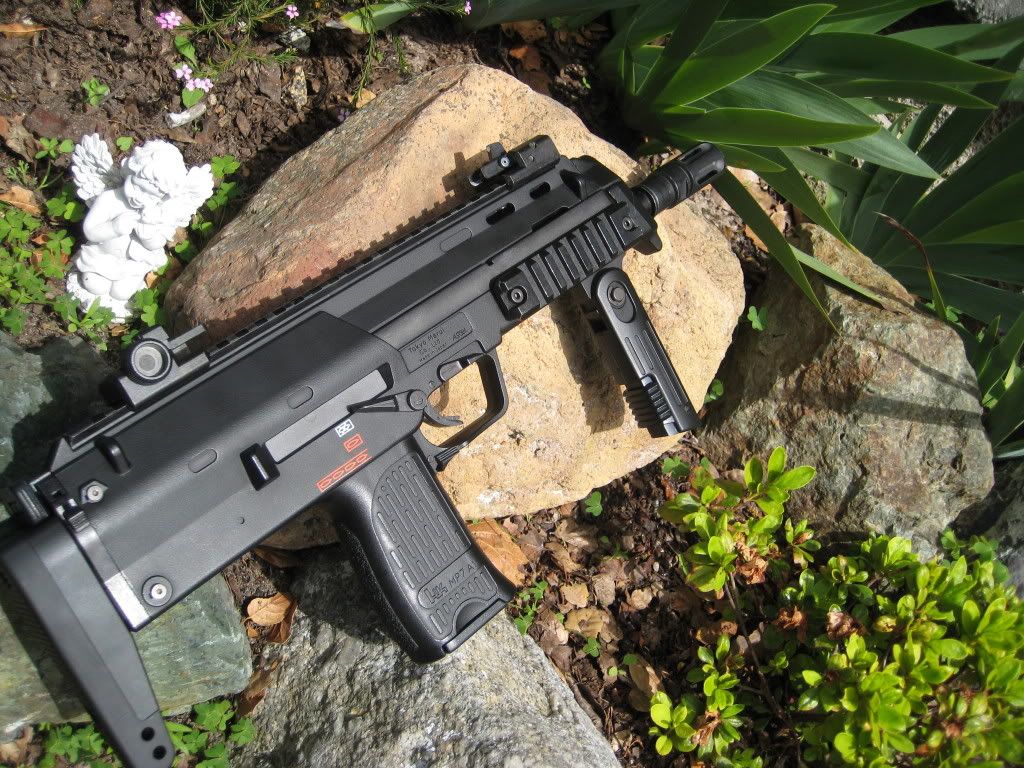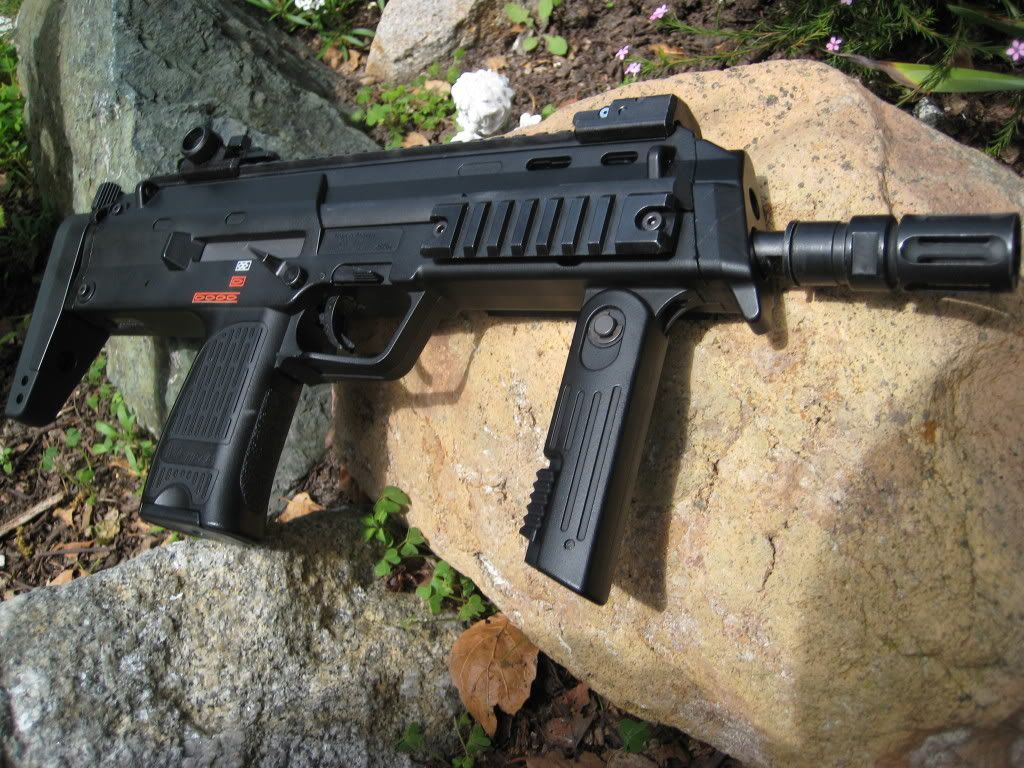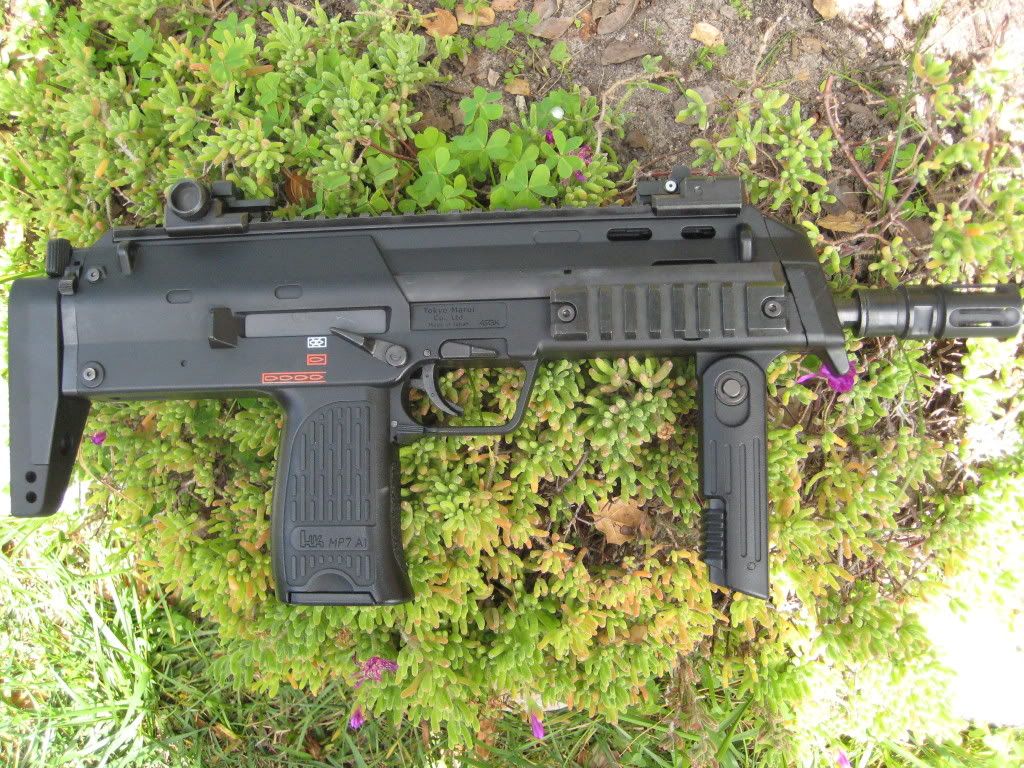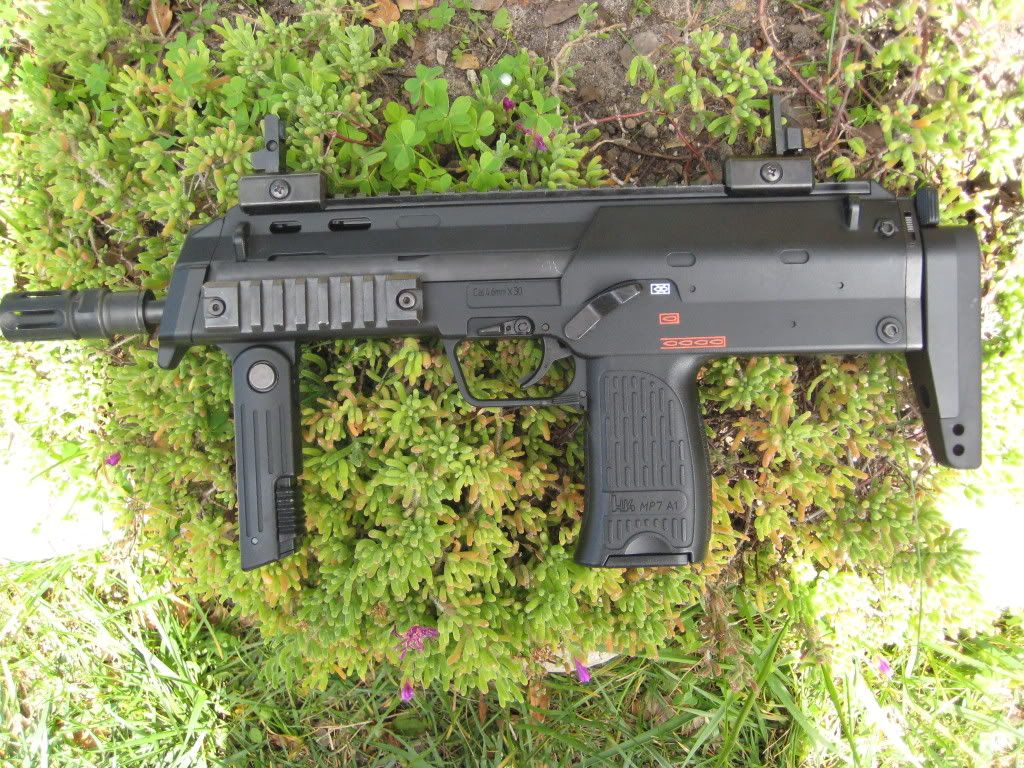 Edited by Aqua Donkey, 14 April 2009 - 08:41 PM.