After reading MANY topics discussing the effectiveness of these barrels as null, I decided to look into it more.
I have compiled "a few" quotes, testimonies and tests on them to save space on my bookmarks and your time searching.
If you are the original author of a quote please tell me and I will give you credit, or ask if you want it removed.
Any more information, pictures/video of tests with different guns, power levels and other variables will be HIGHLY appreciated.
shh, Im Canadian...
I am very convinced these barrels work at their recommended energy levels, I will update when I get my 1j spring and tk barrel for my vsr clone (In a few months unfortunately, being 14 has it's drawbacks)
I will provide a video as well as pictures, I have my stock performance already documented.
Now, if you have been wondering, how do these things work?
Let's have ryanm from airsoft retreat explain.
QUOTE
I recently posted about this in another thread, and have visual aids.
All bbs bounce in the barrel, regardless of fps, regardless of the barrel. The TK barrel attempts to control the bounce path of the bb using the channels of air to push the bb towards specific bounce points. Making the bounce path predictable and reducing the number of possible exit paths makes it more consistent. For example: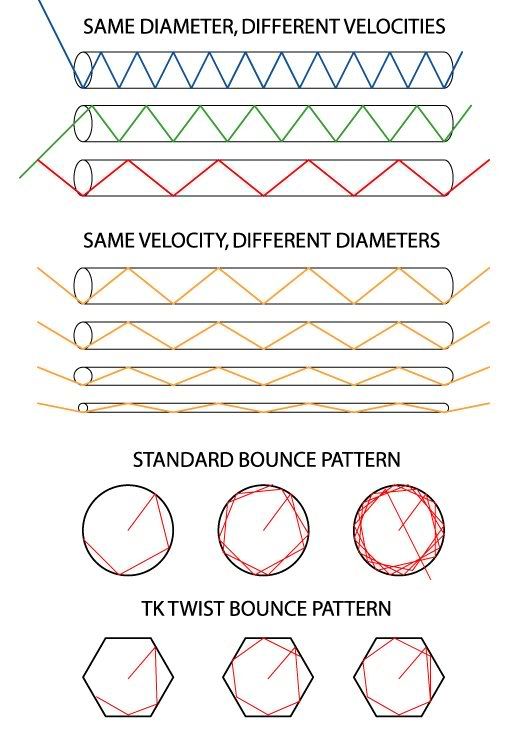 As you can see, even small changes in velocity affect the bounce path through the barrel, and no gun shoots the same fps every time. This is reduced by the use of a tighter bore, where the possible exit paths of the bb are reduced to a narrower cone. As you can see in the lower half of the illustration, a standard smoothbore allows a bb to bounce seemingly randomly, allowing an unlimited number of exit paths. The TK twist barrel attempts to reduce the number of possible exit paths, by "encouraging" the bounce path to converge, leaving only 6 possible exit paths. A smaller number of possible exit paths mean a more consistent shot, and consistency is accuracy.
The TK Twist barrel uses rifling to allow air to move past the bb at a faster rate within small channels. These channels of air produce a barrier, which push the bb when it tries to enter them. The reason higher fps doesn't work is because at certain energies, the force of the bb is greater than the force of the channel of air, so the bb pushes through the air channel and bounces wherever it wants. When you do that, you not only lose the benefits of the TK Twist barrel, it's worse because the construction of the surface of the inner barrel allows for even more random bounces than a smoothbore, so accuracy would actually be worse than a smoothbore of the same inner diameter (and construction quality).
Within the recommended energy range, the TK Twist is supposed to work very well, but there is absolutely no reason to even consider one if you intend to go over the max recommended fps.
All of the above illustrations are both simplified and exaggerated in order to make the effects being described more apparent.
HTH, ryanm
Here's a well known testimony by a respected airsoft Canada mod.
QUOTE
After years of hearing and reading endless debates about Tanio Koba Twist inner barrels, and after years of hunting for them, I've finally acquired a couple of them in various lengths for various guns from AEGs to GBBs.

Here are my initial findings:

These inner barrels shoot STRAIGHT. They have an extremely predictable, flat and straight flight trajectory. Where standard hop up will cause the BB to gently curve up before dropping, TWIST (or cyclone) inner barrels will cause the BB to go extremely straight for an even further effective range before dropping.

To set a clear and definitive answer for all the debates that have floated on the internet for years:

Q1. "How is it physically possible to have a rifled barrel impart a spin on the BB and combine it with the Magnus effect of the hop-up? It is two totally different axes of rotation!"
A1. Actually, the barrel ISN'T "rifled" in the standard sense of a real gun. Yes, the inner barrel has spiral rifling grooves in it, but the BB does NOT touch the groove. The purpose of the TWIST inner barrel is not to put a rifling spin on the BB. It is to put a "cyclone" of air around the BB, to help float it through the inner barrel and PREVENT the BB from touching the side walls of the inner barrel at all. The result of this is higher accuracy, more predictable trajectory and greater effective range.

Q2. "I've heard about power requirements for these inner barrels. Details?"
A2. What you've heard is true. The twist inside these inner barrels are optimized for guns that shoot NO MORE than 1 Joule or 330fps with 0.20g BBs. Some internet debates claim that if you have a higher powered gun, all you need to do is use heavier BBs to slow down the velocity of the shot. NOT TRUE. The air moving around the BB will still be beyond 1 Joule and it will affect the shot trajectory.

Q3. "What happens beyond 1 Joule or 330fps with 0.20g BBs?"
A3. Up to 330fps, the results of the shot and even the shots dropoff are very predictable, accurate and flat. Groupings remain tight with very little spread. However, once the velocity of the shot begins to exceed that limit, the shot starts to become unpredictable with increased spread. The higher the velocity, the greater the perceived spread.

Q4. "So how accurate are these inner barrels compared to other brands such as Prometheus, KM TN or Systema?"
A4. At this time, I have not done any quantitative comparitive range testing to get accuracy results. When used within its optimized power range, I can outright say that these inner barrels have a MUCH straighter trajectory, greater effective range and a generally much more predictive flight path than any other barrel I've used before.

There is a project underway for an indoor range test to compare various lengths of these barrels against other barrels at different power ratings (stock, 1Joule and 400+fps).

How do I like these inner barrels? I love them. I wish they worked well at 400fps. At 360fps, they are still very acceptable and I will take that in to consideration when using them in some of my guns.
But for now, I am FOR SURE putting these inner barrels into all my pistols and low powered AEGs.
Here's a pm from Killershot, also on airsoft retreat.
QUOTE
Range is very nice but if you want to reach out to 200 feet (it is possible, I've done some research and asked around) you'll need to be prepared to take a nice lob shot. Accuracy is awesome for me but I will also give credit to my Firefly soft.. many people are against the Firefly soft since it seems to be a hit/miss thing.. you either get a good one or a bad one and I took the gamble and I got a good one.. the reason I did that was also from asking around the Firefly seems to work best with the TK Twist (assuming you got a good one of course) but if you don't want to gamble go for the Nineball. Both Firefly and Nineball can be purchased at TrinityAirsoft and the Firefly soft can also be purchased at AirsoftGI. Make sure you get the VSR/Pistol version.

If you're curious my setup is: BAR-10, TK Twist, Firefly Soft, Laylax Pro Cylinder Head, Laylax SP100 spring. I've only sat down to test groupings in my backyard which is fairly small, measured to be around 75 feet from where I tested it to the target and my groupings were around 0.5" to 1".. 2 hitting practically the exact same spot.
Hope this helps, tell me how yours works out.
A pm from Mj23lj, on asr.
QUOTE
Well I've upgraded everything apart from the Teflon Cylinder at the moment in my TM VSR.

I'm getting 210'+ chest size with .28/30g's (sits consistently on 311 with .28's and 308 with .30's)- so considering (like you know) it's around 330fps with .20g's, I am VERY impressed.

I have noticed however, obviously, it is REALLY effected by ANY wind.

Hope that's what you were looking for,

Thanks,

Alex (mj23lj)
An unknown asr member. (Skruface?)
QUOTE
For what it's worth, by buddies' TK-barreled
and moderately tuned TM M14 has almost as much
range and better accuracy than my propane-powered and
highly tuned Tanaka M700 AICS (Pre ban, KM inner barrel,
mags upgraded with Pax Armatenia and King Arms parts).
His gun shoots 335....mine shoots 585-ish.
Another unknown (asr)
QUOTE
Skruface, thank you.
You are right I have a TK, and I'm not selling it.
They do work if properly tuned. I managed to hit my brother
at about 200 ft in the head. I haven't been able to pull off a shot
like that with my tightbore yet. So, if I PM you Skruface
would you help me with mine?
The Crimson Falcon.
QUOTE
Tcf
You'll actually need to downgrade the spring to use a TK twist. That being said, if you install an M110 or M100 and use a TK twist, you'll probably get very good performance. The bolt pull on the stock gun or downgraded gun is really easy. I'm also left handed, and it's not too challenging.
A (maybe exaggerated a bit?) quote from a airsoft forum member.
QUOTE
This topic is just frustrating to discuss anymore, I've installed and tweaked over 10 guns now with tanio koba twist barrels, and they do work, for anywhere upto 1 joule. We have a couple of stock AK47su's (gauder su kits) ak's that outrange and are more accurate then 400fps m4's with tightbores.
Test results from Von Luck, asf.
QUOTE
Bravo! My goodness!!

I like data like this. Thank you for putting so much time and effort for such labor-intensive work! I sure do appreciate it. I like applying meanings to numbers like these. I am also glad that it also seems to prove that using heavier BBs improves, as much as using tight bores.

When I measure groupings, I measure the two shots that are farthest apart. That way, I get the widest possible reading. I can let myself think, "well it's 7 inches high, but width is only 2 inches, so it's as good as average 4.5 inches." If I conclude that that grouping is 4.5 inches (average of 2" and 7"), and shoot a target with a margine of error of 5 inches, the shot might land at 6 inch, and 7 inch line. I would miss my target.

Your grouping measures horizontal and vertical. For the simplications I looked at the biggest number and also averaged horizontal and vertical measurements.

By looking at the biggest numbers (either of horizontal or vertical) at 100 feet, and averages using 0.25g:

[1] TK Twist barrel 363mm x 6.04mm = 6.75" [5.687" Horizontal and vertical averaged]
[2] KM teflon 407mm x 6.04mm = 9" [8.625" H & V averaged]
[3] Prometheus 363 x 6.03mm = 9.5" (0.28g) [7.25" H & V avaraged]
[4] KM 300mm x 6.04mm =12.75" [10.125" H & V averaged]

This result is the same, TK comes on top, even if you take the average of horizontal and vertical, instead of taking the biggest number (althouth Prometheus becomes #2-but remember Prometheus used heaveier 0.28g BBs).

Aside from TK twist barrel, the longer the barrel, the more accurate it seems. Promotheus is a bit of disappointment since its 50' test was the better than TK. 9.5 inches seem a bit high, considering how tight 50' groupings were. If you think about it, how could a 2.85 inch grouping at 50 feet, becomes 9.5 inches at 100? I think it should be more like 8 inches, as average shows. It wouldn't change the fact that TK did best though. One way that might help is to discredit one shot that's farthest out of the group of shots. If you do that, Prometheus would come second and KT 407mm would be the third. But still, TK would be on top and the shortest KM 300mm would be still the last.

I hear TK barrel is supposed to work best for 1 Joule set-up, so 140 spring is probably over the top as it's about 1.3 joule. One of the links suggested that slowing down the fps by using heavier BBs does not seem to work with TK barrel. That link's conclusion was to have 1 Joule setting. Obviously I do not know if that's true or not. I don't have a TK barrel.

From your painstaking tests (thank you again), it seems like TK works pretty good, even for a 1.3 joule rifle. I mean, if you average horizontal and vertical measurements, CA stock's 50' 0.2g test and Km 300mm's 50' 0.2g test is little worse than TK 100 feet 0.25g test. Granted that TK's 100 feet test is with heavier 0.25g, but still, TK's 100' grouping is narrower than other barrel's 50' groupings?

Also compared to other 100 feet test's averages, TK barrel did almost 2 inches better (about 1.6 inch) than the second best. The second best, Prometheus used 0.28g, and it has 0.01mm tighter bore. TK did almost 3 inches tighter against longer 407mm barrel. This result still stands even if you don't include one of the wildest shots from each target.

Looking at the numbers you got, I am very impressed by TK twist barrel. It did better than longer barrel of same tightness. It did better than tighter barrel of same length. And it did better than even heavier BBs.

I am very impressed by the TK twist barrel.
KingKrispy21, ASF
QUOTE
You would get the most range out of a TK twist barrel.. im estimating at least 200 feet (no kidding, with 250 FPS, this is a very generous estimate with a TK)

also, the grooves will be fine if you shorten it.

why don't you just upgrade the spring, and get your FPS to at least 320?
Kyguylal, ASF
QUOTE
I had a VSR shooting 330 fps with a TK twist barrel. I got 250 foot body shots consistantly. The Barrel does not make the BB spin. It just puts a cushion of air around the BB, so it does not bounce around the barrel or "ride" the top of the barrel like with a normal tightbore.
more kyguylal
QUOTE
I used .30 BBs and a very nive hopup
like a 9ball hopup and .30s with the TK twist got me rediculously good results
so my BBs were only hitting at like 290fps with the ,30s
Whorify, ASF
QUOTE
The TK barrel was originally designed or rumored to be a fluke design for standard stock AEG's. At the time, most AEGs on the market were 300'ish FPS. It's best used for 310-330 FPS. Anything higher just loses FPS. I dropped a TK barrel into one of my 400 FPS AEG's and it began to chrono 370 FPS and lost accuracy cause the air passing thru the flutes was too fast and violent.
http://www.airsoftre...php?photo=24796
Picture of mj23lj's gspec
Thanks to all who contributed, will contribute, DM Hackle, Tux, ASF, ASR, ASC and Tanio Koba.
You shouldn't credit me for any of this, except for compiling it.
At least not until I get my actual beloved barrel I don't even have yet.
http://www.airsoftfo...gs-t146520.html
About me.
Edited by Skyi///, 25 April 2009 - 03:19 PM.