This is my brother's KWA m4, but I just put my upper on it. But my gun will pretty much look like this.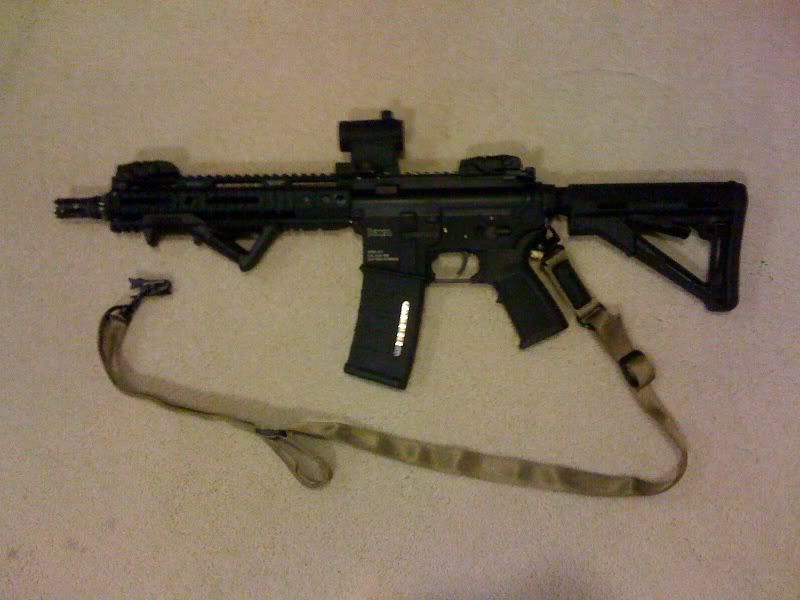 Parts list:
KWA km4ris
ACM CTR stock
ACM front PTS rear mbus
ACM afg
ACM pmag midcap
ACM asap plate (soon to come)
ACM ms2 sling
PTS miad
EBB t1 micro aimpoint
baby gloomy bear zipper pull
MADBULL noveske 10" RIS
private parts (5th grade chuckle) scar flash hider with QD silencer
KWA front triangle sight (crudely) cut down low profile gas block (from my old M16)
I will put on a tufforce offset flashlight mount to mount my Fenix tk11 flashlight on either the right or left next to the front sight. I'm still debating whether or not to put the ladder rail covers (tan or black) and getting a pigtail for my light. The gun shoots 400fps out of the box. I'm not sure if I should rock the silencer to cover the 14" inner barrel or get a 300mm tightbore. I'll also get a 2nd spring which I'll use for indoor gaming (which leans me toward getting a 300
What do you guys think I should do? What do you think of the gun?
Edited by nowayitskevin, 14 April 2010 - 11:05 PM.