CQB:
Bravo RDW
- evike
Nice crisp gear box, shoots hot for indoors, very accuracte stock. Very high quality pot metal if that makes sense. Also, ambidextrous mag release and selector switch that work well.
CQB:
SRC SR-74u (GBB)
- evike
The only GBB AK I came across so I had to have it. Overall, poor accuracy so it's limited to CQB use. Not much kick either but you can definitely feel it. Also, poor ROF, sounds like an inconsistent 10-12 rps. Sounds awesome when racking though and functions just like the real deal.
CQB:
JG M4 Tanker
- airsoft gi
Mainly a loaner. Shoots very hot for CQB, loud but crisp, pretty inaccurate. Very heavy despite the plastic receivers. Had to do some modding since the RIS came misaligned. Also, very non-ambidextrous due to the grip. Problematic when switching hands.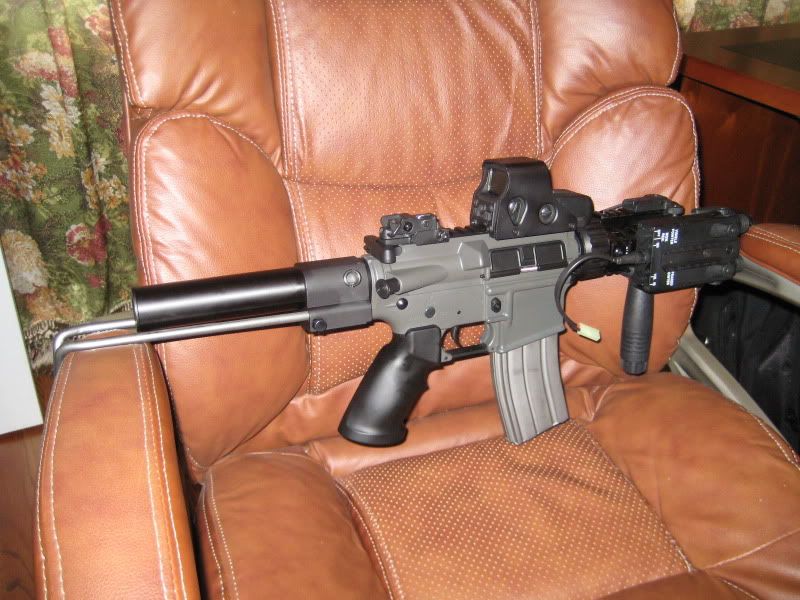 CQB:
JG P90-TR
- airsplat
Without a doubt the most accurate CQB gun I have. Lightweight and compact. Only gripe is the low ROF. Sounds like 12-15 rps.
Mid-Range:
Ares TAR21
- evike
Effin amazing. Heavy, sounds good when racking, shoots straight and true. Best quality plastic I've ever felt. Lacks the fps to be usable for long-range engagements but overall the star of the show.
Mid-Range:
JLS FN2000
- airsplat
POS. Worst paint job ever. Mag release broke right out of the box. Shot good when it worked. Not it seems like a fuse broke since when I pull the trigger, nothing happens. Can hear a very faint grinding kinda sound from the gear box but hardly noticeable. Nothing peculiar happened when it broke though, it just randomly stopped firing. Haven't taken it apart since it's next to impossible to push out the pins. If anyone has any knowledge on this, I'd love to hear it.
Long-Range:
VFC M4ES
- airsoft atlanta
Good fps, great range, great accuracy. When I put a scope on it, it becomes my full-auto sniper. The sound the mock bolt makes is terrible though. Racking the gun and hitting the bolt release makes a click and a pinging noise, not like the clack-clack we all like to hear. Also came with a crappy mid-cap mag. Quality of the plastic is good, but not great like the Ares and wouldn't feel comfortable wacking someone in the face with the buttstock (super serious).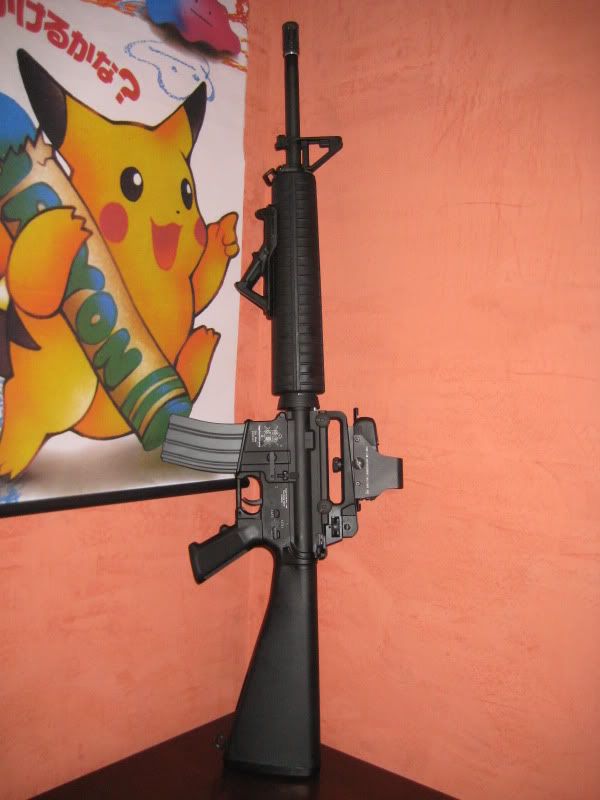 Sniper:
JG BAR-10
- airsoft gi
Full PDI internals. Absolutely silent. Can knock out Kim Jong-Il's teeth from halfway around the world.
Sidearms:
KJW Glock 18c, KSC Glock 26c
- ehobbyasia
The KJW feels too light and doesn't feel satisfying when racking. The KSC however, feels 10x better as expected. Both have insane ROF and poor accuracy.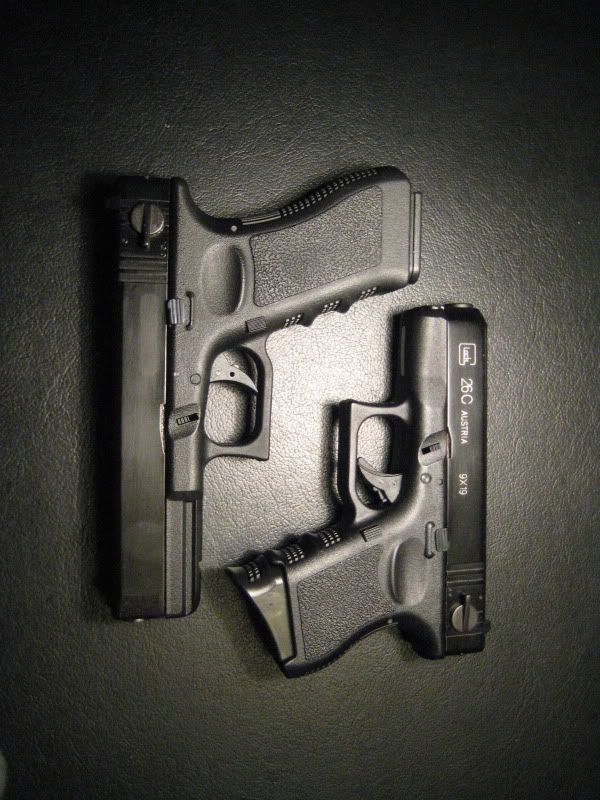 WE 1911
- evike/airsoft gi
Was originally a Caspian I bought from Airsoft GI but the barrel bushing kept on breaking. Decided to get one of the CQB Master slides from Evike. Now shoots accurately and sounds much better.
Black Lagoon Cutlasses
- evike
Heavy, sounds great, good kick, great quality finish.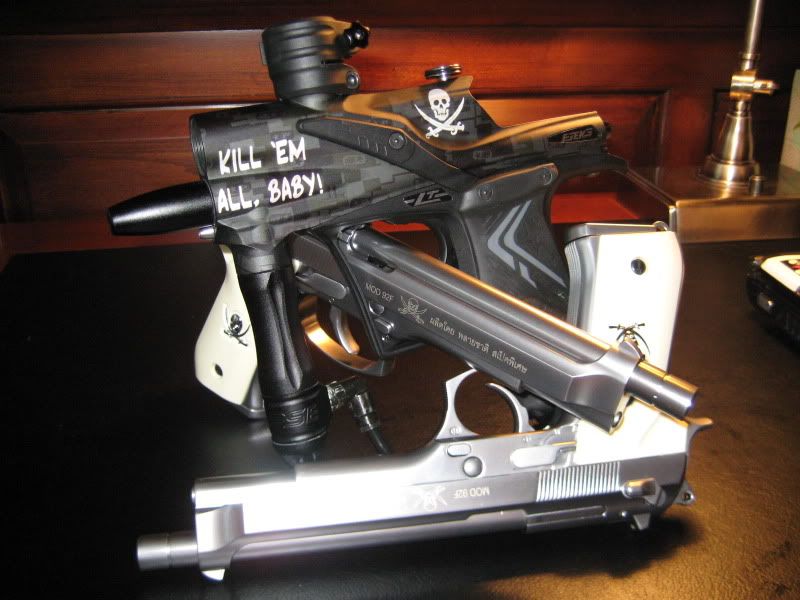 Walther P99 and P22
- the local gun store
These are real.
What my guns have taught me:
1.) Hotglued/locktited flash hiders are no match for wire cutters and hack saws =D
2.) "China" and "quality" are antonyms.
3.) Paintball and airsoft cannot get along.
4.) Evike and Airsoft Atlanta are the best online airsoft stores ever. Airsoft Atlanta always ships same day and I get my order within 2 days. Never had a problem with them. Evike ships same/next day with express shipping. I always choose 3-day select and it always gets here cross country in 2 days *knocks on wood*. Never had a problem with an Evike order either. Keep up the good work!
5.) Airsoft GI sucks... terribly. Sent me the wrong gun, and when I was nice about it and told them I'd keep it as long as they refunded the difference, it took weeks of me hassling them about it and finally a threat about me filing a dispute with my card company before they actually sent me the refund. Never ordering from them again. Plus, evike has cute asian chicks <3, and no I am not getting bribed to write this.
Edited by hanashiro, 05 January 2011 - 07:02 PM.