All Item Prices include shipping
If you have a question either reply to this post or PM me
I only accept Paypal as a form of payment
Discounts can be made on shipping if you order multiple items. Contact me with what you'd like and I'll reply with a revised quote.

If you think my prices are too high, MAKE AN OFFER
No trades on this sale. I am not accepting trades for the items in this thread. Only cash offers will be entertained.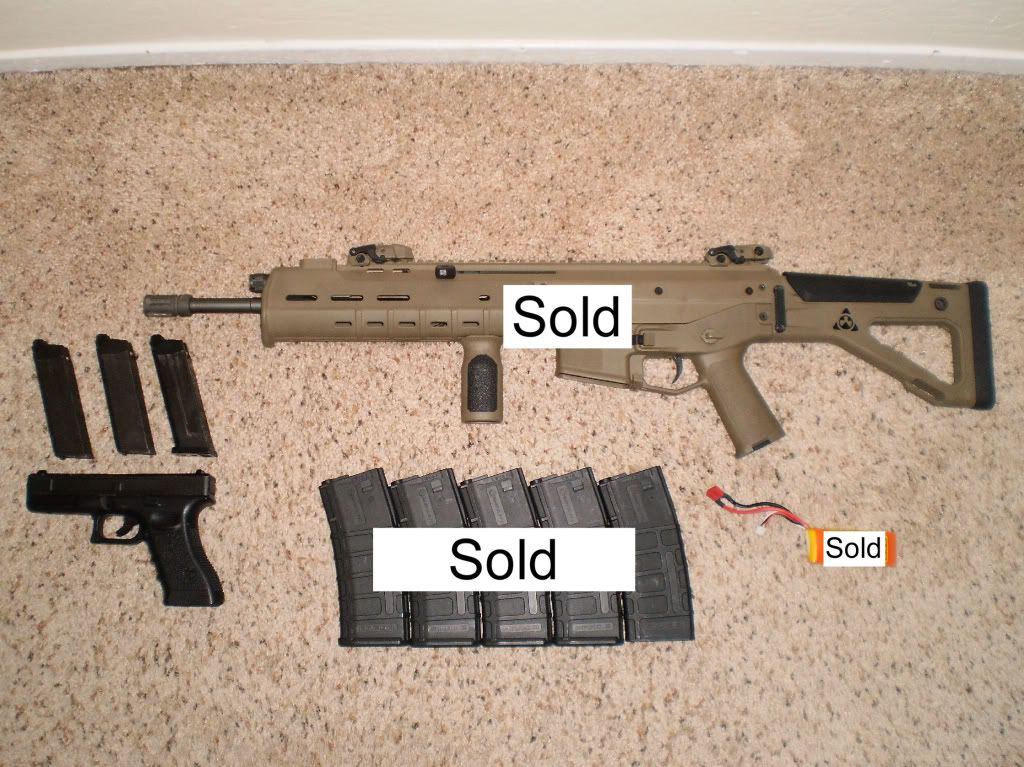 Tokyo Marui Glock 17 with Airsoft Surgeon Salient Arms Slide and Barrel Kit
(click any picture for the full size version)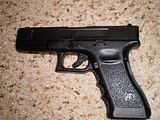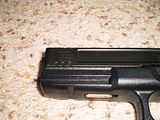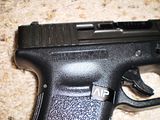 This is a Tokyo Marui Glock 17. It comes with 3 magazines (all of them have the base plates, just gotta put on the other two) and a Salient Arms Slide and Barrel kit already installed. This gun ins a great shooter. It has the stock TM barrel and bucking since I've always had the best luck with TM pistols using just the stop accuracy parts. The slide and barrel kit are quite unique looking, I've never seen another kit on a pistol with as many cool angles. The sights are a normal Glock rear sight, with a cheap front night sight that says Glock on it. The pistol has only been used a few times and as I said it shoots smoothly and accurately. This will be a great addition to anyone's collection or arsenal.
Asking $280 shipped
, which isn't a bad deal considering the cost of everything at retail is about $390, not counting overseas shipping and assembly. Note, I no longer have the original TM slide.
Magpul ACR with LiPo and 5 PMags
(click any picture for the full size version)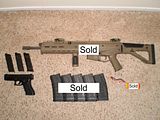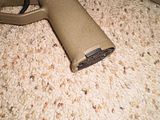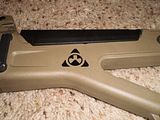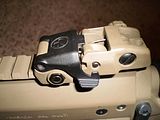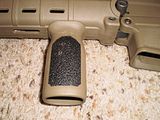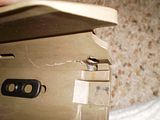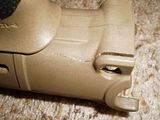 This is a Magpul ACR with a few cosmetic changes. Parts of the MBUS sights, the charging handle, cheek rest,and the grip plate have all been swapped for black parts to create a nice subdued 2 tone look to the rifle. The MVG has paint on the textured part to go along with this theme. I also swapped the flash hider out for an aftermarket one that looks awesome, but I forgot the name of it. Mechanically the gun is in fantastic condition. It cycles fine, it's reliable, the trigger is crisp, and it shoots hard/consistently. The accuracy is good too, I never have problems hitting targets that are in range. The only issue with the rifle is the hand guard is cracked. (see pictures, I put glue in the crack to help it keep from getting worse. It's holding up fine). This in no way affects the operation of the rifle. The hand guard pin also is missing the retainer clip, but it hols without problem. (You can possibly fashion a new clip from a staple if it concerns you). The selector switch is mushy, so you have to push it in before turning it or it wont move. (right handed)
The rifle comes with 5 STAR brand 75 round PMags. One is missing the floor plate, but it is just cosmetics. It still works fine. None of them jam and they all feed in the rifle with no issues. It also comes with a Tenergy Brand 1800 mAh 7.4V 25C LiPo that fits nicely in the hand guard without trouble. The battery gives a great trigger response, and the gun shoots a very consistent 360 to 361 FPS <AT> 15 bb's per second. Nothing has been done internally to the gun as I recall but it is ready and willing to be upgraded.
Asking $400 shipped
, which is not a bad deal for a rifle that is $480 new by itself, plus the 5 magazines and the battery. (yes, it is wired to deans if you didn't notice)
NO PART OUTS.