For the serious players looking for the coolest guns on the market, Daytona Gun is your choice! They provide incredible recoil, ranges up to 250 feet stock, and pretty much full steel internals. Why wait three months to get a Polarstar, why not get a Daytona Gun now? Here are the upsides to buy a Daytona Gun:
-Full Steel
-Can use C02 (No more $120 HPA Tanks)
-Only need 1 regulator
-250 feet stock range!
-Up to 315 feet range if properly tuned and upgraded
-Come in kits or complete guns
-Your able to choose the model YOU like
-Work in hot or cold weather
-All around durable and reliable
-Uses AEG Magazines
All guns will be brand new-in box, only fired to ensure they function properly. We are currently 1 of 2 US Distributors for Daytona Gun. Not counting AEX as Daytona Gun broke contract with them, but that's discussion for another time. The website is up at this location:
GT Airsoft Armory
Please note all pictures are not mine and I do not have any ownership of them, if you would like them taken down, just send me a PM.
Daytona Gun M4 Kit - $475
This is Daytona Gun's latest model, our favorite model in fact, the M4. A brand new 2012 release, it was only a matter of time before they integrated their genius system into the most common gun on the field, the M4. Focusing on improving the performance of their system while maintaining that ridiculous recoil we all love their system, the new DG M4 reaches out past 250 feet, stock! Add a tightbore barrel and a few extra enhancement and this thing has a range of 315 feet! Daytona Gun's new M4 practically out performs Polarstar in every way, but has amazingly strong recoil. What more could you ask for? Drops into a G&P WOC body with slight modification. Uses AEG magazines.
Daytona Gun M249 Kit - $450
One of Daytona Gun's premier and most trusted models, you can assure that the Daytona Gun M249 will serve you faithfully for as long as you airsoft. If you want an intimidation factor, this is the perfect way to go. The M249 is a beast, and when combined with large amounts of recoil, being incredibly loud, and having an external setup allowing you to dump thousands of rounds downrange, you have one amazing gun that will attract all the attention at your local field. These systems are so durable you could wade through a river, provide cover fire, and then get out and play with it for the rest of the day, and it would be fine! Just remember to clean and dry all the internals. This particular model fits into any A&K, Classic Army, or Echo1 body, with little to no modification.
Daytona Gun M249 Complete LMG - $675
Interested in a Daytona Gun M249 but don't have a body or don't want to assemble it yourself? This is the perfect solution. The exact same setup as above, just all pre-built for you. All you need to do is plug in your regulator and your ready to go!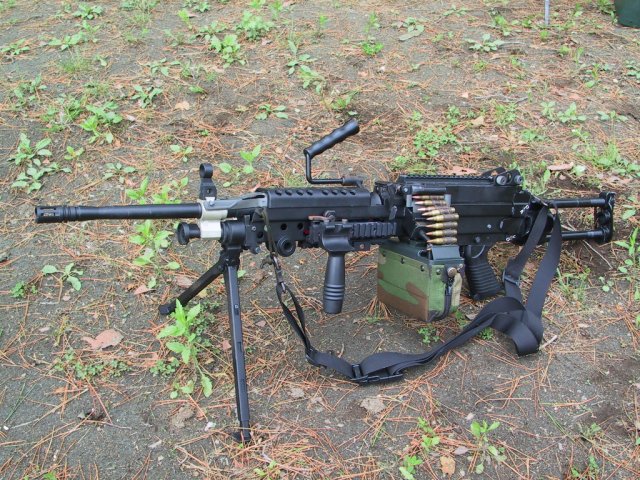 Daytona Gun AK Kit - $450
The first model by Daytona Gun, the AK engine has since then been completely revamped and improved. Construction is full steel to ensure you never have any internal failures. This is the generation three which shoots a bit slower FPS wise, so you can play CQB when operating at a lower PSI. Gen 3 AK kits feature a full working safety and simply awesome recoil, as well as very good range and accuracy. With these particular kits you have the option to buy for different types of guns. Please specify what body you are putting these into, possible builds are, but not limited to; Dboys, Cyma, VFC, LCT, and Classic Army. These are available for order right now! Just throw it into your existing AK Body, and your set to go! Works on AKM, AK47, and AK74 Variants!
Note: Currently out of LCT kits, all other kits available!
Thanks to Dannik for the pics!
Daytona Gun/Classic Army AK74 - $635
All pre-built and assembled just for you, this is the easiest and fastest way to get a functioning Daytona Gun to your door as soon as possible. Built from a Classic Army Body, it is sure to last! Please note that the pictures are not mine and the appearance of the gun may vary, PM me for a specific picture of the gun your getting.
(This is B00ndockSaints pic)
Custom AK Installation w/ Kit - $535
Already have an AK body? Whether it be an AK74 or AK47 we can throw one of our kits into it. The price includes all labor hours and the kit. Great way to save money if you already have a body or can find one for less.
Edited by GamingNow, 17 April 2012 - 10:39 PM.