-Classic Army's ArmaLite M15A4 Full Rifle Review-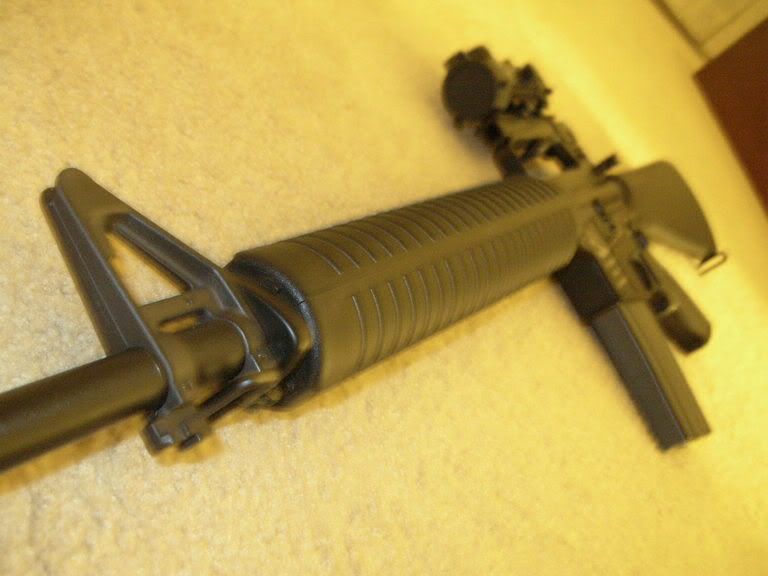 M15A4 Specifications
Weight: 3.143 kg
Barrel Length: 510 mm
Stock Barrel Diameter: 6.08mm
Magazine Capacity: 300 pellets
Ammunition Caliber: 6mm
Stock Velocity: 85-95m/sec
Battery Type: Large Type 8.4v-12v
Stores Purchased From
M15A4 Rifle: Airsplat
Ar-15 Rail: Airsplat
Leapers 1x40 Red/Green Dot Scope: Airsplat
0.25g Airsoft Elite Precision Grade BBs: Airsplat
Battery (3300mah 8.4v): batteryspace.com (Extremely low prices; highly recommend)
Universal Smart Charger: batteryspace.com
Introduction
The M15A4 Rifle was my first automatic electric airsoft gun. I was looking for a model that was rugged, reliable, performed well, and had great cosmetics. My first choice was Tokyo Marui's Heckler and Koch G3 SG/1; its long barrel and larger magazine capacity was ideal for an assault/sniper. However, I questioned its durability, as it has a reputation for weak plastic. I then moved on to Tokyo Marui's Heckler and Koch G36C and Classic Army's Heckler and Koch G36C. Both looked nice and were unique. Unfortunately, they only accepted mini type batteries and had relatively short barrels. I then made a switch from Heckler and Koch's weapons to Classic Army's ArmaLite M15A4 Rifle. I chose the Classic Army M15A4 for its long barrel, pre-upgraded metal internals, durable metal body, excellent finishes and cosmetics and its ability to take a large type battery.
First Impressions
This was my first AEG, so I did not know what to expect. I had seen my cousin's Tokyo Marui M733, but its appearance did not suit me. I ordered my M15A4 Rifle, 2 bags of Airsoft Elite .25g Precision Grade BBs, a scope mount and a Leaper's 1x40 Red/Green Dot Scope from AirSplat.com for $382 after using a coupon (UPS 3-Day select delivery included). The AEG price itself was $295 after using a coupon. When the package arrived at my doorstep, I brought the long box in, noticing its enormous weight and size. Upon opening the box, I examined the contents for shipping damage. There were no burst BB bags; boxes did not seem to be severely damaged.
The M15A4 comes in a durable Styrofoam box with a cardboard top. There are not too many words to describe how I felt after opening the box. I saw a defined, high quality rifle in front of me. Picking it up, I noted its hefty weight and excellent realism. However, I pulled the charging T-handle and the handle slid right out without any tension. The spring had separated from the T-handle but this appeared to be the only defect with the mechanics. For some strange reason, I was shipped an M15A4 with a non-removable (fixed) carry handle. M15A4 Rifles should come with a detachable carry handle so accessories can be placed on the rail.
I was certainly excited about this new airsoft gun. I knew from the beginning I had made the right choice.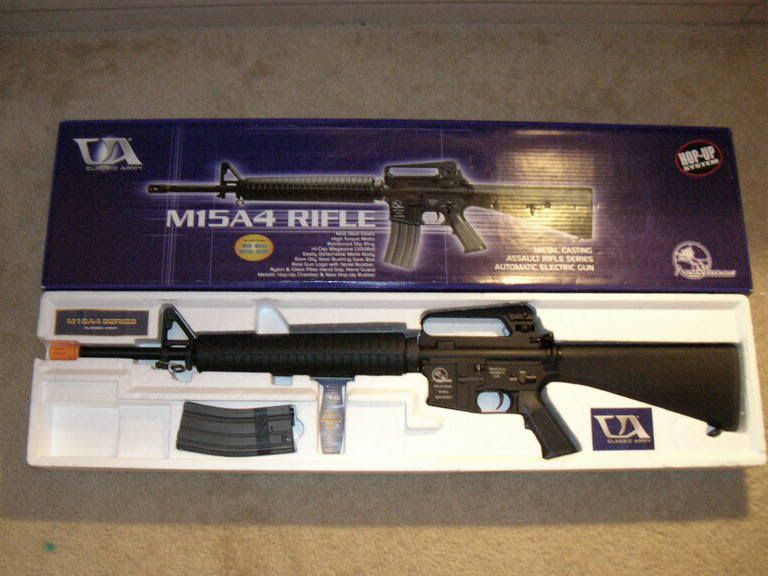 Box
Tour
The Stock
The full stock is not made of cheap material; it is composed of nylon and glass fibers that make it superior in build to Tokyo Marui. It has a fine texture as well. The stock is rock solid, with no hint of wobble or flex. On the end of the stock there a metal butt plate, which is textured as so to create a stable grip against the shoulder. A large type battery can be inserted into the stock via the battery compartment hatch. The wires and battery are a bit odd to fit. I found it is best to place the fuse on the top of the stock first behind the butt plate, then insert the battery underneath against the bottom of the stock so it has enough room. Replacement stocks can be found at a fair number of airsoft retailers for a fair price of around $50.
Stock

The Receiver
The receivers are made of metal and appear so realistic, it could possibly pass as a real-steel. Some small mold lines and faint smudges appear inside the carry handle and on the body, but for the most part, mold lines are hardly identifiable. Any flaws with cosmetics are unnoticed from a distance. Since the receiver is metal, there is no sign of any weakness whatsoever. My M15A4's receivers were a lighter shade of jet black, though a hint of grey can be seen when placed in a light. There is no color disfiguration; the entire receiver is one solid color. Upon close examination, the finish has been painted onto the metal. Therefore, should the receiver become scratched or gouged, metal tones could be seen under the finish. I would recommend keeping the rifle from being bumped or scraped against objects. If the finish becomes damaged, a permanent marker can help decrease the scuff's appearance. Replacement receivers can be found at most airsoft retailers for a high price of around $150.
Receiver
Trademarks
On the left side of the magazine well and above the left side trigger guard, crisp, white, laser etched trademarks can be seen. The white trademarks contrast with the black body and look better than regular etched trademarks without the white backing. The ArmaLite logo is clearly etched in. It is not a genuine Colt logo, but the clear ArmaLite logo certainly looks better than a burned Tokyo Marui Colt logo, which in the United States is illegal. The serial number is below the logo. The M15A4 Rifle series was assigned serial numbers first of the entire M15A4 series, so the numbers may be low to some owners. My particular serial number was 3291. On the right side of the magazine well, there are more laser etched, white-backed trademarks. The words "ArmaLite, inc" and "Geneseo, IL", "U.S.A." can be found. Above the trigger guard, the words "Classic Army" are etched in small text.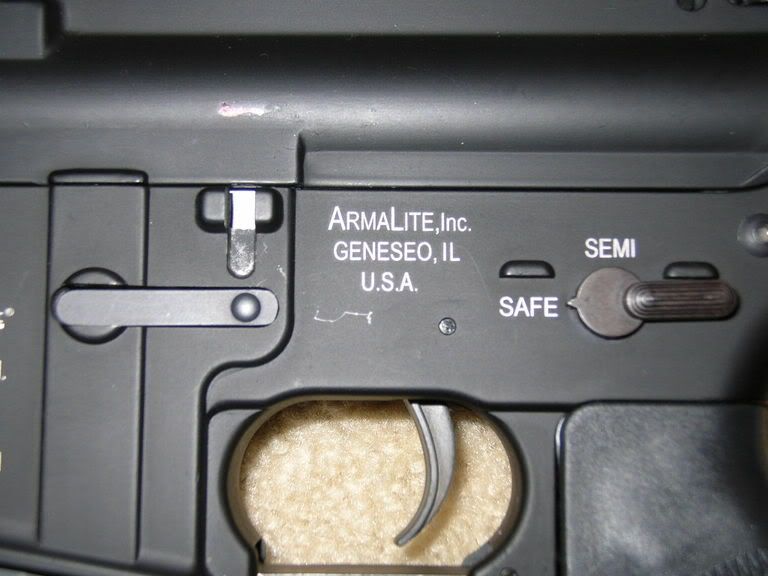 Trademarks (Left Receiver)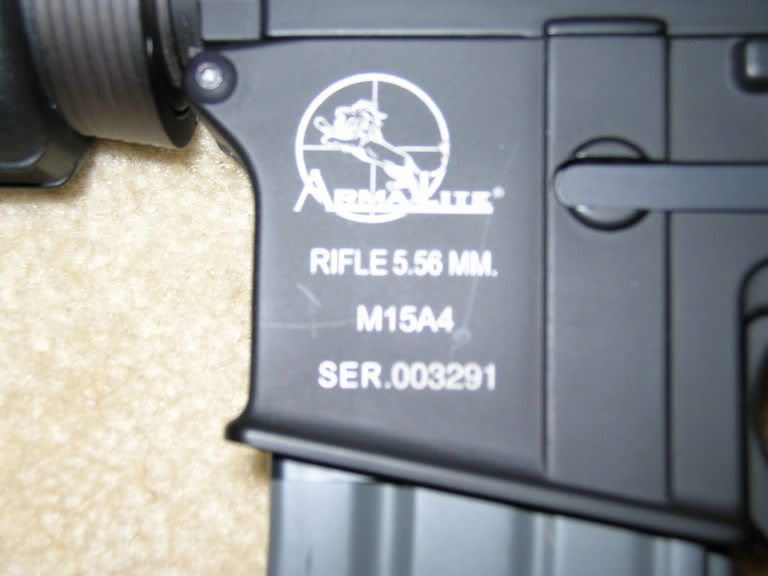 Trademarks (Left Magazine Well)
Edited by New Guy on the Block, 01 December 2005 - 07:00 PM.