This is gun is hardly used, and by hardly, I mean I've
literally
only shot two magazines worth of BBs through it. It's completely stock, and was bought from UN Company for $140. The magazine was also bought from UN Company, and cost me a total of $31. Including shipping, I spent a grand total of $209.47 for the gun and its magazine.
I've never skirmished with the gun, so the gun itself looks pretty well. The
only
reason I'm selling this gun is because, in about a month, I'll be going away to college to be a starving student. I need the money, and I don't have enough space for most of Airsoft guns.
Here's a
review
of the TM Desert Eagle .50 AE Hard-Kick from BP's credited reviewer, Snowman on Just Pistols. He claims that it is as good a GBB that Tokyo Marui has ever made.
My Desert Eagle chronos at about 317 fps. It's very accurate, and has an amazingly powerful kick. I've only used HFC 134a on the gun, yet it feels like it could be taking green gas. NOTE: Do not use green gas, top gas, propane, or red gas on this gun until you fit it with a flow restrictor valve or a metal slide. The slide may crack.
The only problems of this gun are either purely cosmetic or very minor, with respect to it's tactical side:
-The very tip of the gun, where the orange paint is removed, still has a slight amount of paint on it
-The trademarks on the left side of the gun are fine, but the area around it has slight notches on it. This was a direct result from the removal of the putty from the trademarks (the notches are very small, and can be seen on the 1st and 4th photos, and if anything, give it a "used, rugged" look).
-Since the kick is so hard, it's a relatively loud gun to be using in a skirmish (additionally, the chrome looking ABS glares in the sun, and makes it flashy on the field).
Everything else about the gun is just wonderful. That's why the going price on this baby, plus an extra magazine that has not yet been used, is
$160 shipped

.
I only take PayPal payments, so as to provide for the confidentiality and safety of both me and you.
Here are a few pictures of the gun.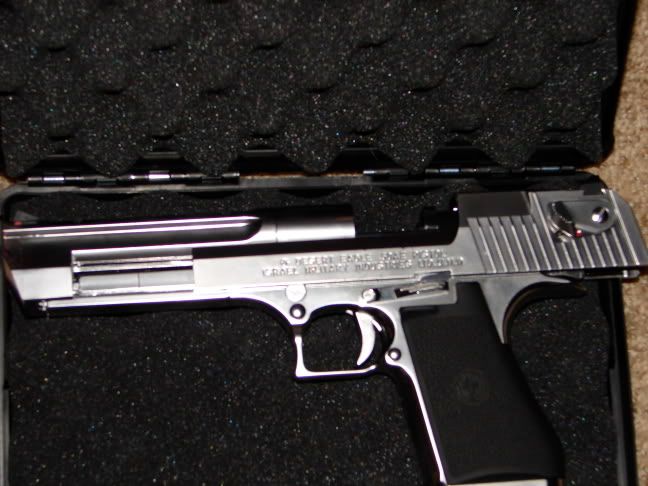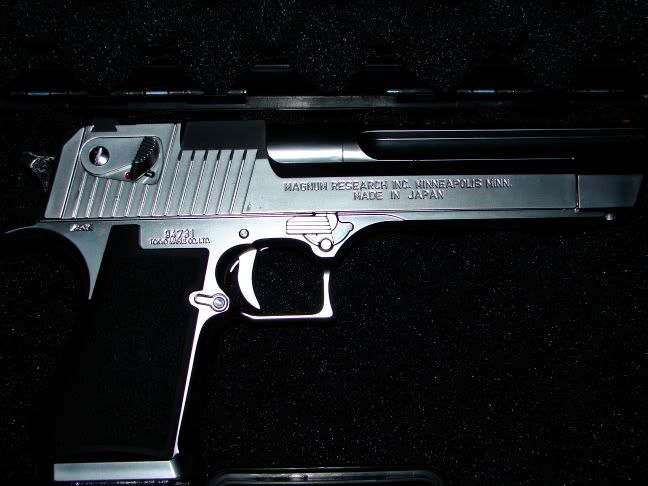 The gun comes in its original box (which has been bent since UN Company turned it inside out to get it through customs without drawing too much attention to it), along with it's red, rubber barrel plug, the Marui .25g BBs that came originally with the gun, an extra magazine, and a cleaning rod.
If you have any questions, or requests to see additional photos of the TM GBB Desert Eagle .50AE Hard-Kick (chrome stainless), please PM me, or email me (check my profile). I'll also be on AIM often enough, so you can catch me at my sn, bluesphere2001.
Edited by Blue Sphere, 16 August 2006 - 05:37 PM.