MP5 DISASSEMBLY GUIDE BY WILLBY24.
Gun used- MP5 A5 by Tokyo Marui
Hello. Well, today I got a few parts of mine that I was going to install into my gun so decided to make a guide, since there is not one yet on ASF. Here we go...
THE GUN-
The MP5 is a somewhat complex gun to take apart, but its certainly not impossible. There are many steps to taking it apart, and I am going to guide you through them.
STEP 1- ACCESSORIES REMOVAL
A good thing to start off with is taking off any scopes, optics, supressors, mags, etc. from the gun. Also, Shoot the gun in semi a few times and unplug the battery. This will make it easier for when you take apart the gearbox.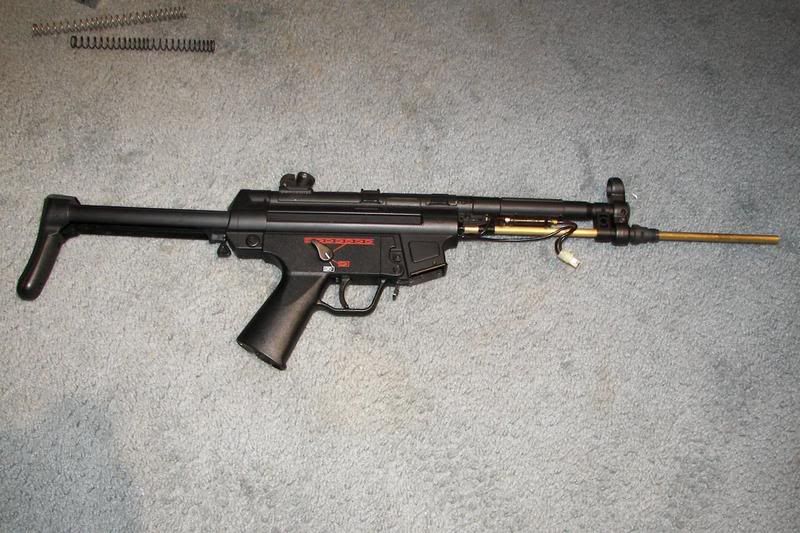 STEP 2- STOCK REMOVAL
In order to take apart the body of the gun you must take off the stock. First, start with unscrewing the pin and pulling it out-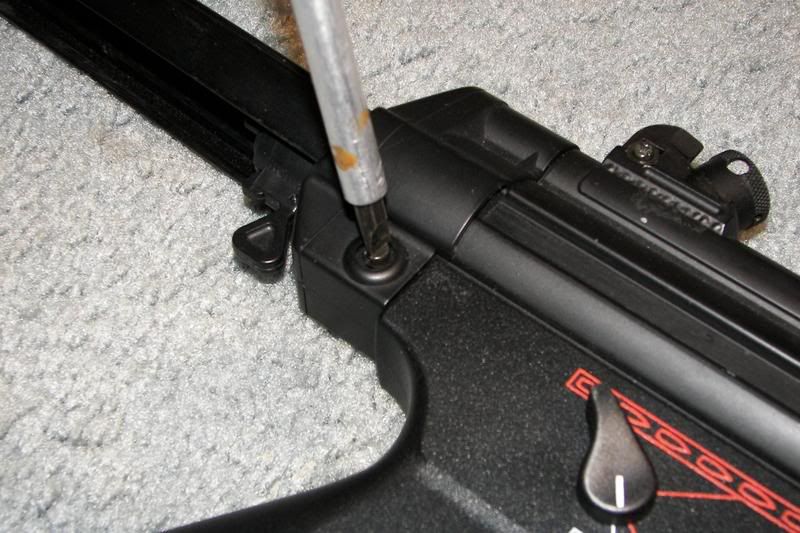 Next, if you have a the A5 stock, move it to about this position, but not locked in, and pull it backwards-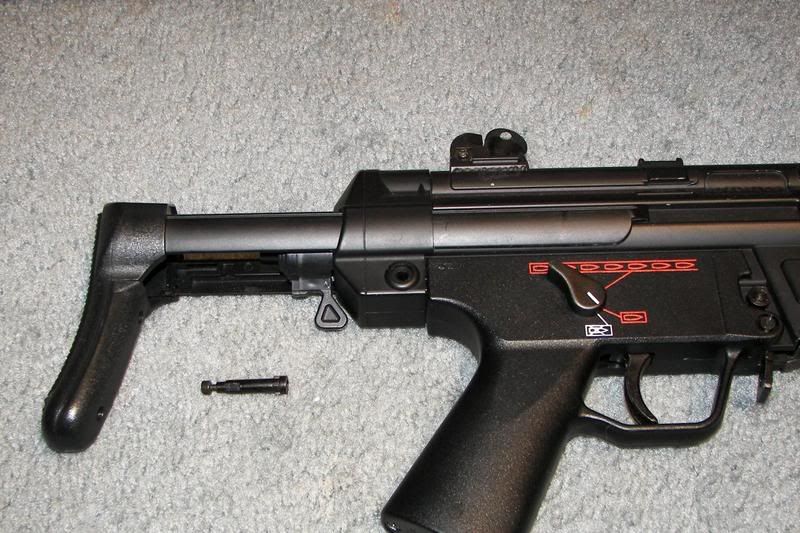 It can be a bit tough if you have not taken it off before. Also pay close attention to the orientation of the two small pieces that keep the stock from sliding off-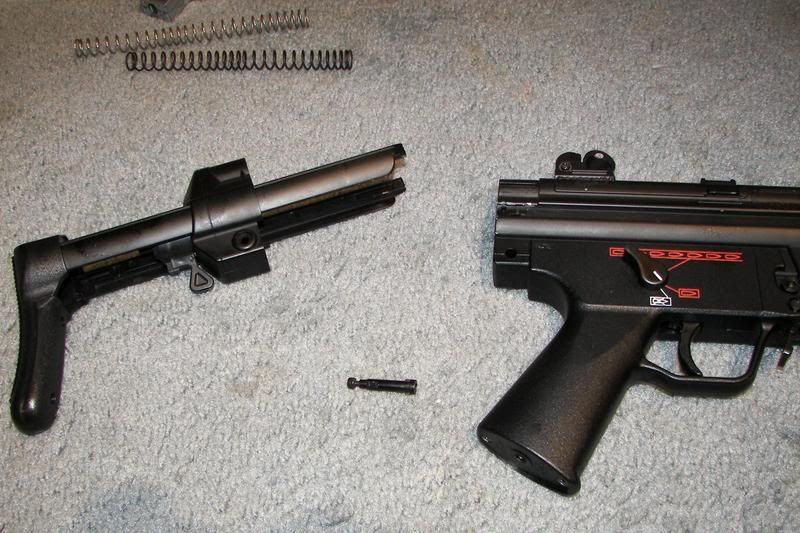 STEP 3- REAR SIGHT REMOVAL
Next, I like to remove the rear sight. First, loosen the screw on the side a bit, but do not take it all the way out, as it is not necessary-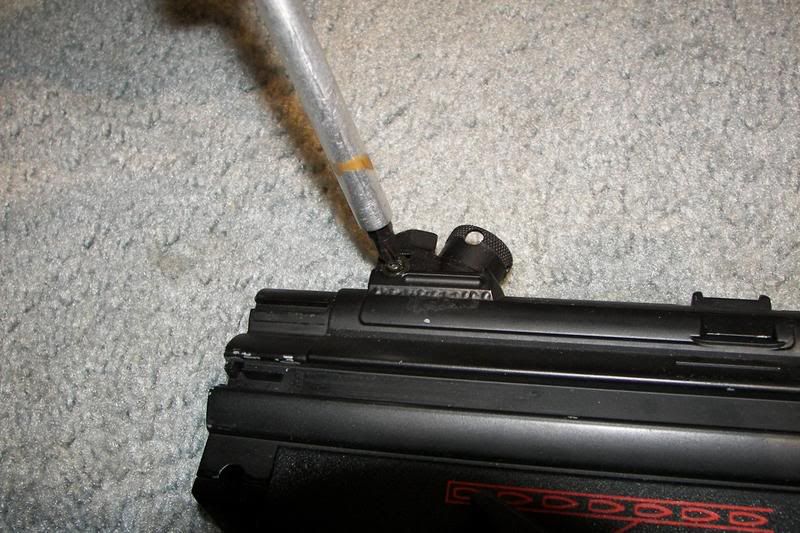 Next, take out the screw in the top completely and the sight should come right off-
STEP 4- COCKING TUBE REMOVAL
The next step is removing the front cocking tube. Start with taking the hop-up lever out. The little rubber ring can be a pain to get out, so I use a knife, it is much easier then using a screw driver-
Now turn the gun over, and take out this screw-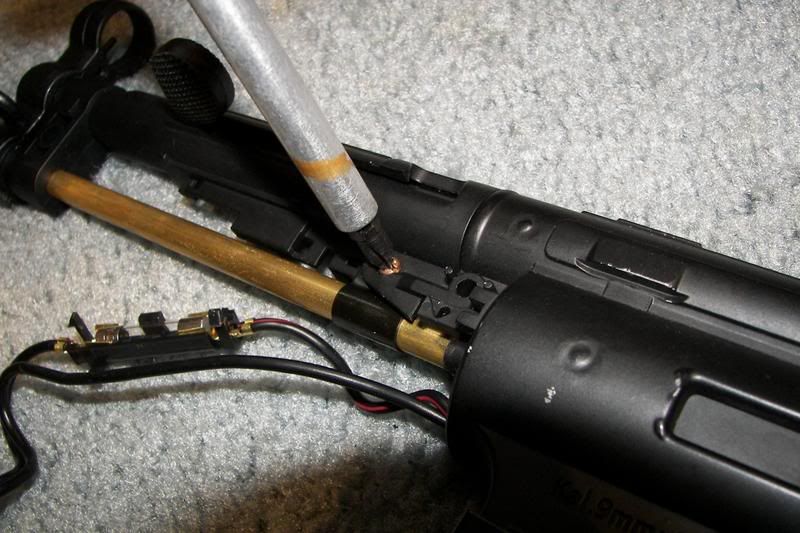 Now, nothing is holding the cocking tube in place. You should be able to simply slide it forward-
Edited by Willby24, 27 February 2007 - 10:13 PM.