All things in natural world (non-quantum world) are affected by gravity as Newton discovered. BBs are no exception. If you line up your rifle perfectly even with the ground and shoot it, immiediately from the muzzle, the BB will arch down. All BBs would do the same, not to mention real steel bullets (which is why real steel bullets are shot up to make them fly farther). There would be no way to make it go perfectly straight even for 10 feet, because of gravity.
[Principle in fluid physics]
When two boats are going side by side, they bumb into each other, not because they are steered into each other, but they are sucked into each other. This strange phenomenon noticed by boaters around the world is power that helps airplane to stay up, also the reason why BBs stay up. Around the same time of Newton, Dutch/Swiss dude called Bernoulli put that strange behavior of fluids into an equation. Hence that behavior of boats, and the reason why BBs stay up is called
Bernoulli's principle
.
The principle is simple. Whenever moving particles (fluids) go fast on a surface, the particles reduce pressure on that surface.
When one boat is going forward, the front of the boat (bow) cuts water into two even portions. And both right and left side flows at the same speed. But when another boat is on the right side, and that boat is close enough, displaced water from my right side and the other boat's left side, is caught in between. Now this water in the middle has to flow faster than the other side that faces no other boat. Faster moving fluids reduce pressure. Fast moving water in between pulls two boats together, making them bump. When two boats touch, no water flows between them, so water forces them to push apart. But as soon as that happens, the faster water pulls them together again, making them bump again. Which is why two boats go side by side always bump, bump, bump, bump....
Think of just one boat. What if that boat is not symmetirical, what would happen? What if one side of a boat is bulged out more? Then the boat will lean toward the bulged side. Why? Because water has to travel faster on the bulged side. Bulged side gets less pressure. So boat moves to the bulged side. Why does it move faster on bulged side?
[Edit: This paragraph suggests "Equal Transit" theory to explain why it flows faster on bulged side-which is WRONG. NASA's data proves that bulged side moves even FASTER than the flat side. I left it unedited so you would know where Graham is coming from. If you are not interested in the reason why it travels faster, skip over to next paragraph.]
Ocean, or lake is filled with a lot of water. Each molecule want to stay where it is. Because other molecules are blocking all around it. Lets say that in front of yout boat, there are two empty water jugs or buoys floating side by side. Your boat cuts between them. Your boat temporarily pushes them aside. But behind them are millions of tons of water pushing them back toward your boat. That's what's keeping your boat afloat. Also, when your boat passes them, two milk jugs will get back together, there is no other place for them to go. If one side of the boat is bulged, then the jug traveling on bulged side just has to travel more distance around the boat. As a result, bulged side water has to move faster to cover more distance around the bulge to get back together with the other jug. There is no magical force. Cut water with a sword, water will just get back together because gravity pushes other water molecules around it, so the both side has to get back together, even if one side has to move faster to do it.
Airplane wings are the same way. Air is much less dense, but works the same way. Top side of a wing is curved to have more bulge. Downside is flat. Top side air has to move around curved surface, so it has to move faster [Edit: NASA says that top side air moves even faster than "equal transit" suggests]. Faster moving particles suck the surface up. That's [part of force that] keeps 440,000 metiric ton 747 up in the sky. Of course, to keep 440,000 ton afloat in the air, there has to be a lot of air moving through the wings. When there isn't enough air molecules to lift the wings (when airplane flys too slow), gravity wins. When gravity wins, airplane falls. That's called "stall." Which is why each and every airplane has a "stall speed," below that speed, that airplane no longer stays up. To gain that minimum speed, airplanes have to accelerate on the ground. That's why airports need long runways. Carriers don't have long runways, so big and heavy planes like F-14 has to spread their wings to increase the wing size to prevent it from stalling at slower speed.
[Lift in BBs]
But airsoft BBs do not have wings, so how do they create lift?
You already know the answer: Hop-up.
Hop up notch is just a rubber patch that's pressing down on the topside of the BB. When BB is pushed from behind by compressed air, slippery bottom slides out first, rubber on top holds on to the top, just for a fraction of a second longer. As a result, BB gets a back spin.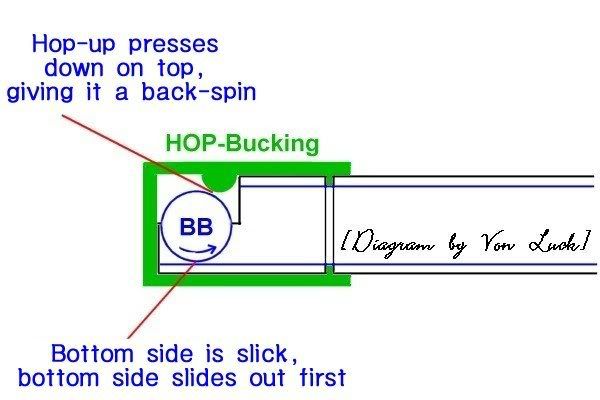 When the BB gets a back-spin, air around it also rotates. Just like a bicycle wheel. Flip your bike upside down, and spin a wheel. Feel the air around it. Air rotates with the wheel. BB has a back-spin. Which means air on top of the BB will be pushed back. Air below the BB will be thrown forward against air current, bumping into the air coming from the front. In other words, BB's rotation makes the air on top go faster, and air at the bottom go slower.
Now what do we have? We have faster moving air on top, and slower moving on the bottom. Faster moving air on top reduces pressure. Air on the bottom also moves, but it moves slower than air on top. So the top air pulls more than the bottom. What do we have, Houston? We have a lift. This kind of lift is usually insignificant. But for small and light plastic BBs, it's enough to fight off gravity for a short while.
BB stays up as long as long as BB flies forward, supplying air current, plus as long as there is a back-spin.
This lift fights gravity. BB stays up, giving you almost straight trajectory for a while, after that, it arches down.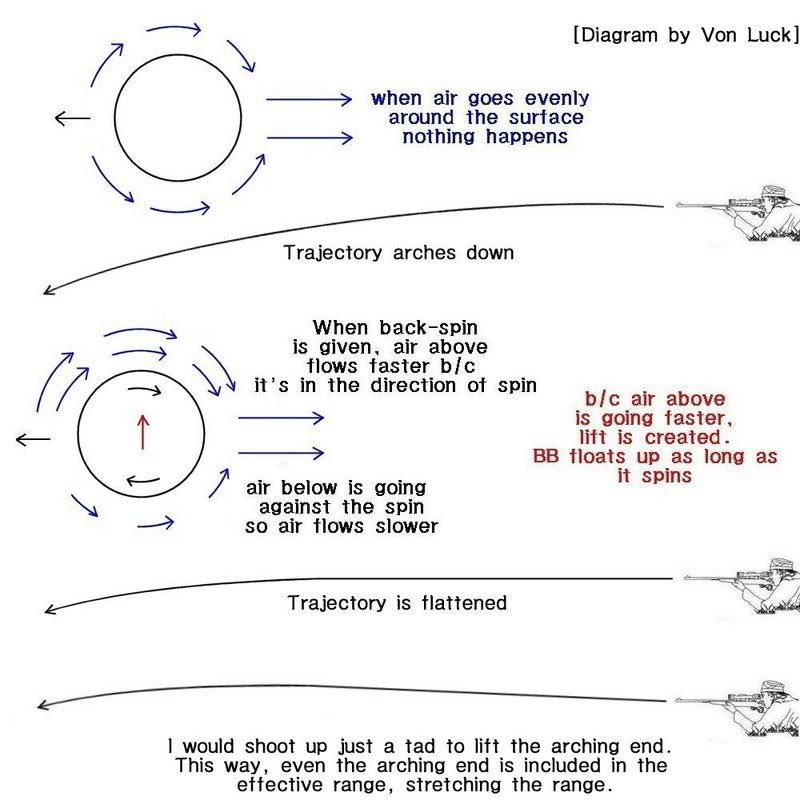 [Hop up usage]
Too much hop, BB will fly up. As it loses spin, it will come crashing down. This is very obvious on lighter BBs. This is worst way to use hop. If you have a fixed hop, you can't do much about it, but you can use heavier BBs to counter the over-hop. Since all 6mm BBs have roughly same surface area, lift they can create are exactly same. In other words, if your 0.2g BBs and 0.3g BBs are exactly 5.95mm in diameter each, then at any given hop level, their lift would be exactly the same. But gravity pulls more on heavier BBs, so heavier BB's hop effect would be less.
Too little hop, BB will have a disappointing bullestic trajectory. This would be much more pronounced than real bullet's trajectory.
Somewhere in the middle, you can flatten the trajectory to some degree. After back-spin is gone, the BB will arch down from then. My personal setting would be to have my rifle aim slightly up, scope would be pointing slightly down. And have my hop make the BB climb up straight to the pinnacle of the arch, where it would start to come down would be where I would adjust my scope to. Usually around 100 feet. This way, BB would climb up to get to my zeroed point, but the arch beyond that point would not be so steep to be useless.
As some of you know, I advocate using heavier BBs to keep the energy given by the piston. The rotational momentum of a back-spin also works better if the BB is heavier. Heavier BBs require a bit more hop, because they are heavy, thus hop-bucking should press down heavily on it. But once the BB rotates, heavier BBs will maintain rotation better: to some degree. Lift may not be sufficient if you are using a 0.43g BBs. But at least their effect is longer lasting, which means flattening effect is a bit weaker on heavier BBs, but longer lasting.
[Negative consequences]
Hop-up can produce unintended consequences. A tightbore barrel can be as narrow as 6.00mm, and BBs are 5.95-5.98mm, there is a bit of room to play. Which means if the BB is not exactly in the dead center of the barrel, the hop may not be pressing down on the dead center of the BB. If it's pressing down slightly off center to the right, the BB will fly toward right. It would curve left if the BB was mis-aligned and gets pressed slightly on the left. Also since hop makes the BB go up, if the gun is tilted to one direction, the BB would curve toward that direction.
Because of this, competition handgun shooters may disable their hop to gain more consistency. Their BBs would arch down, but that would be more predictable than mis-aligned hop. Also if there is no hop, when you draw your gun fast, your gun can be tilted to one way or the other. When there is no hop, even if your gun is tilted 45 degrees to the left, the BB will have a predictable natural arch. And within 20 feet or so, you would not need all that much hop anyway.
[V-notch]
Some recent hop buckings have "V-notch" to ensure the BB gets a perfectly aligned back spin. Because hop-notch has a "V-notch," cut into the hop bucking, the hop-bucking does not touch on one spot on top of the BB, but two spots on top. Two spots press down on top, and BB's bottom touchs the bottom of the barrel, making "V" shaped triangle contact points. As you know trangle is a very stable geometry. (Which is why you hold your baseball with three fingers instead of two or five, and a tripod can cope with uneven surfaces) If the BB is not in the dead center, it would touch one side only, and that side will push it toward the other side. As a result, BBs are forced to sit in the dead center of the barrel, getting a well aligned hop-up effect. In other words, "V-notch" would ensure that BB would be perfectly aligned, when hop-up effect is applied. BB gets more reliable hop, and as a result, BB lands closer to where you intend it to land.
Word of caution for those who just had light bulbs get turned on over their heads. You can cut in a "v-notch" on your hop. But if you don't do it evenly, you can end up permanently applying more on one side than the other. I would just buy a factory made hop-up bucking with "v-notch" in it than do it myself.
Edited by Von Luck, 26 May 2007 - 12:17 AM.