This is my review of the KWA Glock 17. It is a Gas powered Semi-Auto Blowback Pistol, more commonly referred to as a "GBB". Before we get into the review here are some specs given by KWA, the rest of the specs in the review will be what I have found, unless noted other wise.
Length: 186 mm / 7.32 in
Width: 33 mm / 1.18 in
Height: 138 mm / 5.43 in
Weight: 1.8lbs
FPS: 300-310FPS (With Green Gas)
Components I used
: In these reviews I used my KWA G17 pistol with Propane instead of Green Gas. This is becoming a more popular alternative to the high price air soft specific "Top Green Gas" which has been found to be simply propane with a bit of silicone oil added. If you plan on using propane in your KWA G17 you need to purchase an Air soft Innovations Propane adapter, and a small 1lb propane bottle typically used for camping. Also note that propane doesn't have the added silicone oil that green gas does, so make sure you put a couple drops of 100% silicone oil in the adapter before every couple fills to keep your seals from being damaged. During these test I used Air soft Elite Black .2G BB's.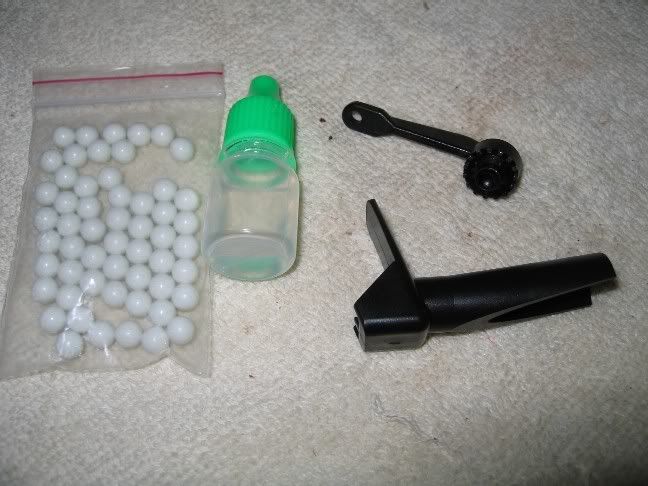 Cost
: I ordered my KWA G17 from airsoftatlanta.com, with it I order the air soft Innovations propane adapter. Because my order was over $100 I received free shipping. The total came out to slightly less then $150. By paying the $30 for the adapter in the long-run I will be saving money because green gas is selling for much more then propane. All-in-all this seems like a great value if the pistol performs the way I've heard it does. Keep reading to see if that's the case.
Packaging
: Well the packaging was pretty standard fair. It doesn't come in a foam lined pistol case, but the packaging is fine, and effective. A cardboard box with a block of Styrofoam cut out to fit the pistol and its various components. One thing I did like was that there was enough room that I was able to fit my air soft innovations Propane adapter, which is nice because I've got everything I need except for BB's and Gas in one box. A cool feature is the inside of the top for the box has a nice "KSC FBI Target". And to my surprise it isn't glued to the box in any way, I just unfolded the top, removed it, and folded it back together, using some CA glue to make sure it would stay together. I then photocopied the target a couple times, and it is a fun thing to test your accuracy. The box art isn't anything special with a picture of the pistol on it, and some Chinese writing along the side and "KWA Glock 17".
Looks & Feel
: Opening the box you're looking at an incredible pistol. If you like the looks of Glocks then you'll love the way this pistol looks. I compared it to a neighbor's real Glock 17 and it looks almost the exact same except for the orange tip. The orange tip is really the only thing that looks bad on the pistol, but it is required by law when they ship it. The thing is its very think paint, and the only way your going to remove it is by sanding it off, which is pretty tedious. When you first pick the pistol up it of its box it feels pretty good, it's once you insert the magazine that this pistol feels incredible. I haven't been able to actually weigh them but feeling it in your hands the full-metal (apart from a couple small plastic pieces like the spring catch ect.) magazine feels like its as heavy or heavier then the actual pistol. When you insert it the pistol feels heavy with great balance, and feels like the solid, durable pistol it is. I was a bit worried when I ordered the pistol that it would be too small for my hands, and although the pistol is smaller then a M9, you don't really notice it. I've got big hands and it feels great.
Getting ready to shoot
: I was running my G17 off of propane, so my first job was to install the air soft innovations adapter, and put as little oil in it. This is my first GBB, so it took me a little bit to figure out how to remove the plastic guard on the bottom of the magazine, and this is were I noticed that the instructions that came with this pistol are really not good enough. It gives you the bare basics, which is perfectly fine for someone who's owned a GBB before but for a newbie to GBB's like me it can cause a bit of trouble. Well, I filled the gas, and in the instructions it says fill until gas seeps from the valve. I held it on for around 10 secs, and realized that wasn't going to happen. At least for me this doesn't work. I just hold it down for 5-6 seconds, and that seems to fill it fine, and I'm able to get about 2.5 magazines out of each fill. The last thing to do was load the BB's, and here is pretty much the only gripe I have about the pistol. The BB's load from the top, and they are stacked in the magazine in a stager formation. They have an included funnel accessory to make loading faster but you can't just pour a bunch of BB's in becuase the BB's must be in a staggered fashion. So you still need to load it a single BB at a time, this tool just makes it a little easier for some people. I've learned how to re-load fairly quickly without it, so I don't use this piece. Loading the magazine into the pistol it feels very secure, and I can't imagine it ever falling out. Also remember to hit the spring release once you load it. I forgot to and took about 4-5 shots before I realized it wasn't shooting BB's.
Rate of Fire, Kick, Power ect
.: I first went out and took some shots, and I was pretty surprised with the rate which I could fire off BB's. Obviously not on the level of a full automatic, but still a fast shooting pistol. This was the first air soft Glock I've ever shot so I wasn't sure exactly what to expect but the recoil is great. I have fired other GBB's before and the kick on this is awesome, not as good as some Desert eagle's, but compared to the majority of other GBB's out there the KWA G17 has great kick. KWA claims the pistol shooting around 310 FPS, and that's right were mine was shooting. That's plenty for any CQB, and leaves a satisfying sting on your opponents. I did notice a slight problem that towards the end of the 2nd clip the last 1,or 2 shots the gun wouldnt fully cycle. However from what I've heard the Guarder Enchanced recoil spring gets rid of this problem, adds a bit of kick, and helps it cycle faster, sounds great for a part that costs around $7. The Guarder Recoil spring, and any other upgrades I add to this pistol will be added to this review.
Accuracy
: Ok, well the first thing to do is adjust the hop-up it's located in the slide, and you adjust it with an included key. I found it a little challenging to do, and the wrench doesn't work very well, but I had it adjusted pretty quickly. Once it was adjusted the pistol could hit a human sized target 9-10 out of 10 times from about 115feet. At 125 it was about 7-8 out of 10, and at 150 it was around 4 out of ten. That's very good considering it's a completely stock pistol, and more then enough for CQB. With a good tight bore I'm sure this thing will be an extremely accurate pistol. One thing I did notice is my sights seemed to be ever so slightly off, and there really isn't any way to adjust them. The BB's always landed to the left of the sight. A very miniscule amount but still noticeable. In the end with .2G BB's this thing is as accurate as just about any other pistols out there. Because I do plan on using this pistol a lot I am planning on eventually installing a KM tight bore to give it that extra range.
Upgrades & Modifications
: At the time of this review the pistol was completely stock. This pistol has a great after-market support. There is a wide range of upgrade parts, and common modifications for this pistol. Some of the more common include: tight bore barrels to improve accuracy, Recoil springs to provide a snappier recoil, and quicker feeding, and Hi-flow valves. Also many people have come up with great looking results by removing the black paint from the slide and barrel, and sanding, or polishing the metal to their desired taste, it's a great pretty simple way to personalize the look of your Glock. I plan on installing the tight bore barrel, and a Guarder Enhanced Recoil Spring and Guide Rod, and polishing the slide.
Conclusion
: In the end the KWA Glock 17 is truly one of the best pistols out there regardless of its price, and considering its only $120, well that's just icing on the cake. It shoots accurately, is built like a tank, feels great, has plenty of power, and looks awesome. The only gripes I had about it were very miniscule things (magazine a little slow to load, sights slightly off to right), and really don't have much of an affect on the guns performance. I would definitely recommend it too anyone looking to have a great side-arm, or even something to use as a primary (what I plan on doing for a while).
Re-cap
:
Cost
: 10/10
Packaging
: 8/10
Looks & Feel
: 9.5/10
ROF, Kick, Power, ECT
: 9/10
Accuracy
: 9/10
Upgrades and modifications
: 9.5/10
Conclusion
: 9.5/10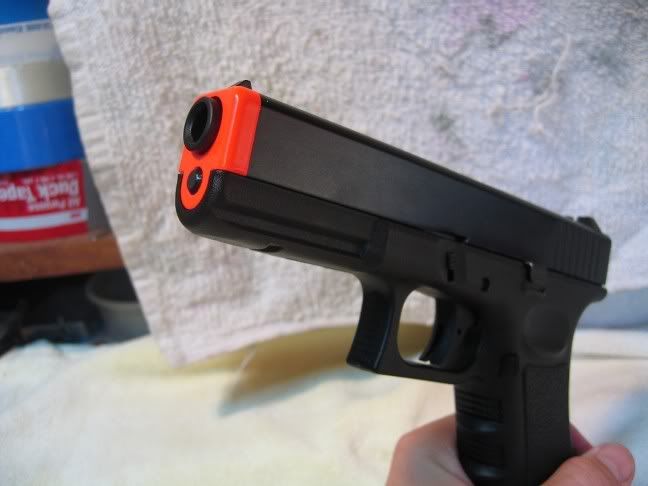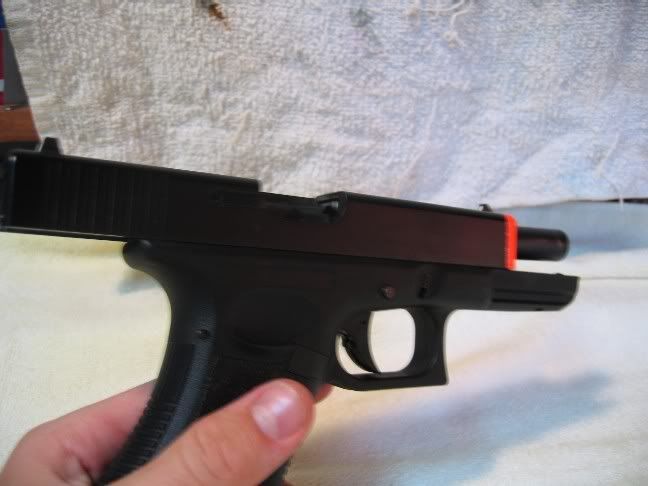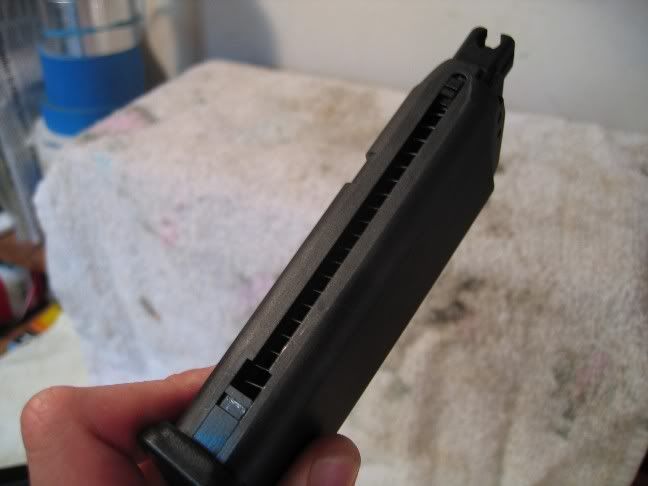 Edited by cjennings, 09 July 2007 - 01:47 PM.